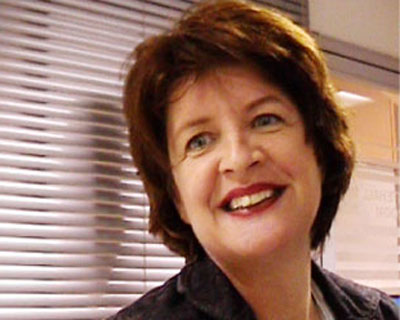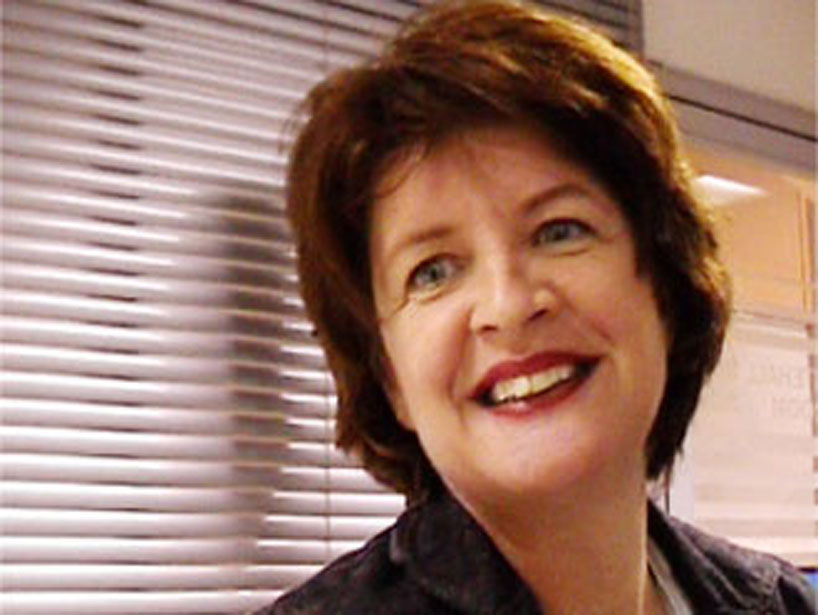 sep 25, 2004
hella jongerius interview
hella jongerius© designboom
we met hella jongerius in london on september 25th, 2004.
what's the best moment of the day?
I like the mornings.
what books do you have on your bedside table?
I'm now reading about what everyday life in europe was like in different countries in europe in the mid 1880s – all the little details of how the women did the washing, how large the living rooms were and this kind of thing. it really interests me how it all works.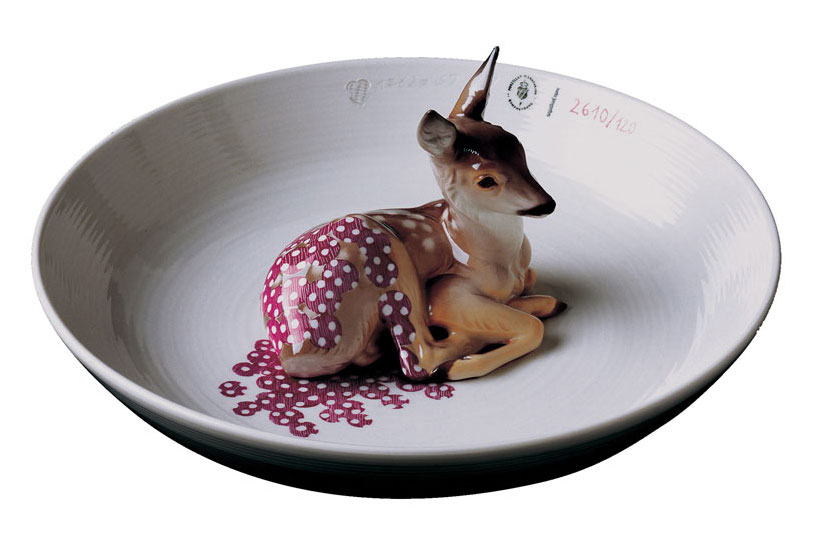 'schale mit nilpferd', for nymphenburger porzellan manufaktur, germany, 2004
do you read design magazines?
only if they send them to me.I just look at it.
do you listen to the radio?
I appreciate radio conversations, documentaries on the radio.I don't like music on the radio and I don't own a tv.I always listen to the radio, but talk. talking.
are there any types of clothes do you avoid wearing?
I would never wear girly clothes, or anything uncomfortable.

left: t-pot for royal tichelaar makkum, nl, 2003
right: blizard bulbs for frozen fountain, nl, 2002
do you have children?
yes, two.one here with me (she is visibly pregnant) and one at home.
do you have any pets?
no, I hate pets.
describe your style, like a good friend of yours would describe it.
I'm designer who uses a lot of ingredients to get to a product.not only form, but also history, tradition and contemporary inspiration. and I like to mix craft with industry. so in short… I can't be shorter.

left: 'long neck and groove bottle', jongeriuslab, nl, 2000
right: 'giant prince', jongeriuslab, nl, 2000
is there any designer from the past who you greatly appreciate?
castiglioni – I can still look at his work and go 'whoa'!in a way what he did was more shocking in that period than the work we do now that people think is so revolutionary. in that moment of time it was really something.
and of those still working ?
I like jasper morrison – but more because he is king of the profession.every work he does is perfectly done. of the others, jurgen bey I like, but then he is a friend of mine.
do you discuss or exchange ideas with other designers?
yes, with jurgen bey.I see the rest of friend designers at receptions and openings, but no, there are not lively discussions.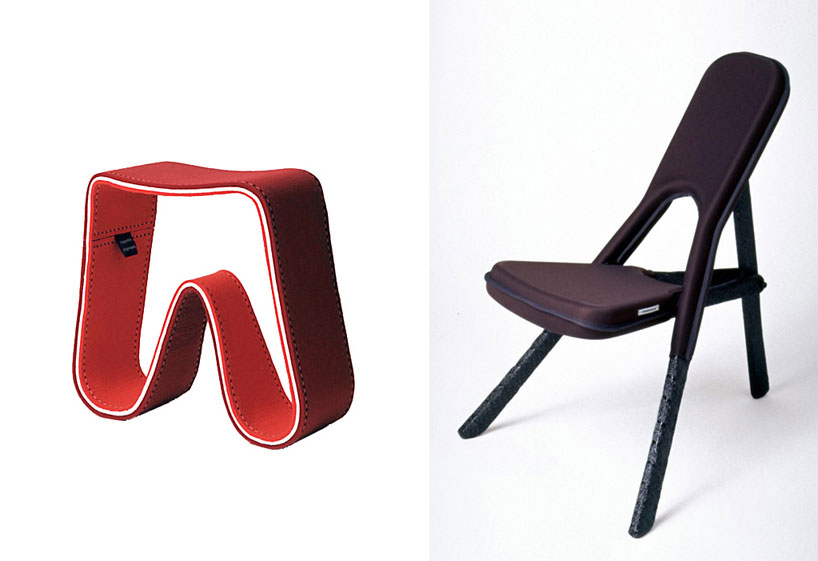 left: feltstool, jongeriuslab, nl, 2000
right: 'kasese' sheep chair for cappellini, italy, 1999now manufactured by jongeriuslab
when you were a child, what did you want to be
when you grew up?
I wanted to be famous (laughs).no, no, no, I wanted to be a hippie – that was first.famous is not the right word – there is a saying you see- something like 'get your neck out of the woods', above the crowd – I wanted to get somewhere.
what is your approach to the question of ecology and
sustainable design?
I 'recycle' because I use old forms and old traditions, but I don't lose much energy on that 'ecological' point.what I try to do is to make work that is so layered, personal or detailed, nicely detailed that it really touches people so they really want to buy it, so they save for it and buy it and they have it for the rest of their life like you buy antique or art or whatever. in that way you give design a happier approach than the throw-away cheap things that are on the market.
it appears to us that your work considers those who are
actually producing the work to put something of themselves
into the work so they have something that is not so boring…
do you think about the people who actually produce,
who work on your project. to give them satisfaction?
most of the time the people who work behind the machines are not so creative. each plate that comes out of the painting room is thought of by the director because the people are not interested.I did a hand thrown project – there was only one man that wanted to do this and he did it and made beautiful things, but the rest were laughing at him. it is not a party inside the factory when I come to visit, you can't have it all. I make work for them that sells -when there are big orders they think -oh, so the market really wants it. so then they can have a job and then they are really going to believe in it and then the love comes, it is a strange situation. the understanding comes with the volumes they have to make.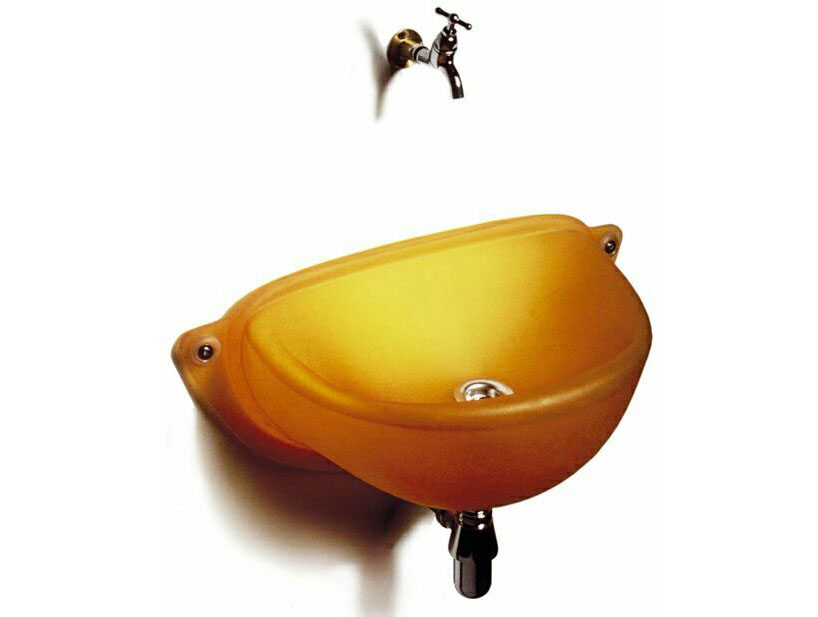 'pushed washtub', jongeriuslab, nl, 1996
any advice for young designers?
make you own stories, use your personality or own ideas to become a designeryou have to do it on your own power.
is there anything that you are afraid of regarding the future ?
any big issues behind the door?there is a lot wrong.africa is still dying from hunger…and the whole aids issue – it is something you cant solve with design.this is one of the hates I have for my own business because it is not of political or social relevance. the world goes on, with or without !
a diverse digital database that acts as a valuable guide in gaining insight and information about a product directly from the manufacturer, and serves as a rich reference point in developing a project or scheme.