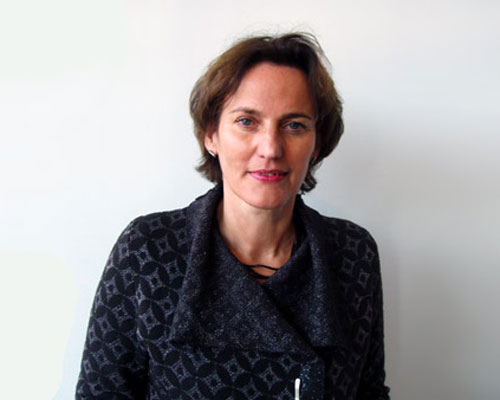 jan 31, 2008
francine houben interview
francine houben, founder and principal architect of mecanoophoto by harry cock
—designboom met francine houben in milan on february 6th, 2008.—
what is the best moment of the day?when I'm dreaming in my bed.
what kind of music do you listen to at the moment?I like the music of yann tiersen very much.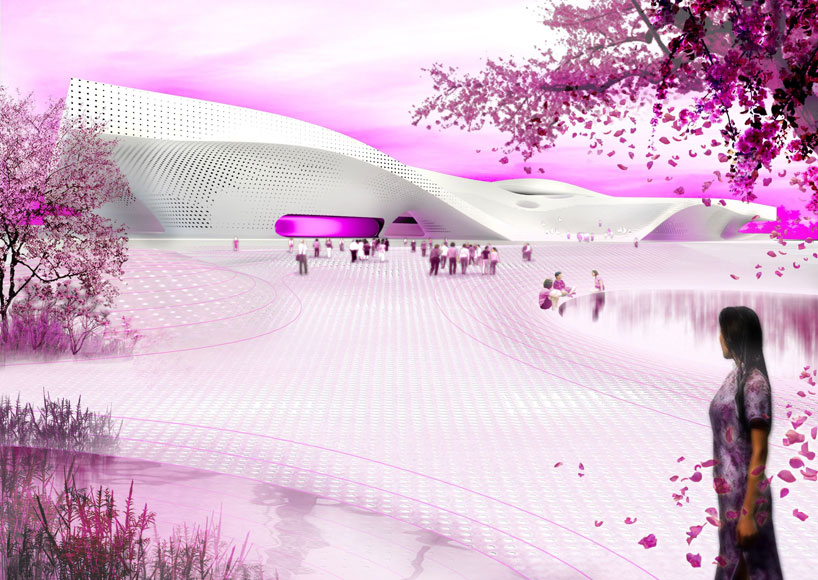 national performing arts centre, kaohsiung, taiwandesign: 2007-09, execution: 2009-12

cross-section, national performing arts centre, kaohsiung, taiwan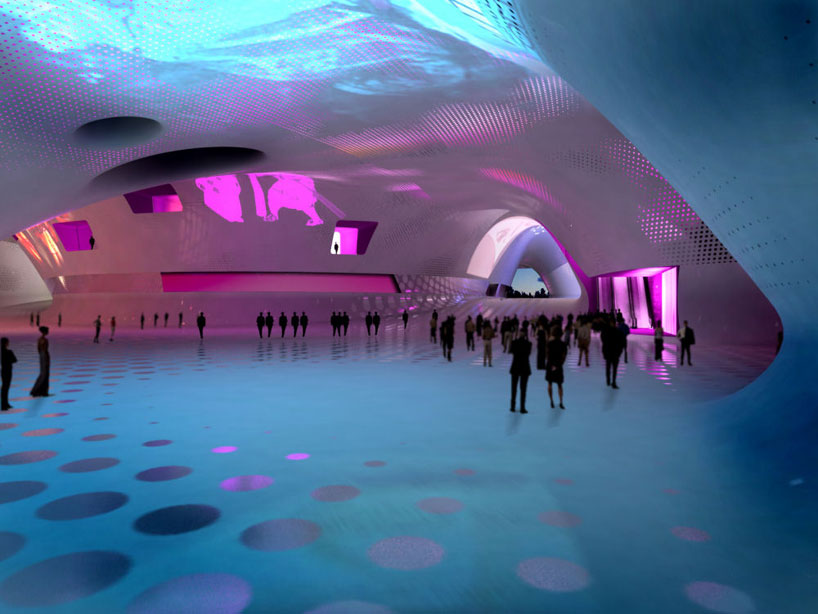 national performing arts centre, kaohsiung, taiwan
do you listen to the radio?yes sometimes either in the car or in bed.
what books do you have on your bedside table?none.
do you read design / architecture magazines?I used to do when I was younger but I don't anymore. there are too many images for me.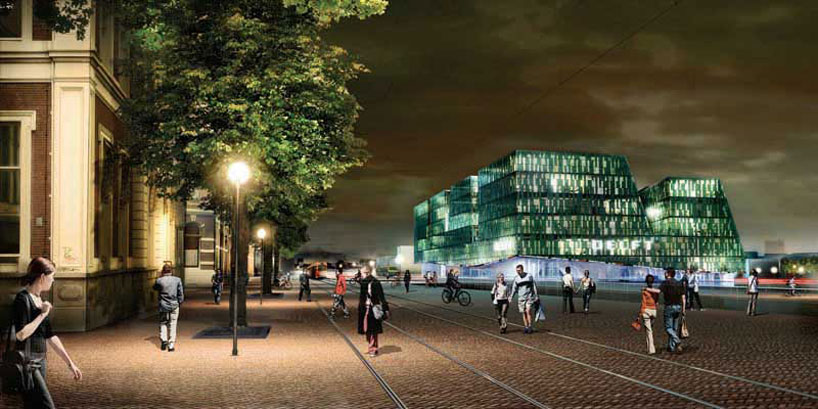 municipal office building and train station, delft, netherlandsdesign: 2006-07, execution: 2010-14
where do you get news from?television, radio, newspapers and my husband.
I assume you notice how men dress. do you have any preferences?chic and informal, particularly informal.

left: la llotja theatre and congress centre, lleida, spain design 2004-05, execution 2006-08right: cross-section of the la llotja theatre and congress centre, lleida, spain
what kind of clothes do you avoid wearing? usually nothing by designers who are famous, I like to select items by lesser known people.
do you have any pets?yes, two cats and two chickens – for the eggs.
when you were a child, did you always want to become an architect?can't really say that I thought about what I would be in the future it was just a logical step, I didn't have time to think about it.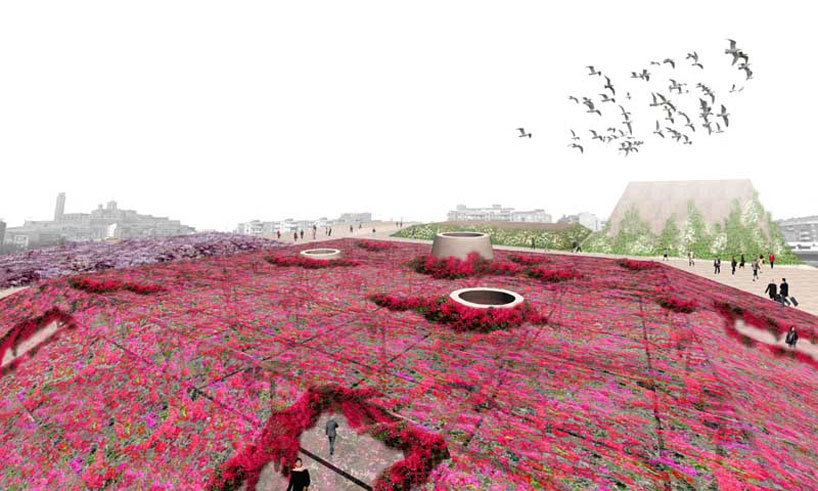 rooftop of the la llotja theatre and congress centre, lleida, spain
where do you work on your designs and projects?everywhere, all day, anywhere in the world – it's always on my mind.
do you discuss your work with other designers?I know a lot of other architects, but when we meet we usually talk about things that are not related to architecture, rather children or holidays and etc. however, when I'm together with architects in juries or teaching at schools it's more common for us to have discussion on architecture. sometimes you can be together on advisory boards, for example I used to be on a advisory board for london and now I'm on on a committee for the city of rotterdam together with winny mass and others so we discuss the city's architectural development together a lot.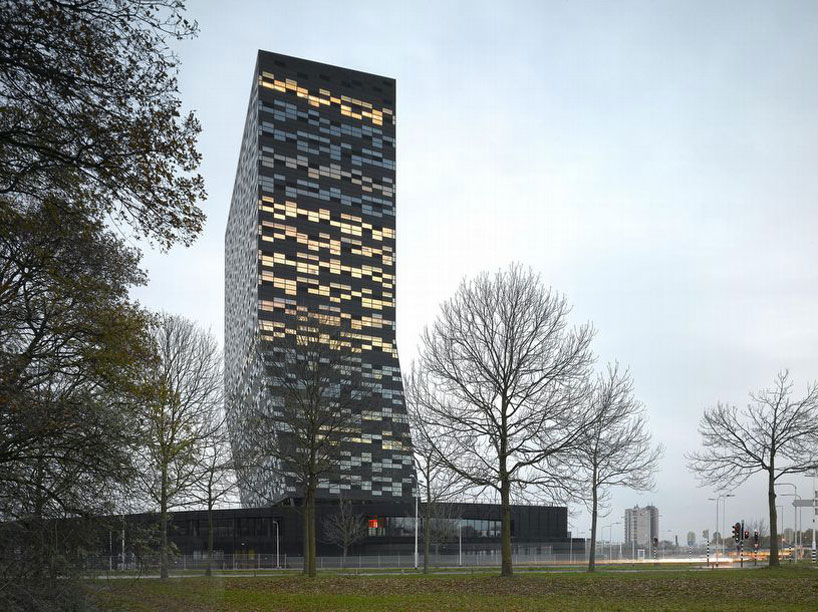 business and innovation center 'fiftytwodegrees', nijmegen, netherlandsdesign: 2004-2005, execution: 2005-2008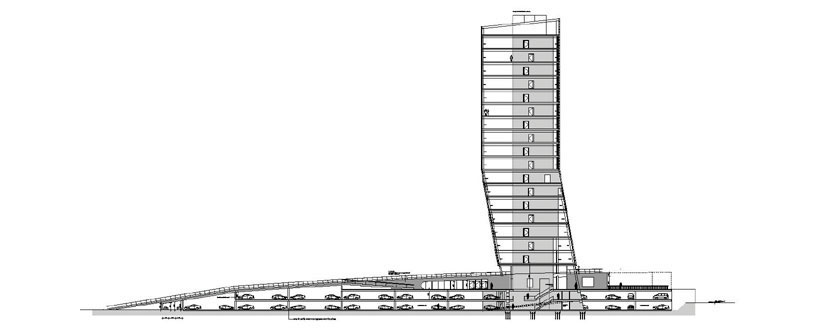 the name of the complex, fiftytwodegrees, refers to the site's 52nd degree of latitude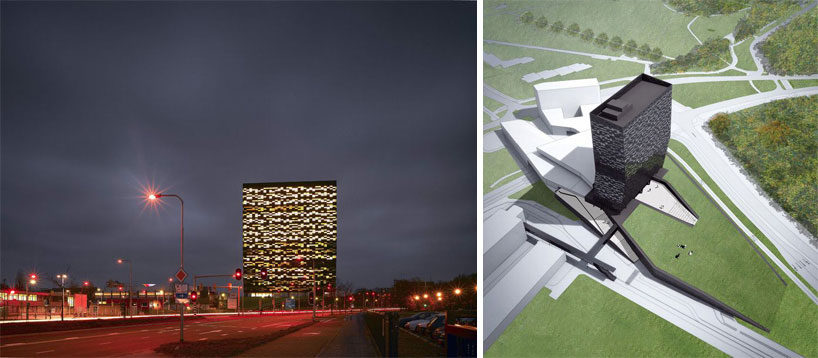 the tower is seventeen storeys high. the lower eight floors are ten degrees out of plumb, creating an inviting gesture towards the city. the bent form was created by the hybrid construction of concrete and steel, whereby for each intermediate floor the elevation shifts in relation to the concrete cores.
describe your style, like a good friend of yours would describe it.I think it's warm, human, playful with beautiful light, strong color and strong materials.
please describe an evolution in your work, from your first projects to the present day.in architecture you really have to learn so much. so in my earlier work we didn't know as much about details or materialization as we do now. what can be seen in our work is the use of the landscape and and natural light.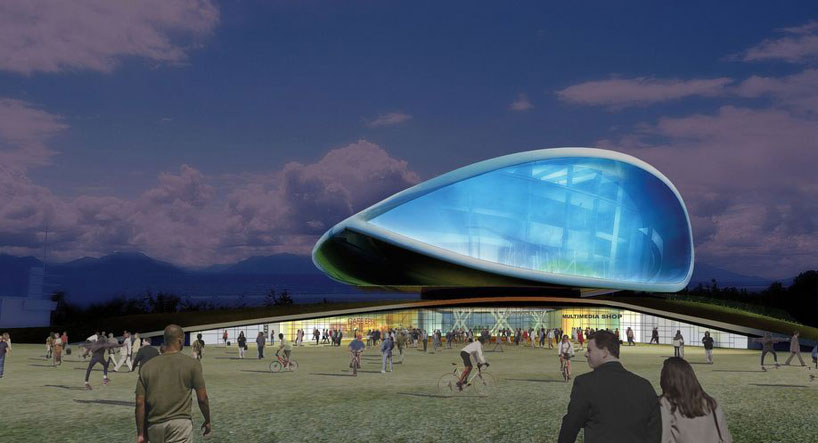 learning center federal polytechnic school of lausannedesigned: 2004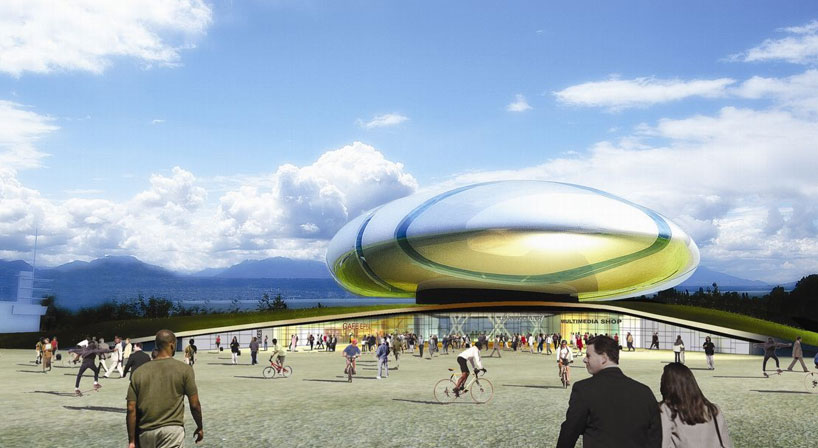 around a tall central hall, the 'wing' rotates on a ring of ball bearings at the same speed as the earth – fifteen degrees per hour,
which project has given you the most satisfaction?you consider all of them as your babies to a certain extent so it's difficult to say. maybe the library or the chapel but there isn't a specific one because we have such a wide range of projects, one is a nice theatre, one a nice library, a nice housing project and so on, you cannot really compare them to each other.
could you tell us about some of your recent projects?last year mecanoo won the international competition to design the new national performing arts center in kaohsiung, taiwan. the site is an ex military camp that will become a new public park. the area is tropical and there many banyan trees trees that create a lot of ventilation. we wanted our building to be very open so that the flow of air could pass through easily, so at ground level some areas open – in fact the whole design of the building is very much informed by the form of the banyan trees.
there is also 'fiftytwodegrees' a building that we completed for philips, this building is inside a gated community. we wanted design something that invited everybody to come inside even though it was within the gated community, so we extended the park over the road right up to the industrial site and also gave the building the kink, a sort of welcoming gesture that gives the building character. the outside looks almost pixelated and completely black, contrasting the white labs inside.
another project would be the la llotja theatre and congress centre in lleida, spain. the site is close to the segre river, this location gave me the feeling of being beside the sea, so we wanted create a beach like feeling with this building. the main components are a theatre and a conference centrebut the foyers are also important as they give a view to the river and nearby castle. in the area there are a lot of fruit trees so the color palette of fruit is a theme that reoccurs in small details throughout the building.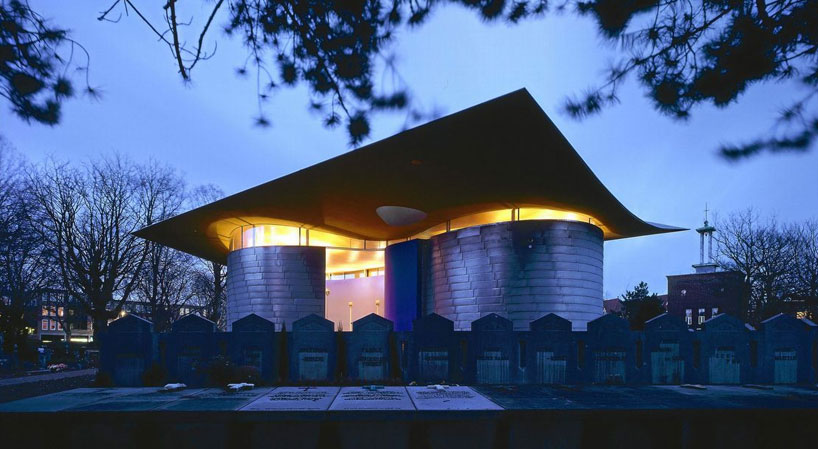 chapel saint mary of the angels, rotterdam, the netherlandsdesign: 1998-1999, execution: 2000-2001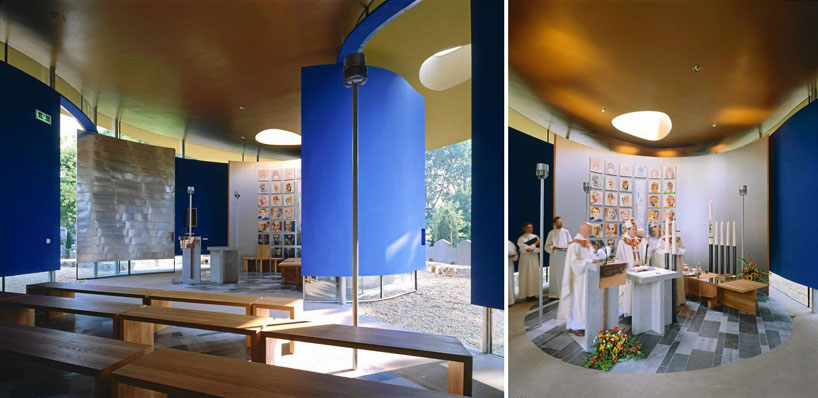 the circulation plan of the chapel is based on the theme of the continuation of life.
who would you like to design something for?a lot of times 'things just happen'. with each project I just try to push myself to make it better than the last and of course to find a good client. if I have to say a name – the queen of holland but really I don't know who.
is there any designers / architects from the past, you appreciate a lot?charles and ray eames.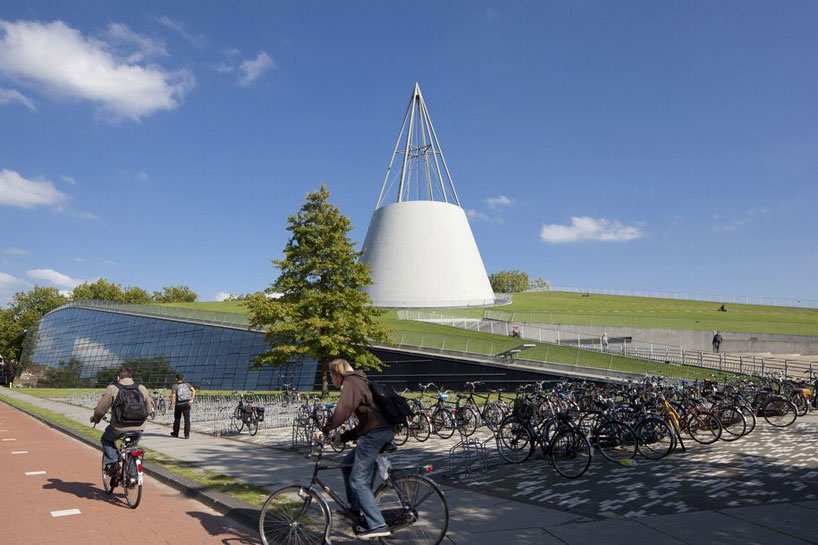 library delft university of technology, the netherlandsdesign: 1993-1995, execution: 1996-1998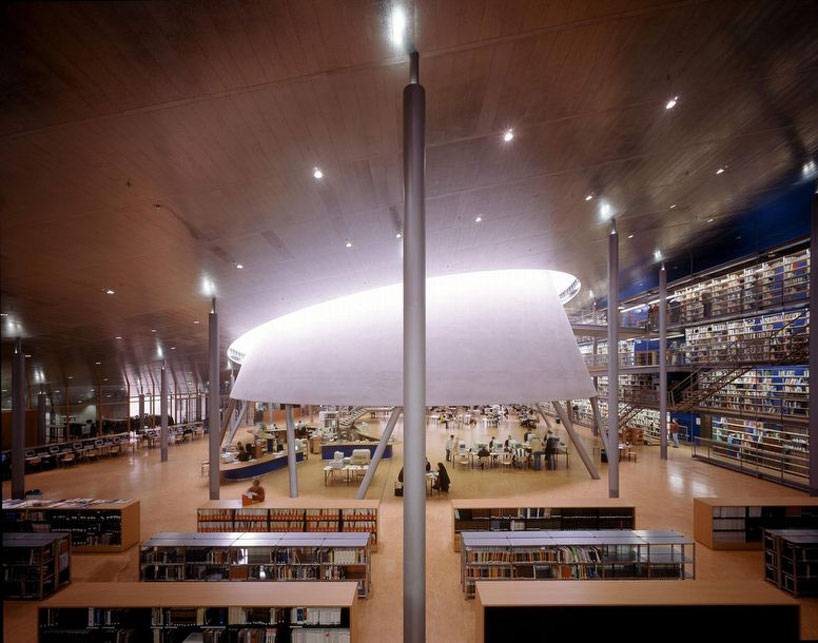 library delft university of technology, the netherlands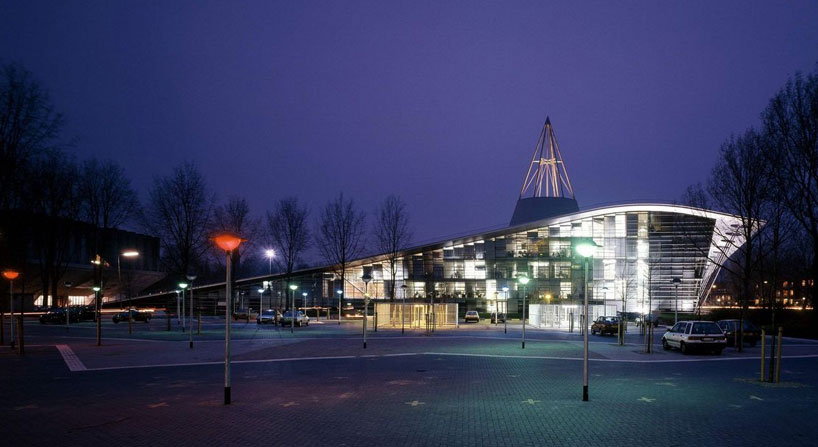 library delft university of technology, the netherlands
and those still working today…it's hard to say exactly who but I appreciate that there are a lot of good designers working today. more than architects I like stage design, so our work has been influenced by that a lot.
what advice would you give to the young?make sure that you are not always sitting behind a computer – especially young architects. use your senses and look very closely at what's happening in the world, what's happening on the site, the climate etc. have social awareness and do your best.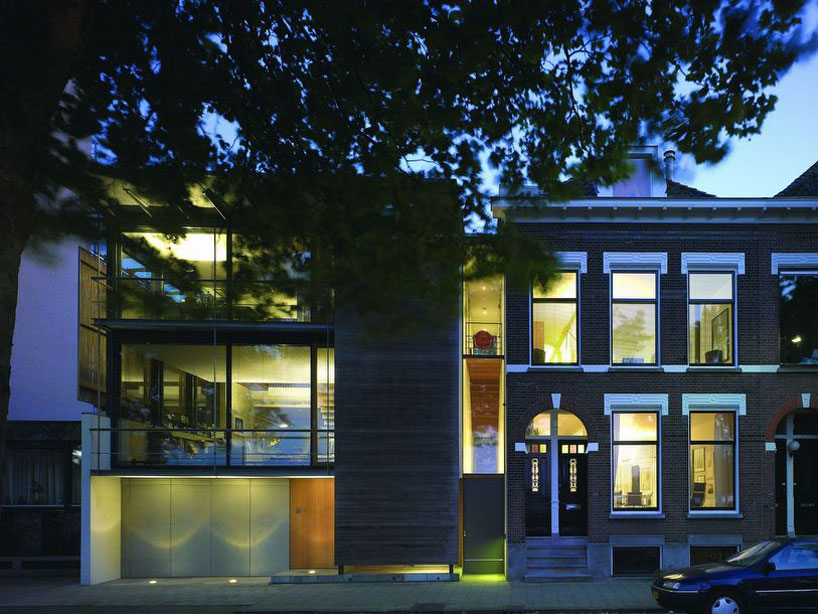 house with studio, rotterdam, the netherlandsdesign: 1989-1990, execution: 1990-1991
what are you afraid of regarding the future?I'm a very optimistic person so I'd like to imagine a future where all the different nationalities and cultures will mix much more. hopefully the younger generations will do that and be wise enough to handle it. the only thing that I would be afraid of is if architects and urbanists don't do the right things.

nov 11, 2019
nov 11, 2019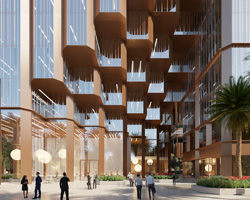 oct 24, 2019
oct 24, 2019
jul 16, 2019
jul 16, 2019
mar 21, 2019
mar 21, 2019
mar 08, 2019
mar 08, 2019
feb 12, 2019
feb 12, 2019
a diverse digital database that acts as a valuable guide in gaining insight and information about a product directly from the manufacturer, and serves as a rich reference point in developing a project or scheme.