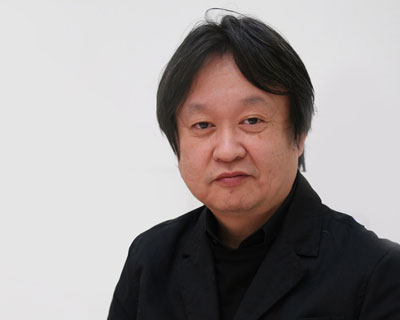 apr 18, 2004
naoto fukasawa interview
naoto fukasawa© designboom
we met naoto fukasawa in milan, italy on april 18th, 2004
what is the best moment of the day?
late afternoon, before I go home.I look up, I see the sky… that's a good time.
what kind of music do you listen to at the moment?
simple jazz. sometimes japanese music.
do you listen to the radio?
yes.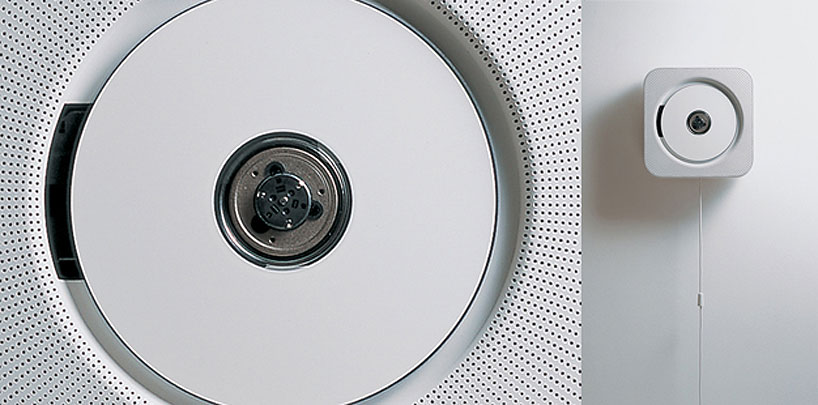 wall-hung CD player for muji, 1999
what books do you have on your bedside table?
a japanese traditional philosophical book.
do you read design magazines?
not much. very seldom.
where do you get news from? newspapers?
around, in the air. I don't read much newspapers, I don't use the internet nor watch tv, news is everywhere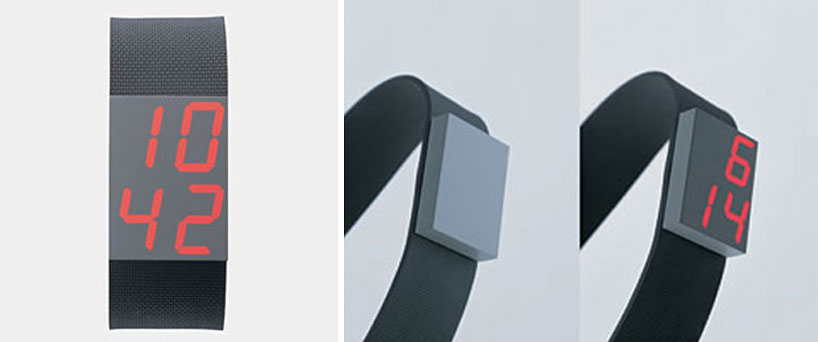 LED watch
do you notice how women are dressing?
casual, clean, but I really care about details.
what kind of clothes do you avoid wearing?
a tie.
do you have any pets?
no.
when you were a child, did you want to become an artist?
I wanted to be a painter.
where do you work on your artistic concepts?
of course in the office, but also… anywhere. when I get the brief of my client, then I get many ideas. that's the most exciting moment for me.if I don't get ideas at this time, I don't get them later too.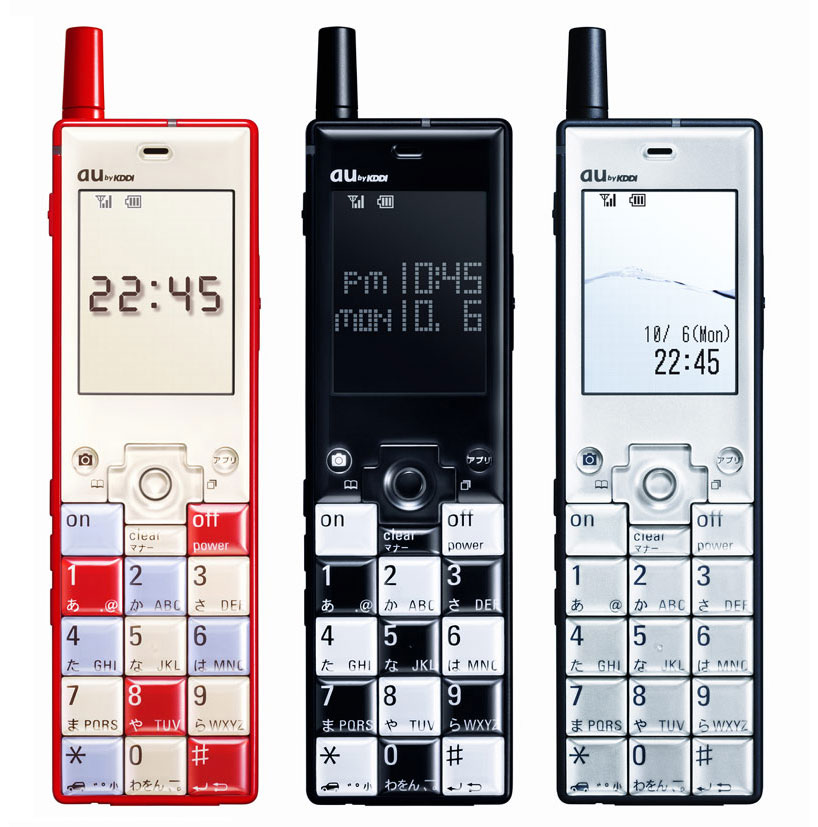 'infobar', a mobile phone for KDDI/AU,
who would you like to design something for?
I don't care. I like to work in different categories combined together, that makes something new. finding resources and trying to design new things.
which project has given you the most satisfaction?
oh …the telephone.
do you discuss your work with other artists?
about design… not much.
describe your style, like a good friend of yours would describe it.
I am not interested in buying many things, I don't have many belongings. mostly very clean, very simple things.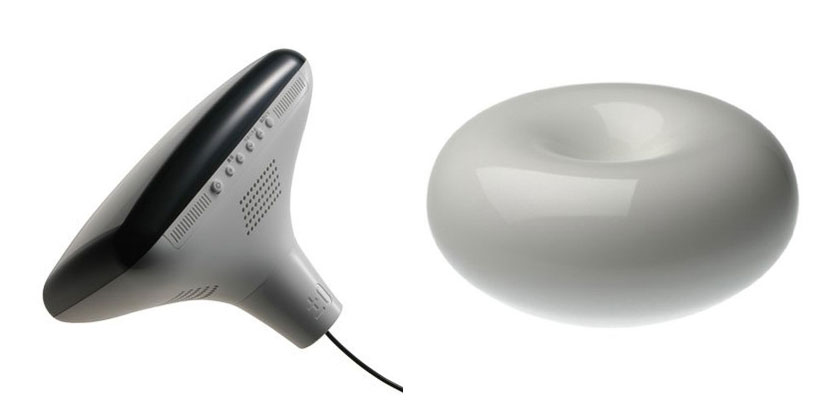 left: mini LCD TV for ±0
right: humidifier for ±0
design means observing objectively. it means being aware of our living nature,a simple element in the larger environment. I like when a project doesn't sell my name or my characteristic, when it is just an object that happens to be there, …no, not anonymous, just natural.
can you describe an evolution in your work from your first projects
to the present day?
my work is now more based on instinct and awareness. I think I refined the way to distinguish immediately the meanings relative to an object's proper place.
is there any designer and/or architect ,
you appreciate a lot?achille castiglioni.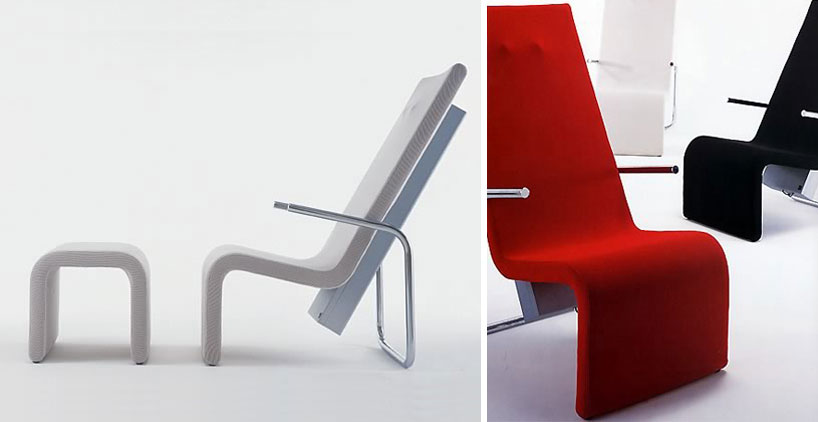 nf01, massage chair, in collaboration with sanyo
and those still working?
none.
any advice for the young ?
enjoy designing. it should be fun, not a job. it's a way of life.
do you think that design is becoming too much
like fashion, without real social significance, without
any values to transmit, … pretty superficial?
I think this happens, it is not the design itself,it's the trend of the design world. some people realize that design has nothing to do with fashion trends, but actually there is no such thing as a design that is 'good' forever. the claims 'I want something new' and 'I want something I'll never get tired of' are contradictory and structurally conflictual. you need both things because the world has two opposite sides: serious design and fashion, they look at each other and they both become better. what lasts is what is in harmony. things that are in harmony with our thoughts (our taste) rapidly lose interest.

left: breakfast concepts concepts for national / matsushitatea maker:the stainless steel lid acts as a hot plate to keep cups or a teapot warm and ready to serve. orange juicer: another minimal design, reducing a juicer to the smallest size and incorporating it on top of the glass from which you drink the juice. two-slice toaster: this extremely small toaster is barely larger than two slices itself.
right: LCD monitor for NEC-mitsubishi
you have used the name 'without thought' as the title of some
of your workshops.
can you tell us more about 'without thought'?
the design of an object corresponds to our unconscious movements and the environment that surrounds us. thinking needs time. feeling can be done in a moment.when you see something for the first time it seems to be important. but it's the later, when you use the object that you realise that what you've missed initially is the essence of what design is all about.and that is the idea behind 'without thought.'
what are you afraid of regarding the future ?
people who are thinking only of making money, they make a dangerous world. or those who are only thinking about design. you need conjunction between the two, its very rare but you need someone who thinks about both, to get the right answer, to make a better life in the future.

mar 13, 2020
mar 13, 2020
mar 09, 2019
mar 09, 2019
dec 22, 2018
dec 22, 2018
jun 08, 2018
jun 08, 2018
apr 22, 2018
apr 22, 2018
mar 21, 2018
mar 21, 2018
a diverse digital database that acts as a valuable guide in gaining insight and information about a product directly from the manufacturer, and serves as a rich reference point in developing a project or scheme.