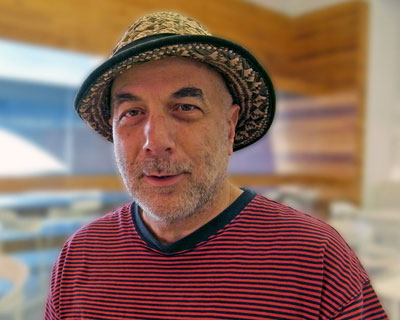 oct 05, 2000
ron arad interview
ron arad© designboom
we met ron arad at his studio on the 5th of october 2000, in london.
what is the best moment of the day?I like driving my real children to school, and driving in a traffic jam,listening to radio 4, and its fantastic walking in this door here,being very optimistic about what I can do today… and then people start calling andarriving, everyone wants something…and a lot of the day is wasted, but somehow Imanage to do quite a lot, and that's very good, and then its time to go home and that'sfantastic, and then it's time to have dinner and that's great, and then to read or dothings or to go out, and its all good, so I don't think there's a best..
what kind of music do you listen to at the moment?it depends.at the studio I'm a passive listener to what everyone else is listening to.I listen to lots of classical music and music from the 60's which I'm very fond of —dylan, velvet underground, also computer music…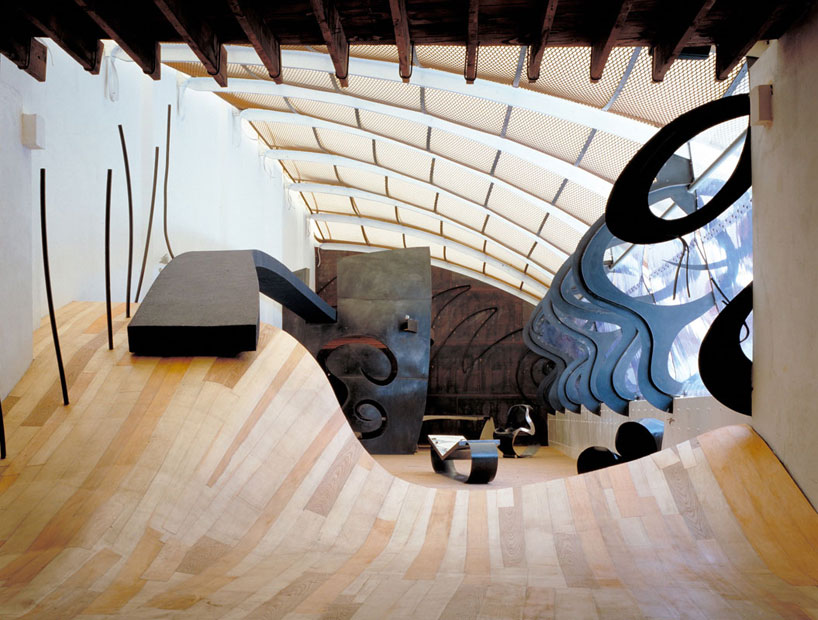 ron arad associates studioschalk farm, london,
do you listen to the radio?yes, every morning, it makes a traffic jam enjoyable.
what books do you have on your bedside table?made of paper, soft cover books.the last book I read was called the book of revelations by rupert thompson .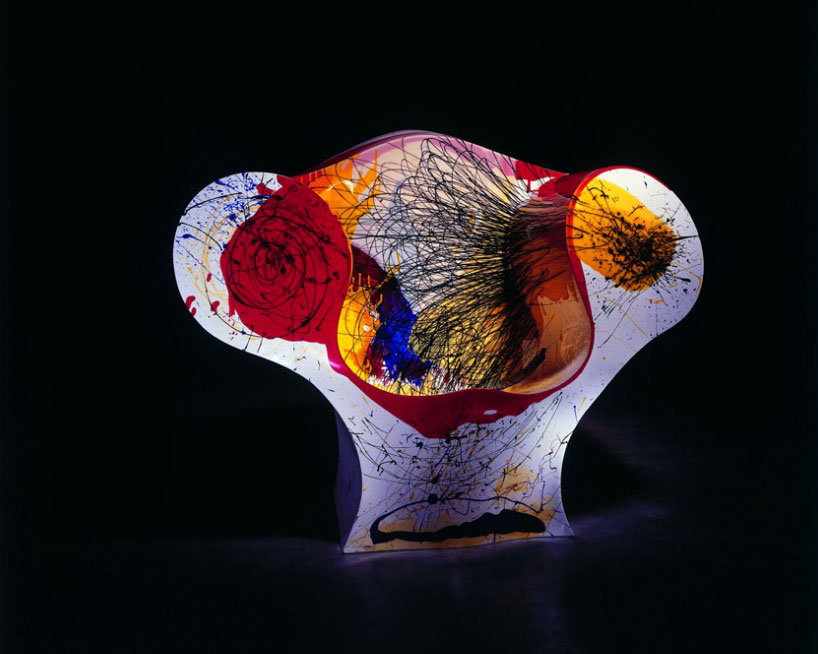 'new orleans' limited version of the 'big easy'produced by ron arad associates/gallery mourmans, 1999
do you read design magazines?no one reads design magazines, you look at them.
where do you get news from?radio in the mornings, I watch the news at night, or go on line.its amazing to see the difference of how the same atrocities are reported.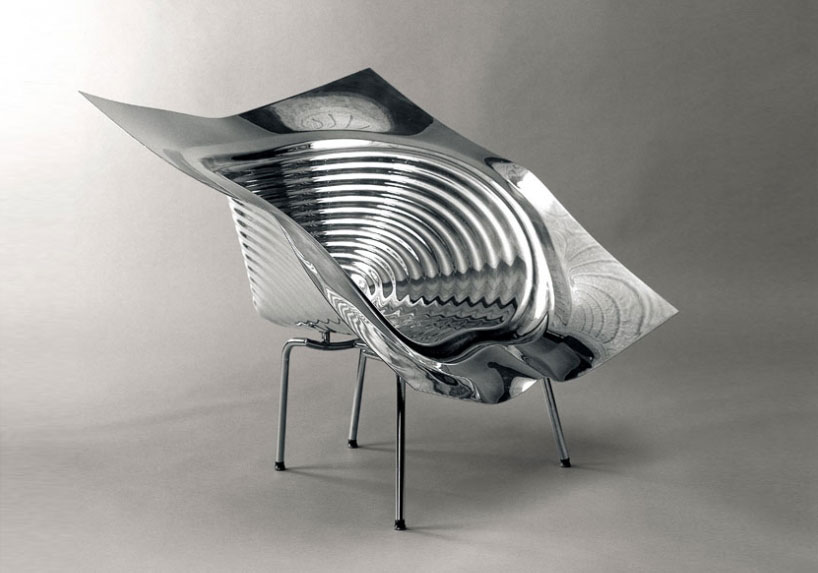 'un-cut', limited editions, 1997
do you notice how women are dressing? do you have any preferences?I do notice people and women, how they look, what they wear, that's the primaryinformation about someone.
what kind of clothes do you avoid wearing?women's clothes. (laughs)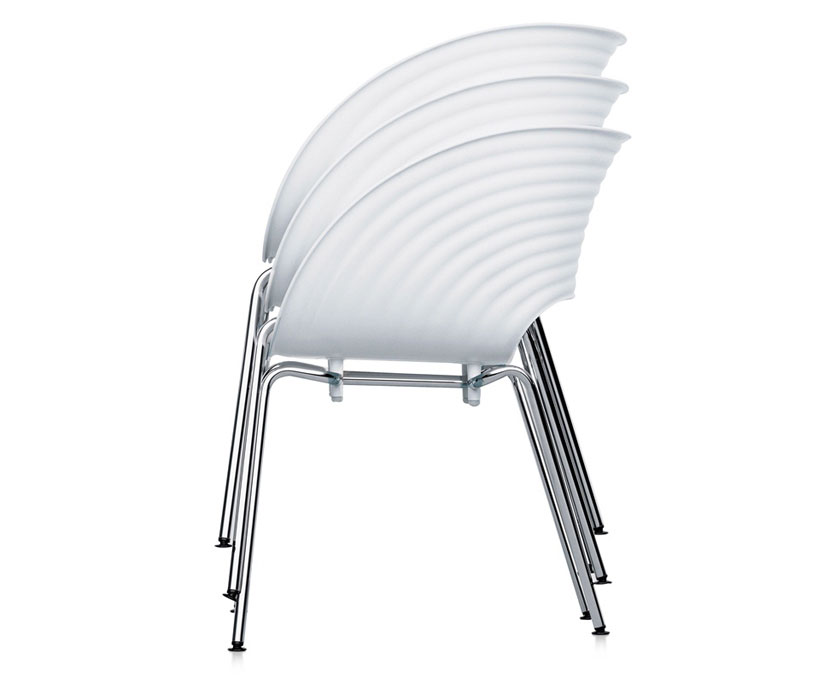 'tom vack' stackable chair for vitra, 1999
do you have any pets?the family has a pet.
where do you work on your designs and projects?sometimes at home, because here its difficult to work with people walking in and out.who would you like to design something for?I want to design for the things themselves. there's no one who I'd love to design for.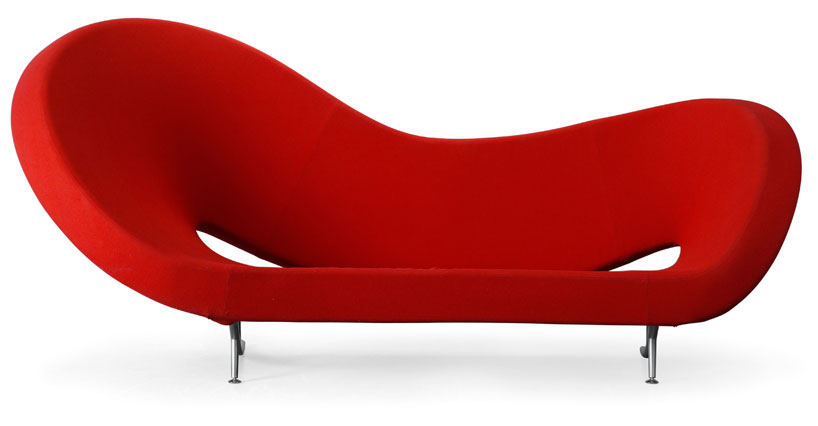 victoria & albert collection, for moroso, 2000
when you are working, do you discuss or exchange ideas with your colleagues?all the time, I talk as I work, and I talk about design with colleagues.some people are more intimate, and closer, but you work from within.
describe your style, like a good friend of yours would describe it.a good friend of mine would say what sort of question is this? (laughs)there are all sorts of different discussions and interests going on at the same time,interests shift from one day to the next, when you look back you can see thereis a single thread.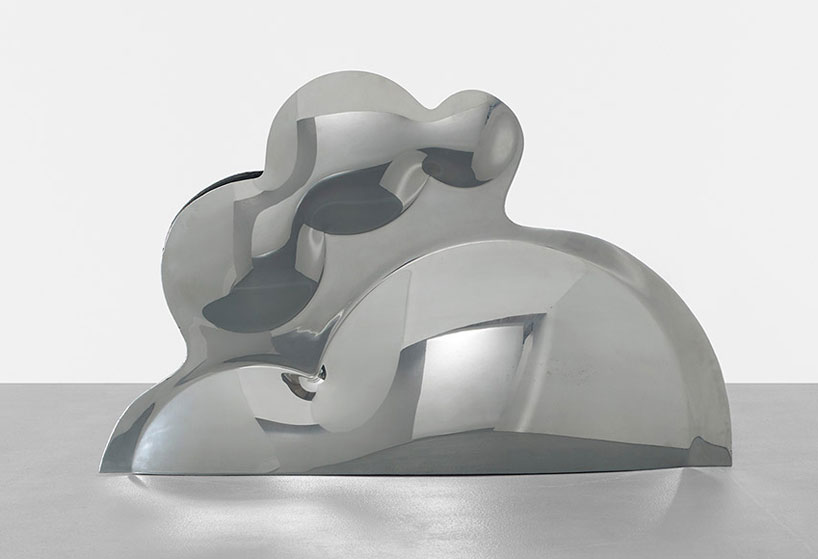 'b.o.o.p.' inflated aluminium vases,cavity forming without moulds produced byron arad associates/gallery mourmans, 1998
is there any architect or designer from past you appreciate a lot?of course, the list is too long.my favorite changes from day to day, it depends. kiesler for example.
and among those still working?I appreciate all of them. they are all fantastic.
'rtw' storage-wheel for hidden, 2000
do you believe in sharing knowledge via internet?or do you think that the internet has more negative effects on us,as the 'big brother is watching you'?for some people, it's a real pleasure, others don't deserve it.I like being generous because its uplifting.I don't see the negative effects of Internet.it is a tool like a telephone or stamp.
'fpe', for kartell, 1998
on the news broadcast they said that italians are afraid of unemployment, criminalityand pollution. what are you afraid of regarding the future?I'm afraid of boredom, fundamentalists, philistines.I'm afraid of the dark, and of death.I try to avoid all these things.
jun 10, 2019
jun 10, 2019
may 01, 2019
may 01, 2019
jun 23, 2018
jun 23, 2018
jun 15, 2018
jun 15, 2018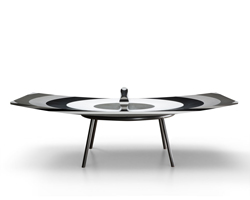 mar 29, 2018
mar 29, 2018
oct 24, 2017
oct 24, 2017
a diverse digital database that acts as a valuable guide in gaining insight and information about a product directly from the manufacturer, and serves as a rich reference point in developing a project or scheme.