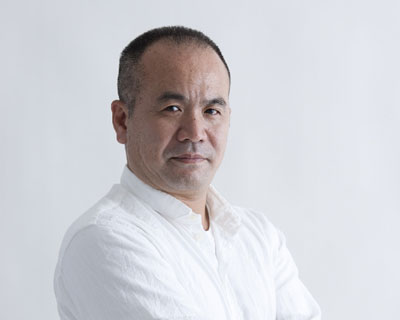 nov 02, 2005
yasuhiro yamashita / atelier tekuto interview
yasuhiro yamashita
we met yasuhiro yamashita at his office in tokyo on 2nd november, 2005
what is the best moment of the day?
midnight, that when I heal my tired body, relax, and yes … I drink maybe alcohol (I like wine).
what kind of music do you listen to at the moment?
I listen more to the sounds than the music – in its complexity(rythmn, words, meaning…). I prefer taking it in an abstract way.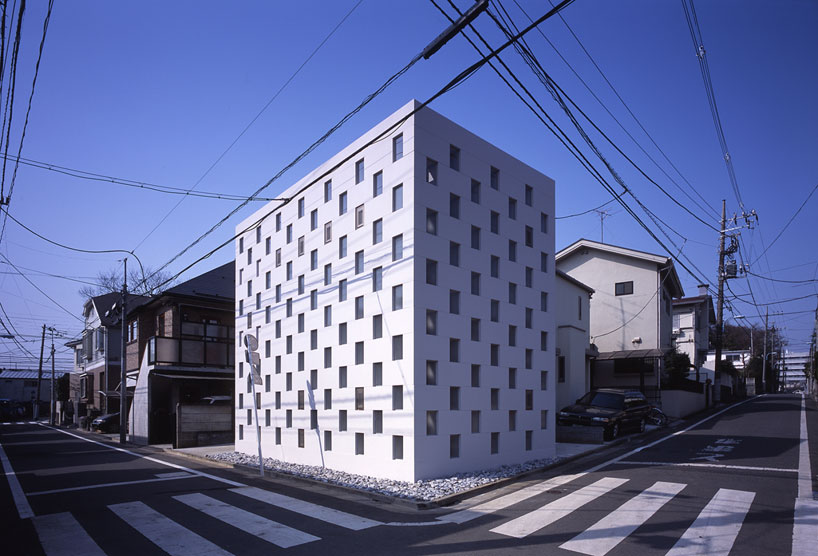 'cell brick', suginami-ku, tokyo, 2004.skin-house project no.5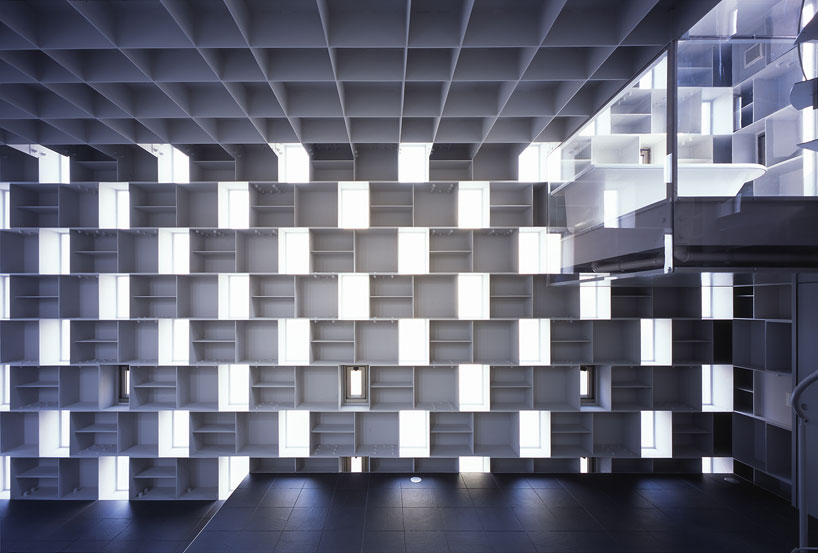 'cell brick', 2004living space.
do you listen to the radio?
no.
what books do you have on your bed side table?
mostly architecture books.poor me, because I would prefer to read some poetry. but recently I am working a lot and time is short.so I have had to concentrate on some architecture readings. … honestly I like movies best.
do you read design / architecture magazines?
yes.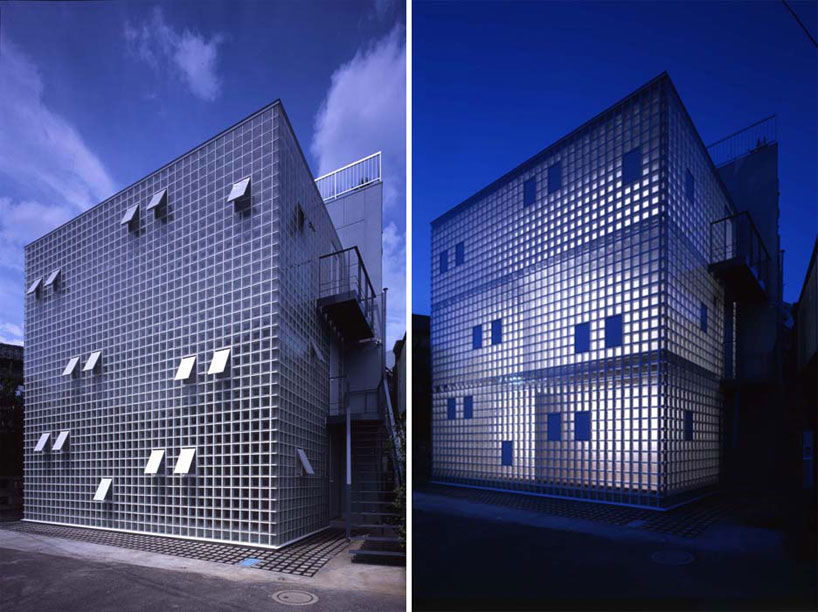 'crystal brick', bunkyo-ku, tokyo, 2004skin-house project no.6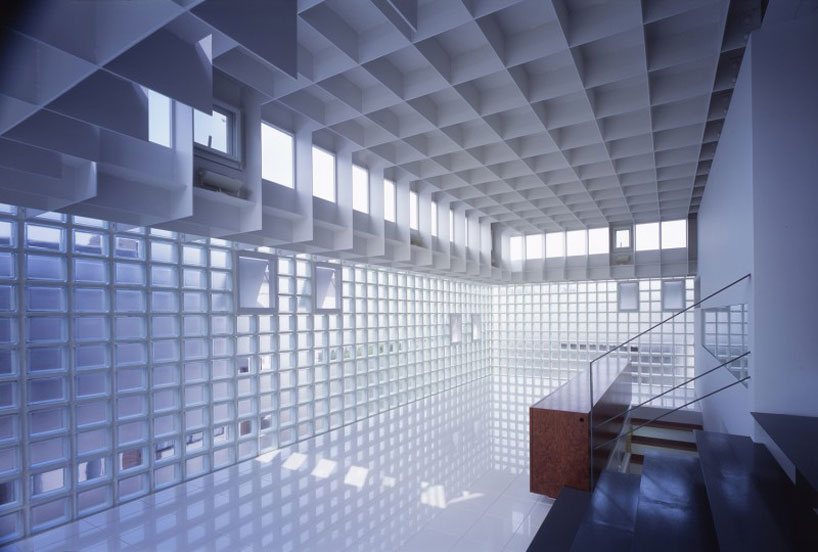 'crystal brick', 2004.living space with the glass block structure.
where do you get your news from?
from the people I meet, I meet a lot and so they give me a lot of ideas and information.
do you notice how women are dressing?
do you have any preferences?it doesn't matter what kind of fashion they wear as long as its suitable for the person.
are there any clothes you would avoid wearing?
tie! I never wear a tie!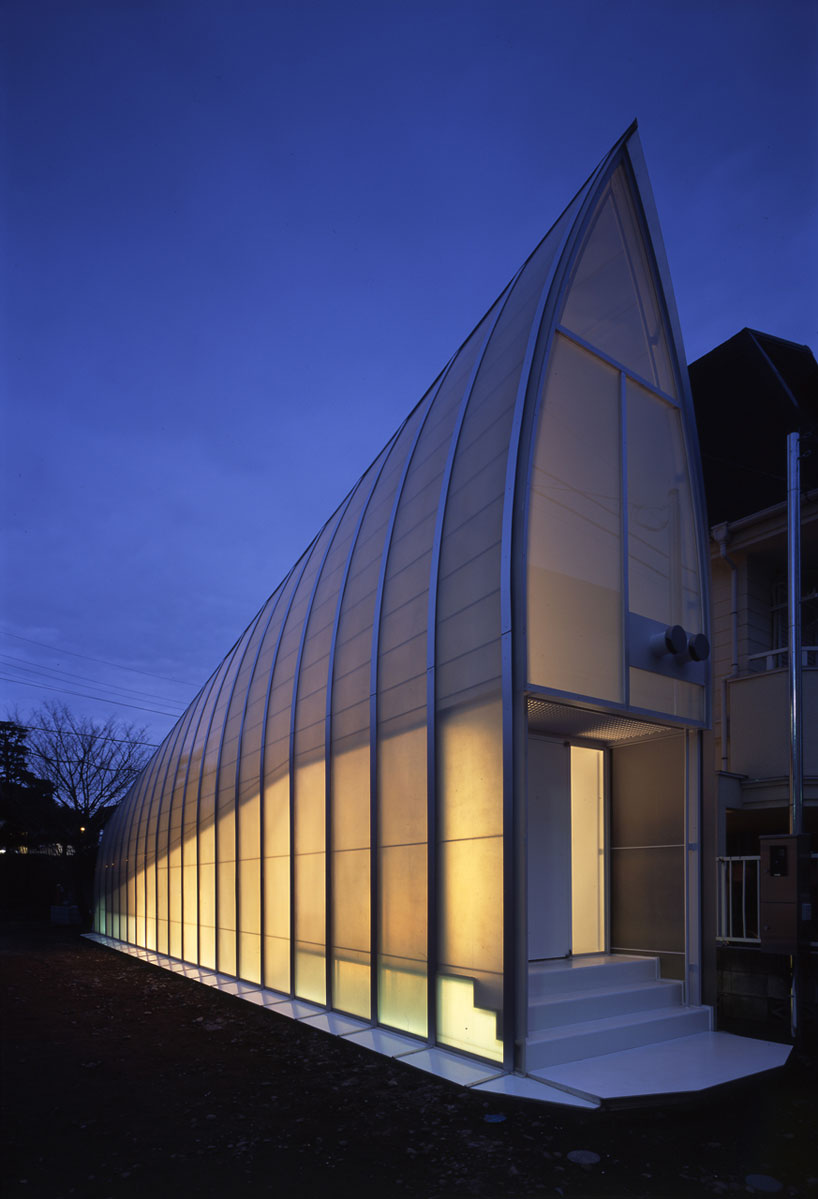 'lucky drops', setagaya-ku, tokyo, 2005skin-house project no.7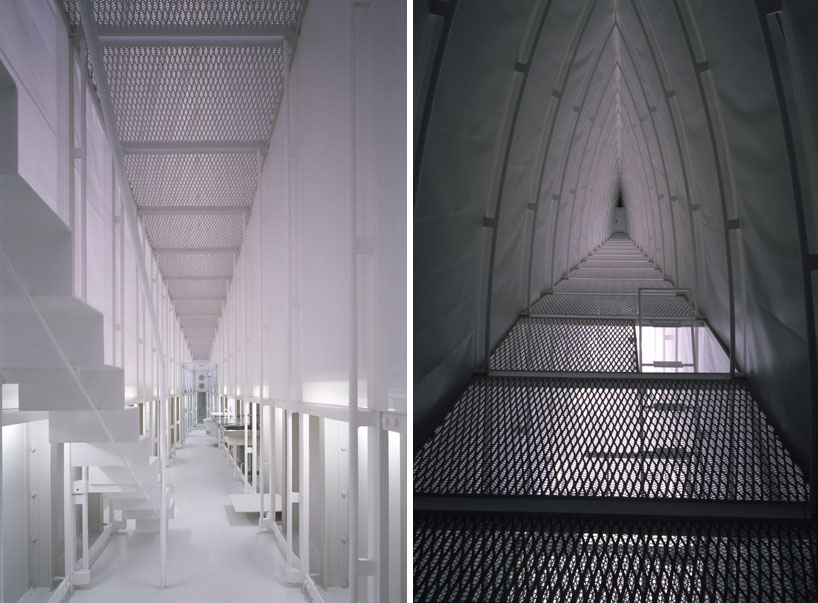 interior view of 'lucky drops'.
do you have any pets?
only children!
when you were a child did you always want to be an architect?
no, I never thought of that. I was born in a very rural area, a small island, I had no ideas of architecture, orto become an architect. but I always wanted to be creative with my hands.
where do you work on your architectural designs?
60-70% on the train, moving to the site where I am currently developinga building. I dont bring my computer, I sketch by hand.I usually dont do final drawrings from the begining, its more work in progress. verifying ideas alongside construction.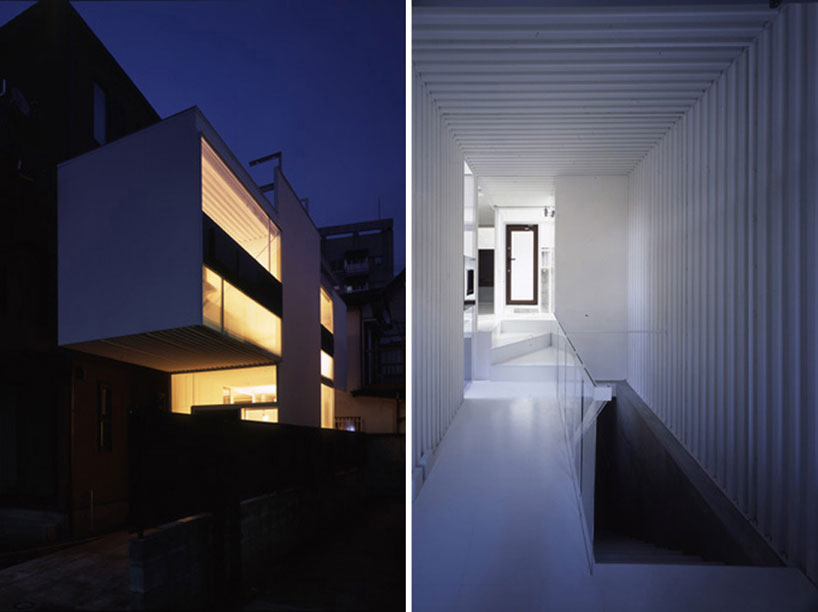 left: 'wafers', shinagawa-ku, tokyo, 2004skin-house project no.8
right: 'wafers', 2004interior view of the house with keystone panel.
describe your style, like a good friend of yours would describe it.
I would say affordable housing and I think each architecture project has to be different and depends on the time, the place or the people.
which project has given you the most satifaction?
each time it is the project I'm working on.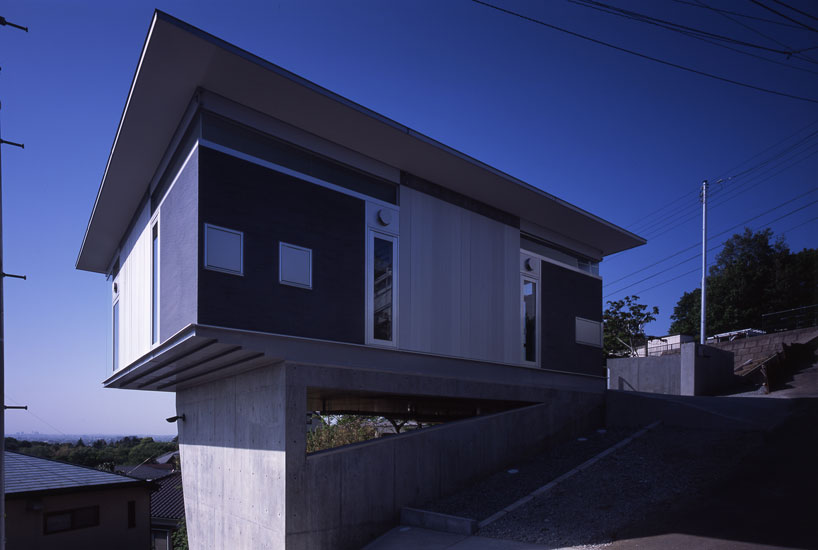 'aluminum house', kawasaki-city, kanagawa, 2005pc-project.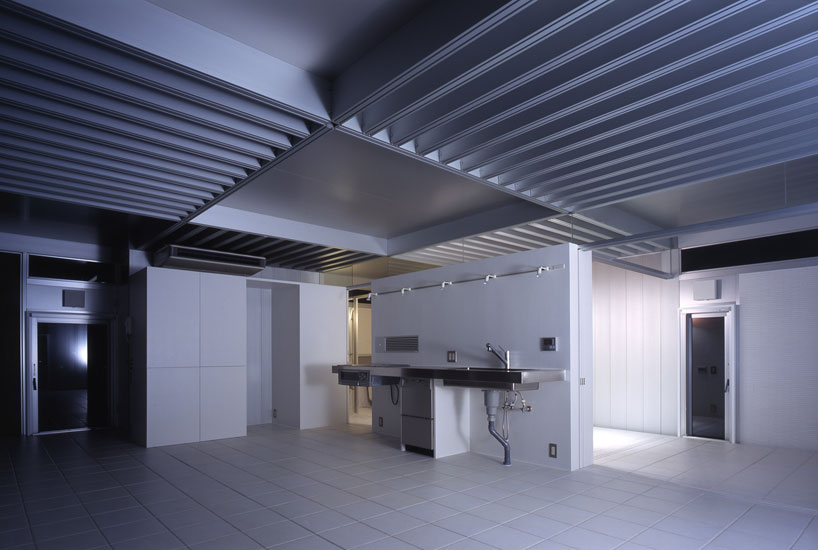 'aluminium house', 2005open living space with the prestressed aluminum stucture.
is there any architect from the past you admire?
generally I prefer 'no name' architecture, but of course I like the work of many famous architects like louis kahn and le corbusier.
what current architects do you appreciate?
rem koolhaas, what I like about his work is that he doesn't concentrate on the 'thing'. rather, he deforms the object through various interaction-mechanisms and visual interfaces – 'work in progress'.
'ref-ring', zushi-city, kanagawa, 2005pc-project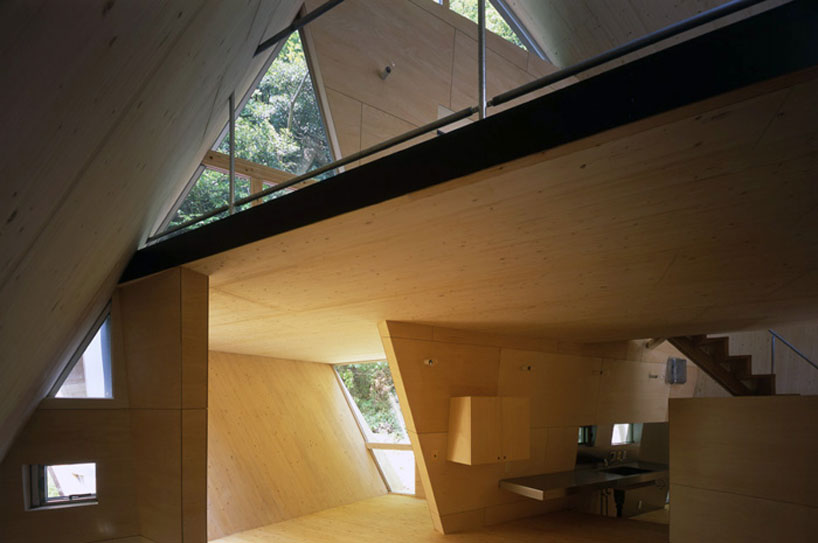 'ref-ring', 2005interior view of the house with prestressed wood panel.
please describe an evolution in your work,
from your first projects to the present day
yes, there is.I think that the japanese architecture system is very veiled, this means that the outside of a building does not neccessarily reveal how the inside is organised. after my first projectsI have tried to change this approach. I came up with the idea of building at a 'low cost'. I started collaborating with a lot of good structural engineers reduce costs by changing the construction system.
do you have any advice for the young?
I think everything is border-less, so don't be limited, try to have a wide view and the most important thing is to contribute to society and not to justsatisfy yourself.
what are you afraid of regarding the future?
I fear natural disasters the most. in japan, 60% of the nature is damaged by architecture. this is a very scary thing, and I'm a part of it. therefore I have to be very careful in the future, and to take responsibility in my work.

feb 14, 2020
feb 14, 2020
sep 28, 2018
sep 28, 2018
jul 01, 2018
jul 01, 2018
oct 28, 2015
oct 28, 2015
jun 25, 2014
jun 25, 2014
may 01, 2014
may 01, 2014
a diverse digital database that acts as a valuable guide in gaining insight and information about a product directly from the manufacturer, and serves as a rich reference point in developing a project or scheme.