Mark Templin, LEXUS international's executive vice president announces the theme of the 2016 LEXUS DESIGN AWARD
video courtesy of LEXUS
—
Prize

1) Invitation to Milan Design Week 2016
2) Up to 3 million yen to assist in production costs of prototype
3) Mentorship
Four Prototype Winners will each receive a mentorship by an acknowledged professional to develop a model of his/her submitted Work. The Sponsor will cover the prototype production costs up to 3 million Yen (*includes tax, customs duty, construction fee and part of a packaging fee). Prototypes will be developed through sessions with the mentors.
In addition, the 4 Prototype Winners plus 8 additional panel finalists will receive a 'Trip Prize' to Milan, Italy during Milan Design Week 2016 (taking place between April 12-17, 2016) and are required to attend the LEXUS DESIGN AWARD 2016 Exhibition and Ceremony, where the four prototypes, and panel displays for the other eight awarded designs, will be exhibited.
Please read full description of benefits in the Official Rules.
—
LEXUS DESIGN AWARD
Lexus was launched in the U.S. in 1989 as a premium car brand from Japan. As a truly global premium car brand with the vision of Progressive Luxury, Lexus has been pursuing and presenting different values from those of conventional luxury cars. We have been striving not only to create a more luxurious experience through automobiles, but also to help in solving many issues that have come along the way. Lexus thinks that "DESIGN" is a process in problem solving and a solution to shape a better society and future.
Lexus is announcing the continuation of the LEXUS DESIGN AWARD to support future creators who can enrich the world. By providing the opportunity to embody unique ideas, create and exhibit prototypes through sessions with world-famous designers as mentors, we hope to help next generation talent flourish.
We welcome designers from all fields: architecture, product design, fashion. We're looking for "DESIGN" that goes beyond the mastery of shape, form and function, and becomes a process and solution to overcome challenges.
—
Theme



The theme for the LEXUS DESIGN AWARD 2016 is 'Anticipation'. At LEXUS, we strive to develop products and services by anticipating the needs of people and society. This year's applicants are encouraged to submit innovative designs and unique interpretations that are true to the essence of the theme.
The application period of the LEXUS DESIGN AWARD 2016 is from August 10, 2015 at 9:00 (CET), and qualifying Submissions must be received by October 18, 2015, 23:59 (GMT).

—
Judges

The Judges and mentors will select 8 (eight) Finalists and 4 (four) Winners from the Entries received.
The Jury is composed of: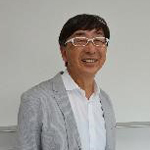 Toyo Ito, The Pritker Prize Winning Japanese Architect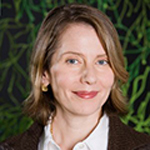 Paola Antonelli, Senior Curator in the Department of Architecture and Design at MoMA, New York


Aric Chen, Design and Architecture Curator at Hong Kong's upcoming M+ Museum for visual culture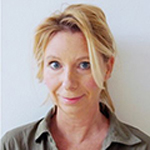 Birgit Lohmann, Co-founder and Editor-In-Chief of Designboom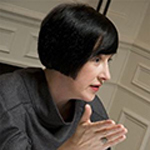 Alice Rawsthorn, Author of 'Hello World: Were Design Meets Life'; and Design Critic For the New York Times and Frieze Magazine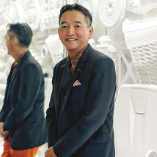 Tokuo Fukuichi, President of Lexus International
—
Mentors

The 4 (four) Prototype Winners will each receive a mentorship to develop a prototype of his/her submitted Work.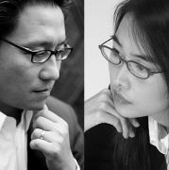 Neri & Hu / Architects and Interdisciplinary Designers
Lyndon Neri and Rossana Hu, co-founders of Neri & Hu Design and Research based in Shanghai, have been working on projects around the world which incorporate overlapping disciplines to create a new paradigm in architecture. In 2014, Wallpaper* announced Neri & Hu as 2014 Designer of The Year. In 2013, they were inducted into the U.S. Interior Design Hall of Fame. Neri & Hu believes strongly that research is a key design tool as each project brings its own unique set of contextual issues. Providing architecture, interior, master planning, graphic and product design services, Neri & Hu recognizes that contemporary problems relating to buildings extend beyond the boundaries of traditional architecture. Rather than starting from a formulaic design, Neri & Hu's work is anchored in the dynamic interaction of experience, detail, material, form and light.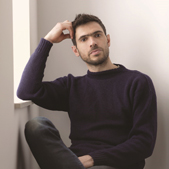 Max Lamb / Designer
A modern day artificer, Max Lamb is a product and furniture designer whose design sensibility is informed by his extensive knowledge of manufacturing techniques, respect for materials, and skill as a maker. A native of Cornwall, UK, Max has been tinkering with objects and engaging with the physical landscape since he was a small boy; a curiosity that led to an MA in Design Products at the Royal College of Art and subsequently the foundation of his workshop-based design practice. Max explores both traditional and unconventional materials and processes, blending experimentation and rationale to create furniture and products that are both honest and intelligent. Max teaches Design Products at the Royal College of Art and runs regular design workshops for companies and institutions around the world.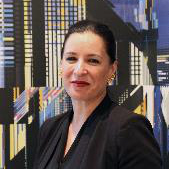 Elena Manferdini / Designer and Architect
Elena Manferdini, founder and owner of Atelier Manferdini in Venice, California, has completed design, art and architectural projects in the United States, Europe and Asia, including the pavilion of the Museum of Contemporary Art in Los Angeles. Her firm has collaborated with internationally renowned companies such as Swarovski and Sephora, and her work has been featured in journals and publications including ELLE, Vogue and the New York Times. Currently Graduate Chair at the Southern California Institute of Architecture, she exhibits internationally and lectures widely having spoken at MIT, Princeton, Tsinghua University and Bauhaus. She was awarded the 2013 COLA Fellowship to support the production of original artwork. In 2011, she received a prestigious annual grant from United States Artists (USA) and her Blossom design for Alessi received the Good Design Award.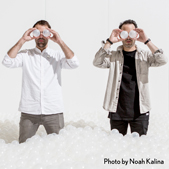 Snarkitecture / Artists and Architects
In 2008 Daniel Arsham and Alex Mustonen founded Snarkitecture, a collaborative and experimental practice operating in territories between art and architecture. Sharing a mutual interest in the intersection of art and architecture since their student days together at Cooper Union in New York, their first commission was for Dior Homme. Deriving its name from Lewis Carroll's fanciful poem 'The Hunting of the Snark', Snarkitecture designs permanent, architectural scale projects and functional objects with new and imaginative purposes, creating moments of wonder and interaction that allow people to engage directly with the surrounding environment. Transforming the familiar into the extraordinary, Snarkitecture makes architecture perform the unexpected.
—
Judging Criteria
The shortlist and the Finalists will be selected on the basis of a design which is:
(i) True to the essence of 'ANTICIPATION' with uniqueness in its interpretation;
(ii) Consistent with the image of Lexus 'DESIGN'
—
Registration deadline
Application registration will be accepted by 23:59 (GMT), October 18, 2015.
—
Registration
Registration is now open, please fill in the form.
Teams should register with one name only – when submitting Works you should add all team member's names.
—
Submit your Work / Works
There is no limit on the number of entries per person. If you are entering more than one Work, please submit each Work separately. Images and text must be in digital format. Entries will NOT be accepted via physical delivery.
a. How many image files can I upload?
The Work may be produced in any medium but must be submitted as low res JPEG (JPG) or GIF format.Up to 6 images can be uploaded (either single or composition images).
All digital image files must be:
– 200 KB or smaller (a low-res version of your original Work).
– must be of exact width of 818 pixels / 72 dpi,
– RGB color mode
– Video upload is not mandatory
The voluntary addition of up to 2 video files can be included (in FLV format only) and each must be a maximum of 10 MB /each. Please keep the original high-res Work for publication and exhibition purposes. You will be requested to provide them only if the Work is among the shortlisted.
b. Explanation
Please provide a brief description of your design.
Let us know about your research and point out the artistic and technological qualities. You should also consider a broad spectrum of issues that demonstrate and showcase the ways in which your design can enrich people's lives. Tell us about it.
c. You will be requested to accept the Competition Guidelines and Official Rules
Prior to submitting your Work(s), you will be asked to agree to the Competition Guidelines. By clicking on the Submission upload button you notify that you have read and understand the terms and conditions, AND BY PARTICIPATING IN THE CONTEST, YOU AGREE TO BE BOUND BY THE OFFICIAL RULES, WHICH CREATE A CONTRACT BETWEEN YOU AND THE SPONSOR. Please read them carefully.
Below is only a short topic excerpt, in which we remind you that:
– the Work may not use any watermarks or artist signatures;
– submitted Work must be original work by the applicant himself/herself.
Except for materials that are in the public domain, each Submission, in its entirety, must be a single work of original material created by the Entrant, or for which Entrant has all rights required to comply with these Official Rules.
– the Work must not be offensive, defamatory, harmful, vulgar, excessively violent, and racially, ethnically or otherwise objectionable.
– it is important that you keep your design(s) confidential until the results of the Contest are published.
Until the Finalists of the Lexus Design Award 2016 are announced, Entrants may not submit their Work in any other Design Contest (not affiliated with Lexus), and may not disclose the submitted Work to any third party. (please note the exception: Entrants may submit the same Work in school projects, public events and domestic Design Contests hosted by Lexus distributors.) With regard to the submitted work, Toyota Motor Corporation and designboom shall assume no responsibility whatsoever.
—
Deadline for Submission of Entries
Qualifying Submissions must be received by October 18, 2015, 23:59 (GMT).
—
Announcement of the results
Prototype Winners will be chosen by the end of December 2015 and additional Panel Finalists will be chosen around the middle of January 2016, and notified by email, (unless extended deadline). Finalists' names will be available online at designboom.com after April 18, 2016.
The shortlist, Finalists and the Prototype Winners will be published on designboom.com, and Finalists and the Prototype Winners will be published on Lexus official website during/after the LEXUS DESIGN AWARD 2016 Exhibition in Milan.
—
Intellectual Property Rights

All Works submitted will remain the exclusive property of the Entrant. However, by submitting the Work(s) to the Contest the Entrant agrees to provide Toyota Motor Corporation with the right of first refusal to the exclusive use of the Work for commercial purposes. This option is valid for 12 months after the end of the competition. In the event that Toyota Motor Corporation exercises the option to use the rights for commercial use (incl. production) on exclusive basis and for an unlimited period, Toyota Motor Corporation will make private agreement with the Entrant for the transfer of intellectual property rights.
The 4 Prototype winners and creators of the prototypes agree that they are participating in the
production process in which they will receive advice and inspiration from the Mentors to finish the creation of prototypes, and that Lexus will disclose the name of the Mentors who worked with them and will disclose information about the production process in the form of text, pictures, film etc. when making public announcements about the work. Designboom and Toyota Motor Corporation will have the right to use all of the Works submitted as part of the Contest, and all images depicted therein, in any promotion or for any non-commercial purpose. By submitting a Work, Entrant grants Sponsor and Producer the non-exclusive, unlimited, royalty-free, rights to publish in all media now known or hereafter discovered, and publicly display all Work for an unlimited period, and worldwide.
All Entrants authorize Designboom, Toyota Motor Corporation to publish and exhibit all the designs (including project data submitted and prototype) – waiving compensation – at exhibitions and events and/or to use them in any publications and communications that Designboom, Toyota Motor Corporation may deem suitable and/or necessary. Designboom and Toyota Motor Corporation will credit the designer's name to properly attribute authorship of Work and to promote the author adequately. Toyota Motor Corporation will have the right to apply minor change amendments without damaging the integrity of the artwork – e.g. add the LEXUS logo and text, reframing, translation, changing colors, cutting the background or parts of it, etc… In case designboom, Toyota Motor Corporation wants to bring major changes to the submitted artwork for publication, designboom, Toyota Motor Corporation will contact the designer and inform him/her about the use to obtain the designer's consent.
—
Questions?
please send your inquiries to <[email protected]>;
and make sure to write 'LEXUS DESIGN AWARD 2016' in the subject line (English text only).
—
Info On LEXUS
—
Please read the Official Rules.
a glimpse at the LEXUS DESIGN AWARD 2015
video courtesy of LEXUS DESIGN AWARD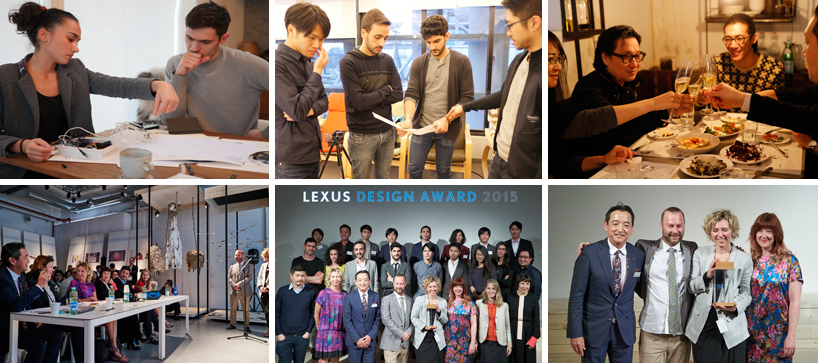 impressions from LEXUS DESIGN AWARD 2015