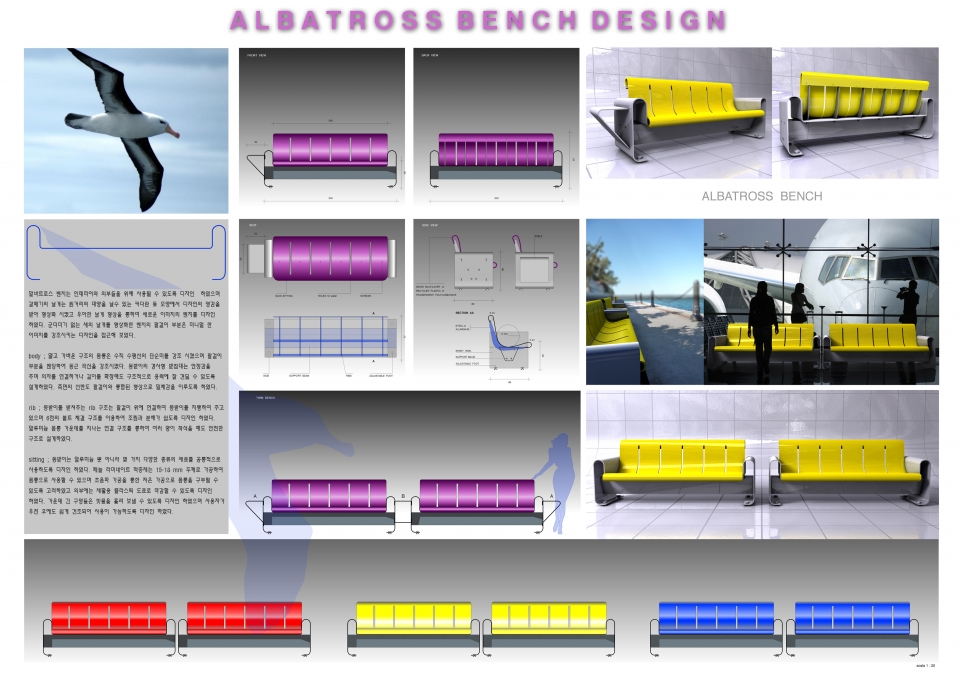 albatross bench by Lee sae hwan from korea
designer's own words:
albatross is a bench that can be used for interiors and exteriors.
the project draws inspiration from the shape of the wings of albatross, a marine bird of large dimensions that can cross the oceans thanks of the sail flight.
the elegance of this animal wants to be located on the bench that has taken its name.
there are essentially clean lines and minimal elements that allow to construct an object that guarantees lightness and solidity at he same time.
the bench is constituted by three elements different in forms and materials.
body ; it is light structure, made of metal sheet or aluminium sheet, bent and rounded in a way to create vertical elements, the sides, and one horizontal, the shelf.
the thickness will be calculated statically.
a beam with trapezoidal shape crosses this surface over all its length.
the shelf and the beam are joined together to support the seat, becoming a single body without oscillations.
there is the possibility to have a support plan, as an accessory, which applies equally to the right or left side of bench.
another support plan can be placed between two benches.
ribs ; the ribs are 6 shaped curves, made in metal or aluminium , connected between them by metal straps.
housed in the upper part of the beam they bear the sitting element that will be blocked by three series of allen screws.
sitting ; the sitting - back is a single element that can be realized in different types of materials.
phenolic laminated wood, thickness 15-18 mm . cold bent by means of ultrasounds provided in different colors and essences.
printed recycled plastic.
polycarbonate bent hot.
a series of holes allows rainwater runoff and increased transpiration for those who sit besides giving more lightness to the volumes.
shortlisted entries (1588)