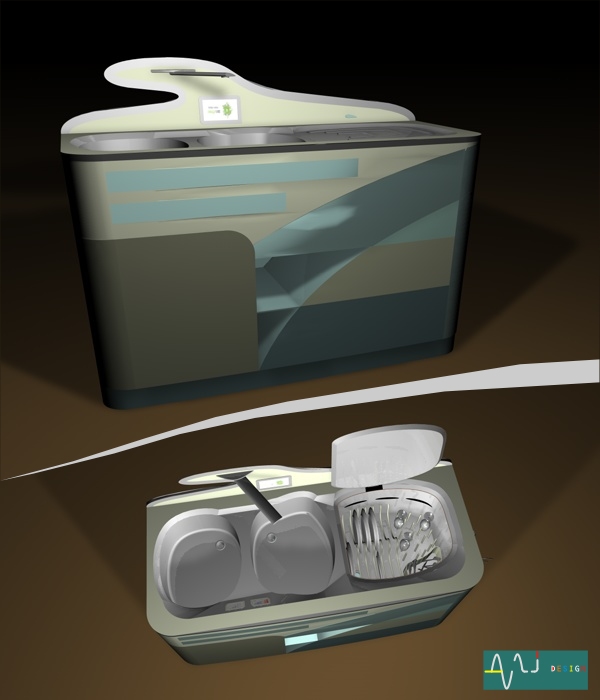 beat 33 by cristiano giuggioli from italy
designer's own words:
The project concern a dishwasher that use the ultrasonic washer system, largely employed in the industrial workmanship for cleaning large quantity of products.
This technology applied in the domestic ambient allow to economize in terms of energy consumption (needs 1000 watt), and cleanser. "Beat-33" works sending ultrasonic waves (33000 Hz): waves that brake on the object to wash make initially a compression in the positive semi-wave, than a rapid decompression in the negative semi-wave. The decompression phase constitutes beads of empty (cavitations), that in the next phase of compression came instantly full (imploding) developing a calculate pression of 1000 bar. This very high pression shatters and removes every extraneous object that is on the surface of the dish. For this motive this technology is very good for cleaning dishes, glasses and silverware because be successful to clean completely holes and inaccessible points.
The washing happens with the dishes absorbed in a solution of water and cleanser (20 litres), after 4 minutes of ultrasounds the dishwasher removes the dirty water and rinse dishes with throws of clean water. The washing needs 23 litres of waters, around what needs a traditional dishwasher, but the washing cycle comes complete in only 6 minutes.
Ultrasounds are transmitted to the tub through piezoelectrical elements activated by a multifrequency impulse generator, besides thanks to the phono-insulating layer placed between the two walls of the tub, the noise of the acoustic vibrations are damped to the outward.
A water-resistant touch screen is used to communicate with dishwasher's software, to plan washing programs and timers. The same technology (touch sensor) is applied to sink, to control the quantity and the heat of the water.
main sight
interface
constructive particular
shortlisted entries (123)