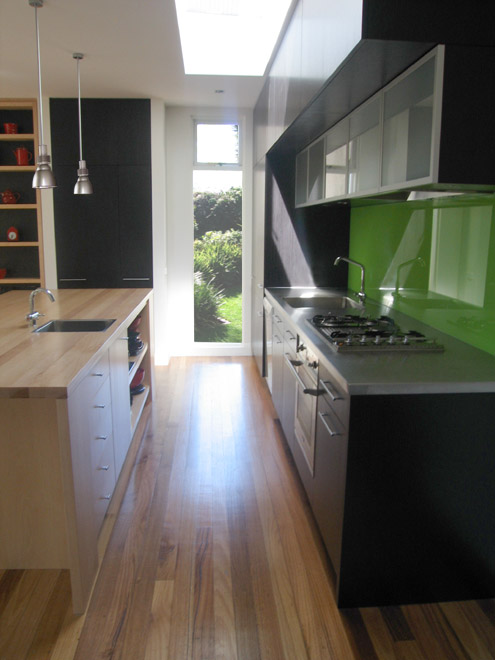 black kitchen by nadine samaha from australia
designer's own words:
The kitchen as the heart of the home is where family members interact to cook, read, relax and play. We found the Galley kitchen to be the most efficient in maximizing the use of space in an open plan living arrangement.
The island bench creates a place within the living space to cook, to eat and to talk. Its public position gathers people, where everybody is involved in the preparation process, as well as cleaning up. It allows the participants to communicate face to face, in plentiful light, celebrating the ritual of dining.
By keeping the triangle between the three main points of the kitchen: the fridge/freezer, the stove/oven and the sink/dishwasher as short as possible allows the best ergonomic design. Storing equipment neatly becomes crucial for the most efficient functioning and entertaining; everything should be at the fingertips.
Functionality measures the success of the kitchen itself, akin a machine that has to operate perfectly every time to eliminate frustration, while bringing much joy and satisfaction to the user. Material selection is critical for the running of the kitchen, natural materials such as timber and stone offer durability, cleanliness and aesthetics.
Light, whether artificial or natural, plays a big role in achieving different atmospheres for the kitchen users. The direct morning sun heralding a new day, the calming reflected light throughout the day, the task lighting in preparation of a meal and the subtle background lighting in the evening.
With plentiful light, the galley kitchen proves the most efficient in maximizing space
The island bench creates a place where people gather and interact
Storage is critical for an effective functioning kitchen
shortlisted entries (137)