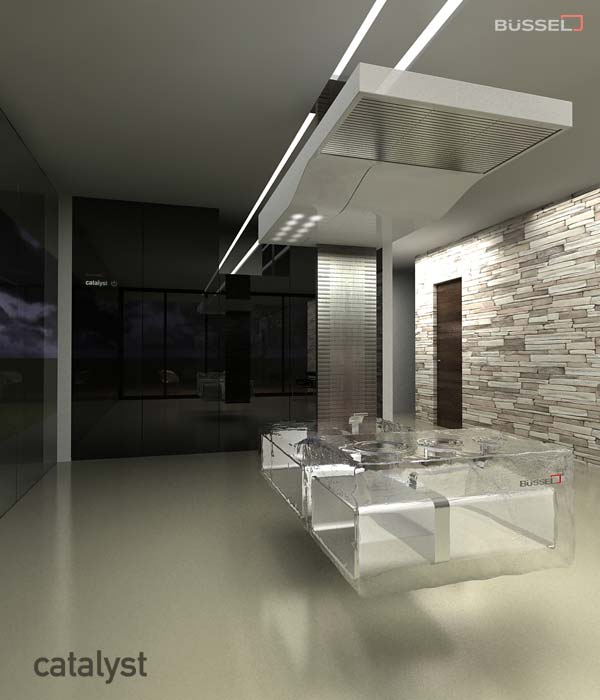 catalyst by from
designer's own words:
Catalyst is a moving island functioning as a kitchen.
Catalyst raises activities of a kitchen and a dining room - cooking, eating, drinking, talking, watching, and listening - in bedrooms, a living room and a garden. It attracts people and makes them react. Where Catalyst is set is the place a family comes together. Every space at home has possibility to be a family community space. We expect different events which the family asks in different spaces. This is role of the moving island, Catalyst. It does not occupy the space which it is located in. "Catalyst is a catalyst" as revives the relationship of people.
"There is no Catalyst but people." The transparent appearance conceals itself in reflecting and permeating where it is located. This transparent Catalyst informs a user what is contained and what a user wants to know. The surface of Catalyst expresses information.
The other part of Catalyst, a kitchen cabinet located in one whole wall is also a screen as the surface of information. It also contains appliances and multi media. Combined Catalyst can park into the kitchen cabinet for saving space. The cabinet is not a kitchen. That is what Catalyst just left other functions that need enough space and serve Catalyst.
The form is inspired by ice as a natural form instead of an artificial shape. Transparency of the ice also associates lightness of floating.
The activities of a kitchen are realized in five layers - light, wind, fire, water and ice. The core of water and electronic installation is set inside of a vertical frame, which can be rolled up in a ceiling when Catalyst is moving and connects Catalyst with a rail on the ceiling. The rail functions as a track for Catalyst moving, lighting space and installations passing through. Assemblies of Catalyst are adjustable fitting suitable height to a user. The cover of a sink comes down and then becomes a table. This is a flexibility of Catalyst.
Catalyst creates a convergence space and becomes a convergence appliance and furniture. This is the kitchen of tomorrow that we suggest.
catalyst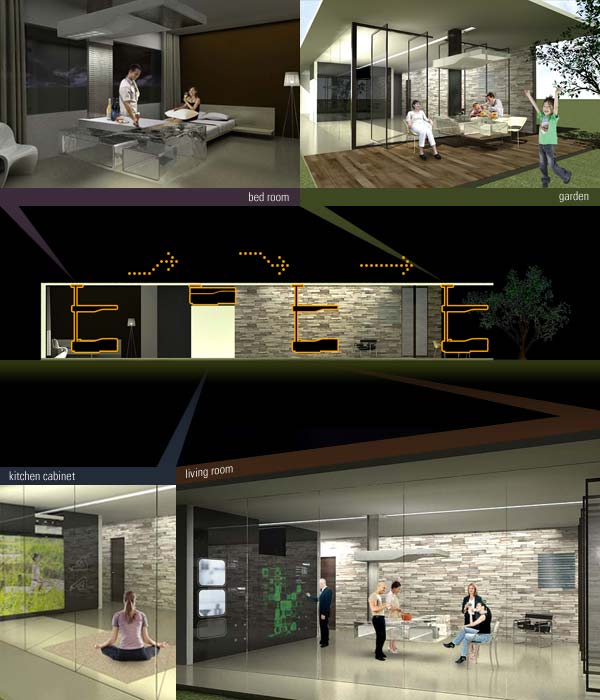 mobility
assembly
shortlisted entries (156)