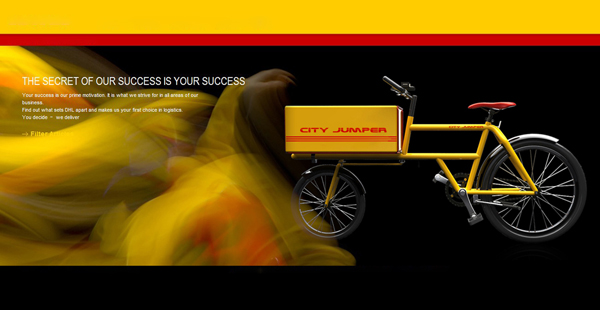 city jumper by tiancheng luo from china
designer's own words:
The rapid spread of e-commerce helps to boost the development of express industry. CITY JUMPER is a specially designed vehicle for courier to keep away from busy traffic and deliver efficiently even in city downtown areas. CITY JUMPER promotes a rational concept of delivering transportation. Courier can select the most reasonable means of transport based on type of goods, delivering distance and deadlines. Thus, CITY JUMPER can not only to reduce transportation cost and pollution, but also to certain extent alleviate the urban traffic conditions. This makes CITY JUMPER the first and best solution for short-distance documents and small parcels delivery.
CITY JUMPER carries a front box with large capacity. The front box would not rotate with handlebar; therefore it does not affect turning or riding balance. CITY JUMPER avoids the traditional way of holding goods by string tying. Its 24-inch rear wheel ensures vehicle speed; more spokes added increase the maximum tire load; Kickstand is shifted forward to better stabilize the bicycle body when parking; GPRS navigation frame helps courier in route planning to ensure delivering speed and accuracy.
CITY JUMPER assists swift & smooth definite delivery, eliminates the usual complex steps of holding and fixing packages and significantly improves delivering efficiency.
city jumper
city jumper
city jumper for courier
shortlisted entries (193)