Clothes hanger by Shimon Bato from israel
designer's own words:
Clothes-Hanger A polymer sheet wrapped around a rolled newspaper becomes a stylish clothes-hanger, useful functional and stylish while at the same time promoting an environmental concept as a message.
This product aims to present a new concept regarding consumer products, with an increased awareness towards issues like recycling and re-use, particularly regarding refuse and waste materials which all of us produce every day, like a newspaper for example. We can turn "yesterday's paper" into a useful object, promoting the concept of prevention of waste.
In the planning stages an effort was made to remain as functional as possible, with an optimal use of refuse materials (in the above case the newspaper), and just a bare minimum of additional materials, while of course maintaining aesthetic standards and remaining pleasing to the eye.
The concept is not directed against the "consumer culture" but rather to put it in a new and different light, of more proper use of resources, more functional and more aesthetic planning, opening a wider window on making more efficient use of waste materials and available resources
Clothes-hanger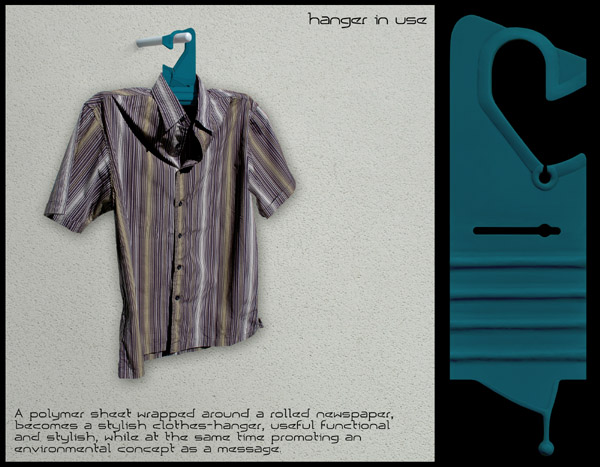 Clothes-hanger in use