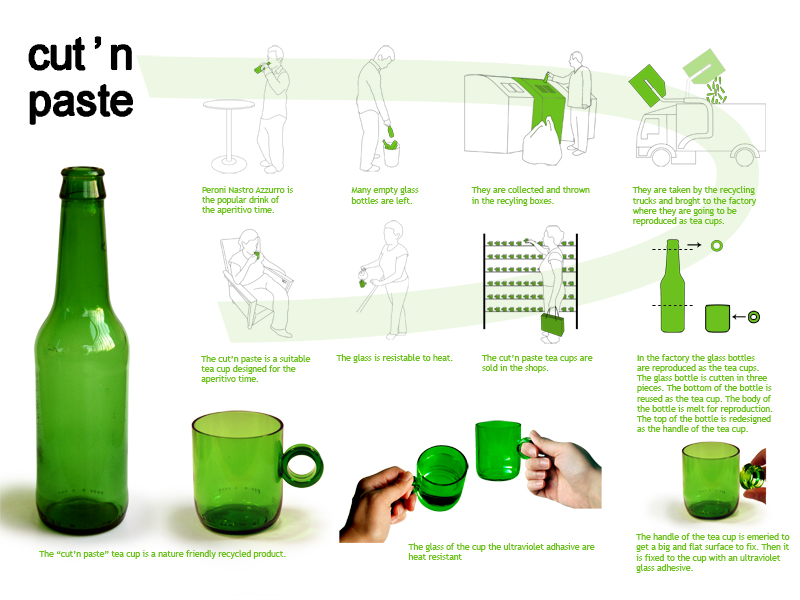 cut'n paste by beyza paksin from turkey
designer's own words:
The aim of this project is to reuse the empty beer bottles in the aperetivo time. Redesigning a product for the aperitivo time reusing the bottle of Peroni Nastro Azzurro is the main point of this project. Cut'n Paste is a recycled tea cup. The product is simple, but effective. The relation between the cup and bottle is strong. The top of the bottle is changed into the handle of the cup. It attracts attention to the recycling issue. The Cut'n Paste tea cup is produced after certain processes. The empty bottles are thrown away. They are collected in the recycling containers. The recycling trucks take and bring them to the factory where they are reproduced as tea cups. Firstly, their packages are took off. Then each bottle is cut in three pieces. The middle part is sent to melting for the glass reproduction. The bottom is the body of the cup. The top is the handle. The cut surfaces of the body and the handle are emeried and polished. After that, one side of the handle is emeried to get a flat surface. It is fixed with ultraviolet adhasive to the body. The glass and the adhasive are heat resistant. In conclusion , the Cut'n Paste tea cup is a nature friendly and useful product which is redesigned for aperitivo time.