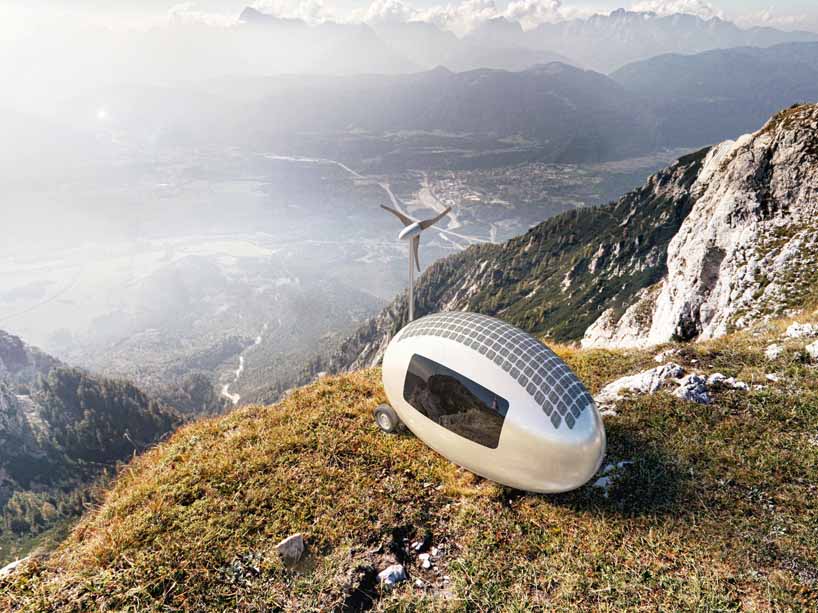 Ecocapsule by nicearchitects from slovak republic
designer's own words:
ECOCAPSULE
DWELLING WITH THE SPIRIT OF FREEDOM
Ecocapsule is a portable house offering an unmatched dwelling experience. With its immense off-grid life span, worldwide portability and flexibility it is suitable for a wide range of applications: from an independent research station or a tourist lodge to an emergency housing or a humanitarian-action unit.
Ecocapsule is a low-energy house packed into a compact form. It merges an energy efficient shape, compact volume and off-grid capabilities with the luxuries of a warm bed, running water and a hot meal.
Even though small in size, each Ecocapsule comfortably houses two adults. Its efficient spatial layout allows you to enjoy convenience of household facilities in off-grid conditions. Built-in kitchenette with running water, flushing toilet and hot shower are luxuries of a hotel room that are now also available in wilderness.
Plenty of storage space also fits all your sport or research equipment.
Despite its small form each Ecocapsule is fitted with all essentials necessary for a comfortable prolonged stay without a need to recharge or re-supply.
Ecocapsule is powered by a built-in wind turbine complemented with an array of solar cells. Dual power system and a high-capacity battery ensures that you will have enough power during periods of reduced solar or wind activity.
Spherical shape is optimized for the collection of rainwater and dew and the built-in water filters allow you to utilize any water source.
The body of an Ecocapsule is covered with 2.6m2 of high-efficiency solar cells and a retractable pole holding a 750W wind turbine is further attached to the body. This creates an energy system that can support you for almost an entire year in many off-grid locations.
Ecocapsule fits into a standard shipping container and no special preparations and precautions are necessary to transport Ecocapsule worldwide. It can be shipped, airlifted, towed or even pulled by a pack animal.
All materials used for Ecocapsule construction are very simple and accessible on the market, therefore construction is quite traditional and easy. Load bearing skeleton is made from steel frame filled with thermal insulation. Exterior skin is from laminate. Interior is either laminate or wood.
And for whom is Ecocapsule?
for the individual use:
As an individual, you can use Ecocapsule as a holiday cabin in the hills, as a small garden house or as a retreat in the city. If you can stay off-grid but cannot stay off-line, you can use it as an office or even as an art studio.
for entrepreneurs:
From leisure to work, Ecocapsule fits many of your business activities as well. A group of units together can serve as a pop-up hotel or as a lodge in the mountains. Individual units can be rented for conferences or festivals eliminating the need for building the infrastructure.
for organizations:
When the deployment time is critical, Ecocapsule can be used as an emergency shelter and work space for rescue teams on humanitarian missions. It can house surveyors and drilling teams on their job sites or it can also serve as a base for research expeditions in the field.
14+1 reasons why Ecocapsule is unique:
1. If offers a long off-grid stay
2. It brings civilization's standards into the wilderness
3. It has an energy sustainable shape
4. It has low energy consumption
5. It is easily transportable around the globe
6. It can be connected with other capsules into a shared system
7. Its performance can be evaluated already before the deployment
8. It does not require any supporting infrastructure
9. It has very short deployment time
10. It is adaptable to any climate conditions
11. It has customizable interior design and technical equipment
12. It serves as both a living and a work unit
13. It has a beautiful design
14. It has an affordable price
15. It is just awesome!
SENSES
1. taste of freedom - energy self sufficiency and independency
2. sound of wind - powered by wind turbine
3. view of curves - beatiful design
4. smell of adventure - located in remote areas
5. touch of comfort - allows civilization's standards in the wild nature
cabin in the mountains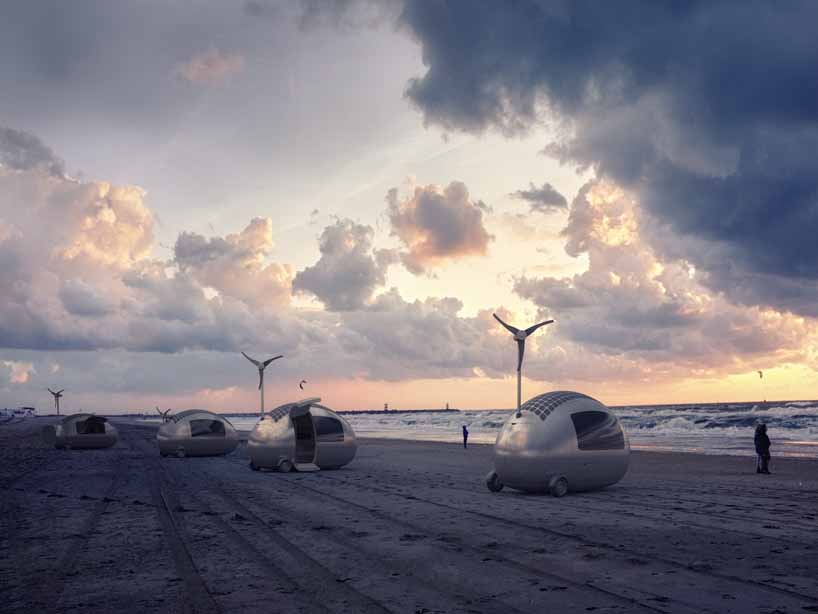 pop-up hotel on the beach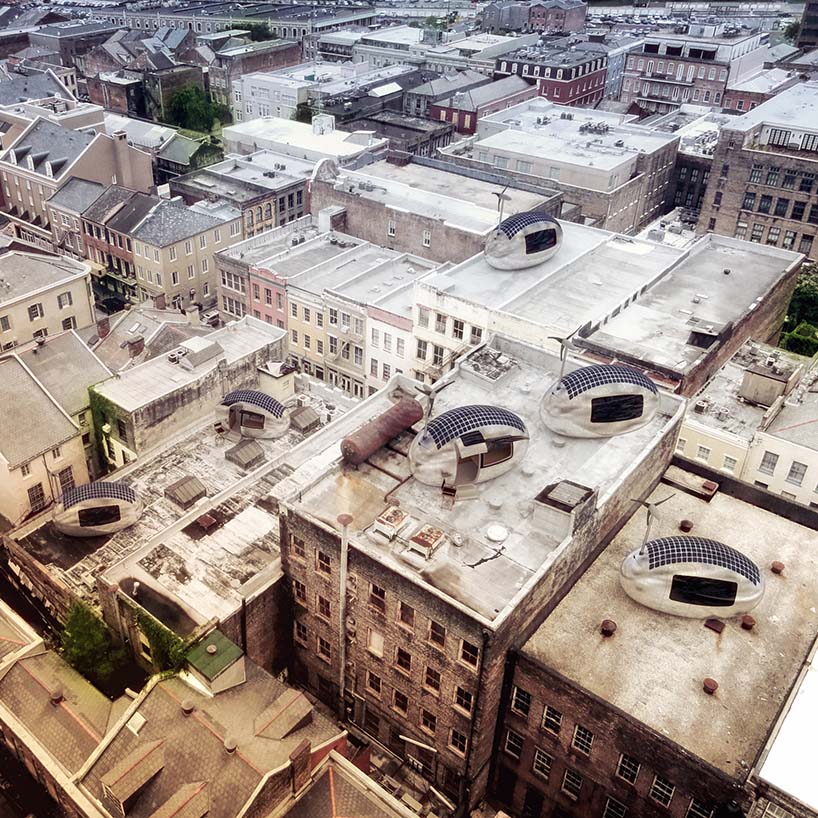 roof studios in the city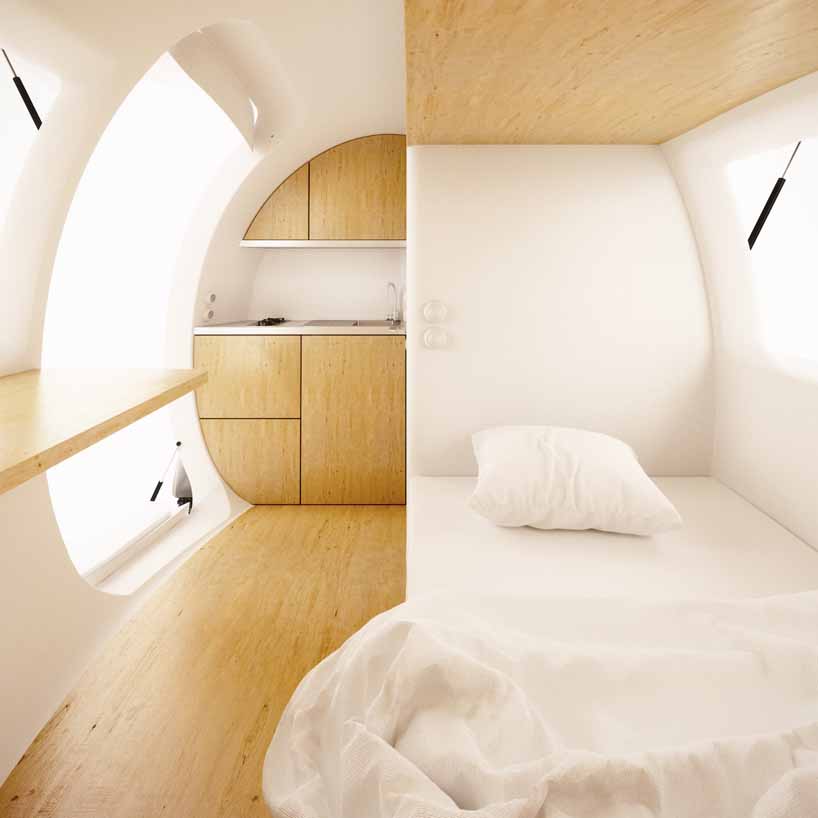 interior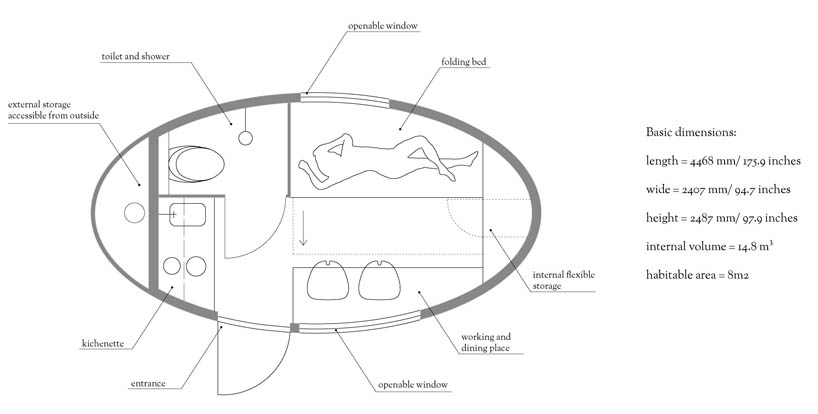 plan



schemes
shortlisted entries (201)