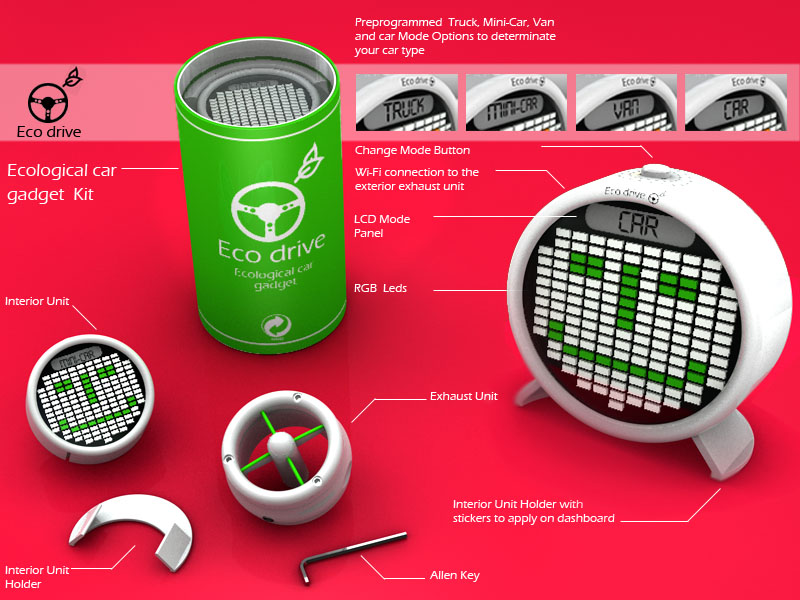 ecodesign by ariel drach from israel
designer's own words:
In a world where automobiles are responsible for up to 80 percent of urban air pollution, we the automobile users need to act!
EcoDrive is an ecological car gadget that can be fitted to any automobile; The EcoDrive was design to assist you, the driver, to drive more ecology.
How does it work? It's very simple; The EcoDrive kit includes two units; A Car unit and an Exhaust unit which are communicating between them with the help of the Wi-Fi technology.
The Exhaust unit, which is easy to install on the automobile exhaust pipe, is responsible with the assistant of the sensors to read the emission levels.
The car unit is responsible to collect this information captured by the exhaust unit and to deliver smiley sign which is indicating the driver the way he drives, if he gets a green smile smiley its mean he drives "ecological" the emission is on the low level.
Getting an orange flat smiley means the driver should get attention to the way he drives perhaps he is pushing too hard the gas pedal.
Red bad smiley will indicate the driver that is about to destroy the earth, he is driving to the high emission levels and he should put attention to the way he is driving! Too much accelerations and strong brakes could lead to these results.
The EcoDrive is made of recycled ABS parts and the electronic components are Eco-friendly.
ecodrive ecological car gadget
exhaust unit
car unit
shortlisted entries (1588)