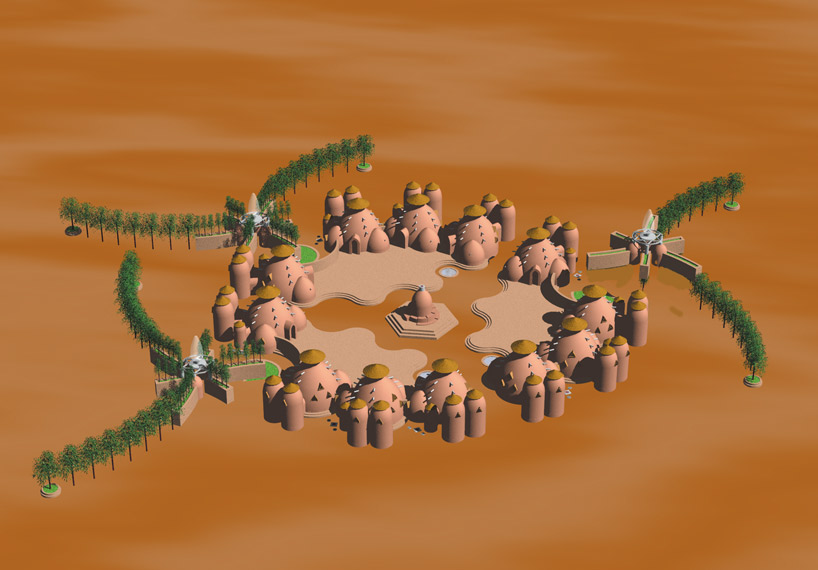 Ecovillage Project in the East African Community by kikuma watanabe from japan
designer's own words:
A Model of an Ecovillage in the East African Community
This project aims to construct an ecovillage to provide for self-sustainable poverty alleviation in the East African Community.
The East African Community is an organization formed by citizens of Tanzania, Kenya, Uganda, Rwanda and Burundi, the five countries
surrounding Lake Victoria.
Lake Victoria is the biggest lake in Africa. It is the third biggest lake in the world. It is known as " Darwin's Dreampond", well known for its biodiversity.
In the present time, Lake Victoria is a place of serious problems.
It is facing the destruction of its ecosystem, symbolized by the Nile perch, an invading species, that were released in the lake in order to earn foreign currency, but are causing havoc to the natural ecological balance of the lake. The area is also trying to cope with large scale poverty. There are more than three million poor people living along the coastline.
This project aims to construct a model base of activities to help alleviate these problems.
The Ecovillage is composed of three clusters of buildings, including a water tower (Kazusabori Well, Eco-Tec 04 ) at the center.
This arrangement is designed so that each cluster can enjoy precious water resources equally and reasonably comfortably.
The sharing of water is a crystallized archetypical image of this land.
Each cluster is composed of four living units, each one with a living room, two bedrooms, a kitchen, toilet, shower room, and meditation room. All the buildings are built with Earth-bag Construction Technology (Eco-Tec 01).
Each unit has a biomass latrine(Eco-Tec 02).
Each unit has a Bird Wing Wind Power Generator (Eco-Tec 03) that supplies electricity. In order to lead the wind effectively, bamboo groves have been planted as wind corridors for each generator.(Eco-Tec 05)
In the plan, the land will rise in a gentle slope from the waterfront to the forest. Farming is planned with minimum change to the topography.
Overall image of the ecovillage
Model house : view from the hillside
Earthbag ceiling of the liviingroom
Roof of the modelhouse
Under construction
Section of modelhouse
shortlisted entries (519)