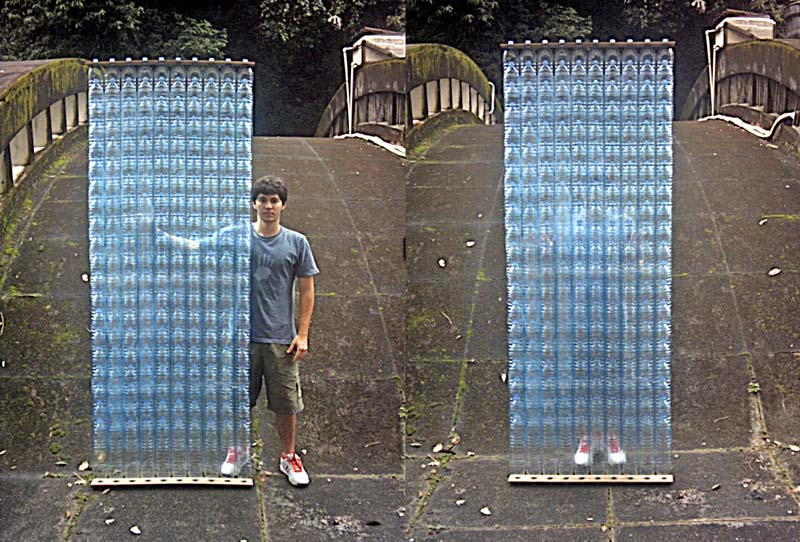 fast pet by felipe teixeira affonso botelho ftabotelho from brazil
designer's own words:
fast-pet: pre-fabricated system of construction trough reused and recycled plastic recipients.
objectives
to enable the assembly of temporary spaces and others light architectures, using only reused and recycled materials and trough simple mechanisms, assuring that any person would be able to operate with the fast-pet system.
how does it works?
The system is consisted by pre-fabricated hand-made panels of empty PET bottles and pre-fabricated modular pieces made of pultrudated recycled plastic, forming assembly kits. An instruction manual containing the step-by-step that teaches how put all pieces in place.
fast-pet is a flexible system, and can operate with different other materials or can be used in many kind of ways – such as internal dividing panels, stands for events, small shelters, and others light construction or design products, such as couches, chairs, screens, and other decorative items.
easy production - fast assembly. the hand-made panels do not need to be screwed with the structure pieces, so they only use a plug mechanism between the bottles tamps and the precast perforated recycled pieces, in an "l" shape.
why is it good?
the production of these panels can be a way to provide social insertion to carent people in the formal market business, contributing for developing an ecological consciousness and increasing quality of life.
FAST-PET hand made panels uses 180 empy bottles of water
The assembly kit of a 6 sqm temporary shelter.
The 6 square meters shelter prototype finished after a 2 hour assembling.
shortlisted entries (1588)