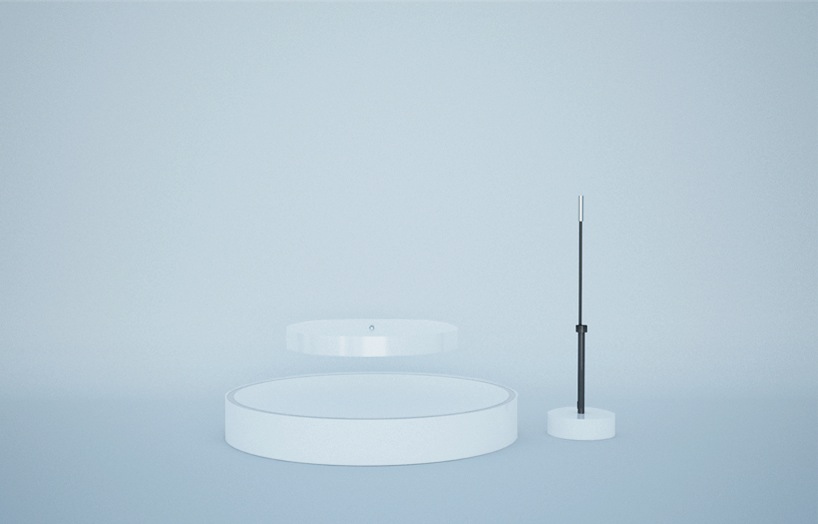 Flynote by Aldo De Carlo from italy
designer's own words:
Flynote is a revolutionary record-player between past and future. It uses those technologies never applied before in this field to reproduce the best sound quality ever like only a vinyl can do.
The design is essential and elegant. The motor and the turntable of the disc, that is suspended thanks to an electromagnetic field generated by the motor beneath, are made up of two cylindrical bodies. Another cylindrical body contains the electronic part of the project and an aluminium cylindrical arm goes vertically up to the turntable-high and goes on at right angles to the disc to read the sound that it plays. The final part of the arm, useful for reading of the disc, affects neither its stability nor the turntable one.
The heart of the project, what makes it so innovative, is the motor of the record-player's turntable. It is made by an electromagnetic field contained in a plastic skin, made by injection moulding for industrial production like the suspended magnet that will be the real turntable of the record-player. The skin covering the turntable has in contact with the disc a very thin layer with an high friction coefficient in order to prevent any slipping of the disc on it. The electromagnetic motor and the turntable will be made by http://www.crealev.com, a well-know Dutch company working in the field of electromagnetic levitation that worked with famous brands like Nike, Apple, Intel etc…
The levitation technology uses repelling magnets combined with sophisticated electrons to keep floating objects in position.
The plastic skin with the electromagnetic motor are provided with a LED crown to light the turntable and the disc while the product is on. Furthermore, those LED have a switch and an independent electric connection to switch them on at any time and without interfering the electromagnetic motor. Flynote is composed of a mechanical arm to read the vinyl and in his base there is a jack to hook up with cable or a Bluetooth for any amplifier supporting this kind of technology.
The Flynote compatible with 33 rpm vinyl.
I report, herewith enclosed, some websites that can show how feasible the project is.
http://www.crealev.com/wp-content/uploads/2013/06/brocure_digitaal_eind.pdf
http://www.crealev.com/customer-service/downloads/
http://www.youtube.com/crealev
http://www.outofstyle.it/it/prodotti/21742-out-of-style/21772-octo/80820-octo-tappetino-antiscivolo-da-auto-giallo
Flynote off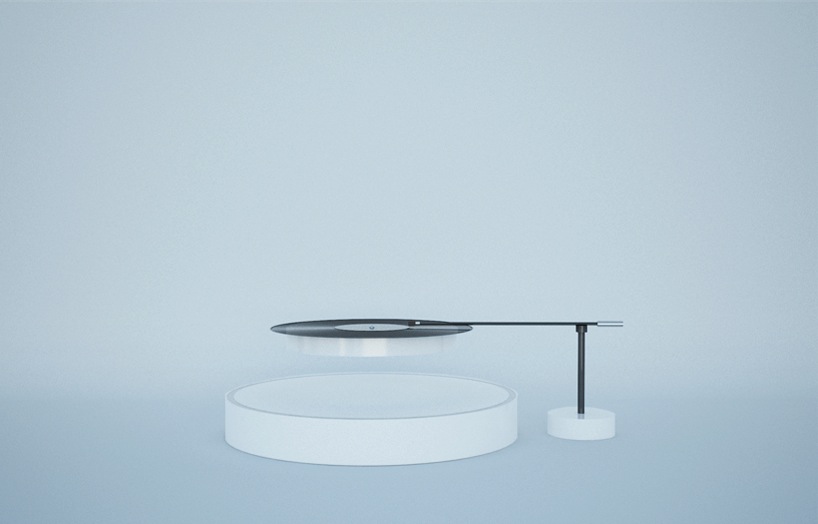 Flynote with vinyl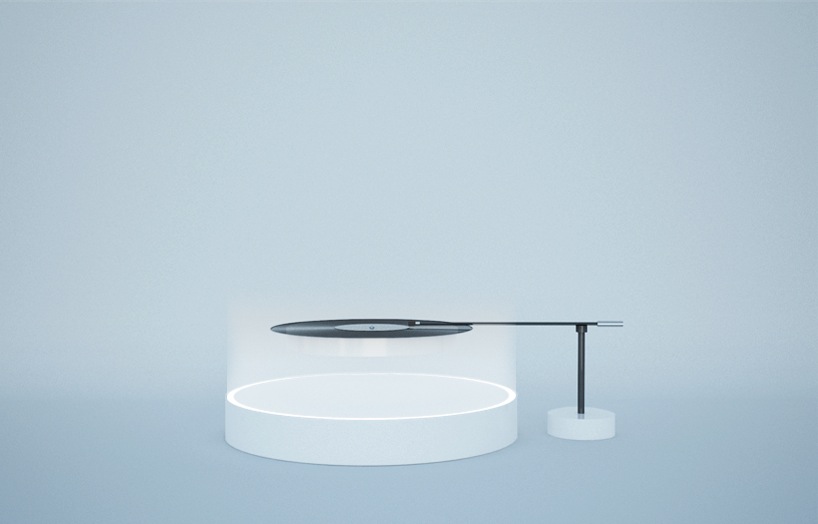 Flynote with vinyl and the lights on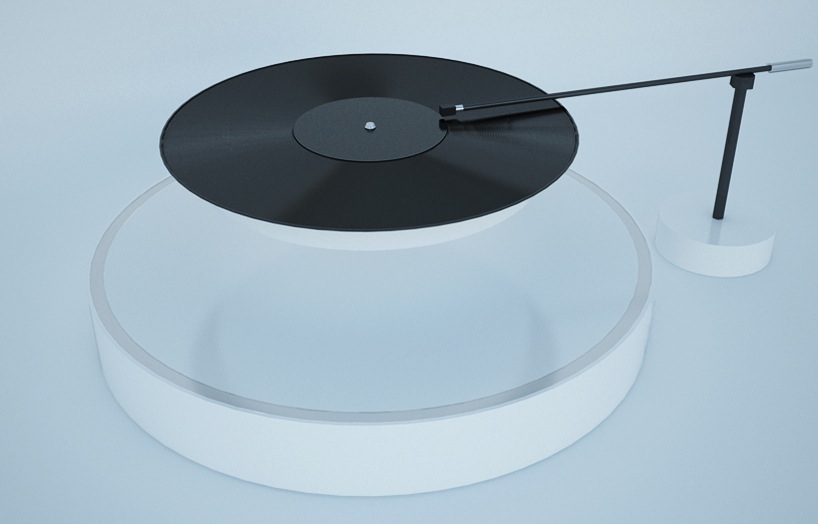 Flynote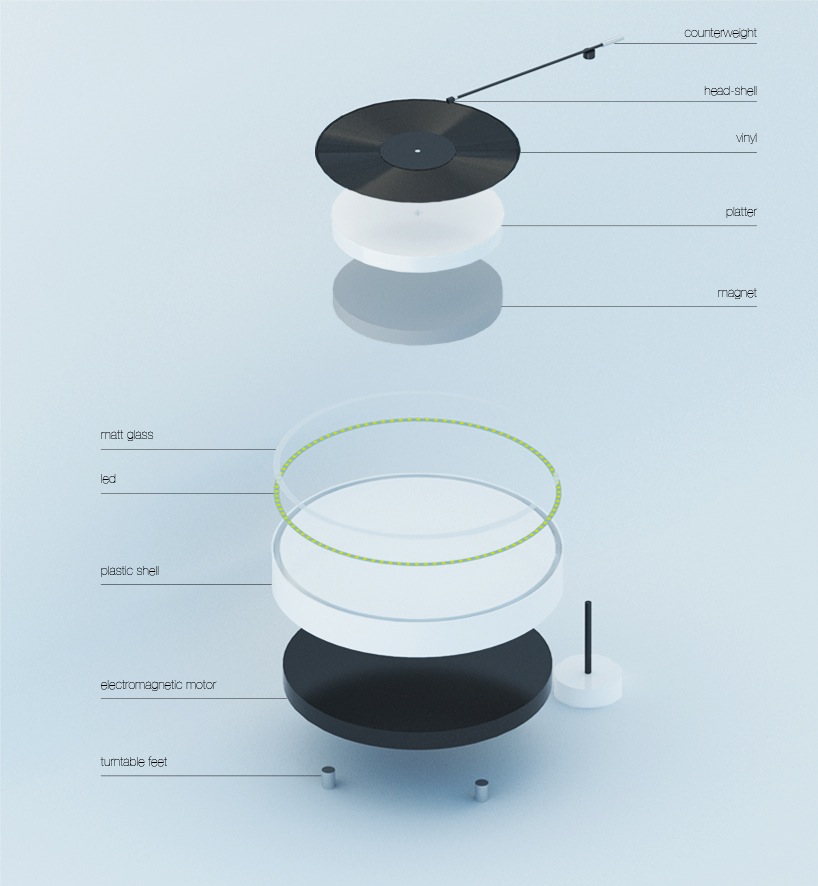 Exploded view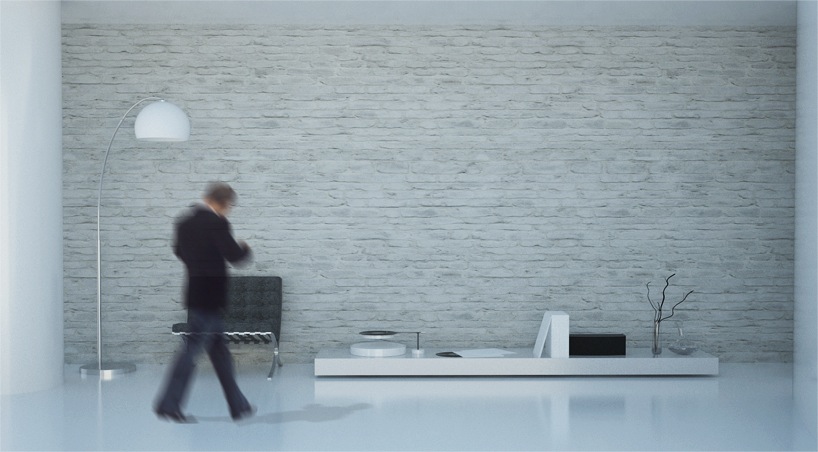 Flynote in a room
shortlisted entries (200)