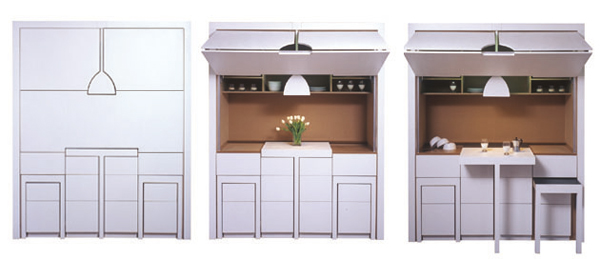 grandma´s revenge by Melanie Olle from germany
designer's own words:
Grandma's revenge is a new interpretation of a good old kitchen dresser.
And so it's like the grandma herself: a real multifunctional talent.
Grandma's revenge is the symbiosis of a kitchen and a dining room in one piece of furniture (h=2.5mb=2md=0.67m), that works on a basic size of 4 sqm.
Grandma's revenge plays with the two dimensional view in a dining room scene. The outlines frame a table, two chairs and a lamp in an artistically minimalistic way.
Grandma's revenge is changed by different mechanisms from a picture into a three dimensional experience.
A horizontal folding door opens up to the whole room at once which consists of a cooking area on the right, a combined dishwashing facility and a chopping board area are on the left and the desk is used as a depot area in the middle.
The kitchen equipment like oven, dishwasher, refrigerator…and the storage boards are set in drawers below the working area.
Additionally the desk, chairs, and lamp can be pulled out up to a width of 1.1 m supported by a special touch mechanism that requires no more handle. It might be utilized either for 1 person, for a family or for a 4 person diner. The folding door can easily be closed at any time to hide the cooking area and to create a pleasant atmosphere as shown in the picture.
After finishing your romantic candle light dinner it is not necessary to waste your time with cleaning the table and the dishes, for example. Just push the table and close the folding door and it looks tidy up to the next morning.
Grandma's revenge is the result of the project compact kitchen. A project of Prof.Klaus Michel at the department of interior design at Burg Giebichenstein | University of Art and Design Halle | Germany
first view
receive visitors
mechanic
shortlisted entries (156)