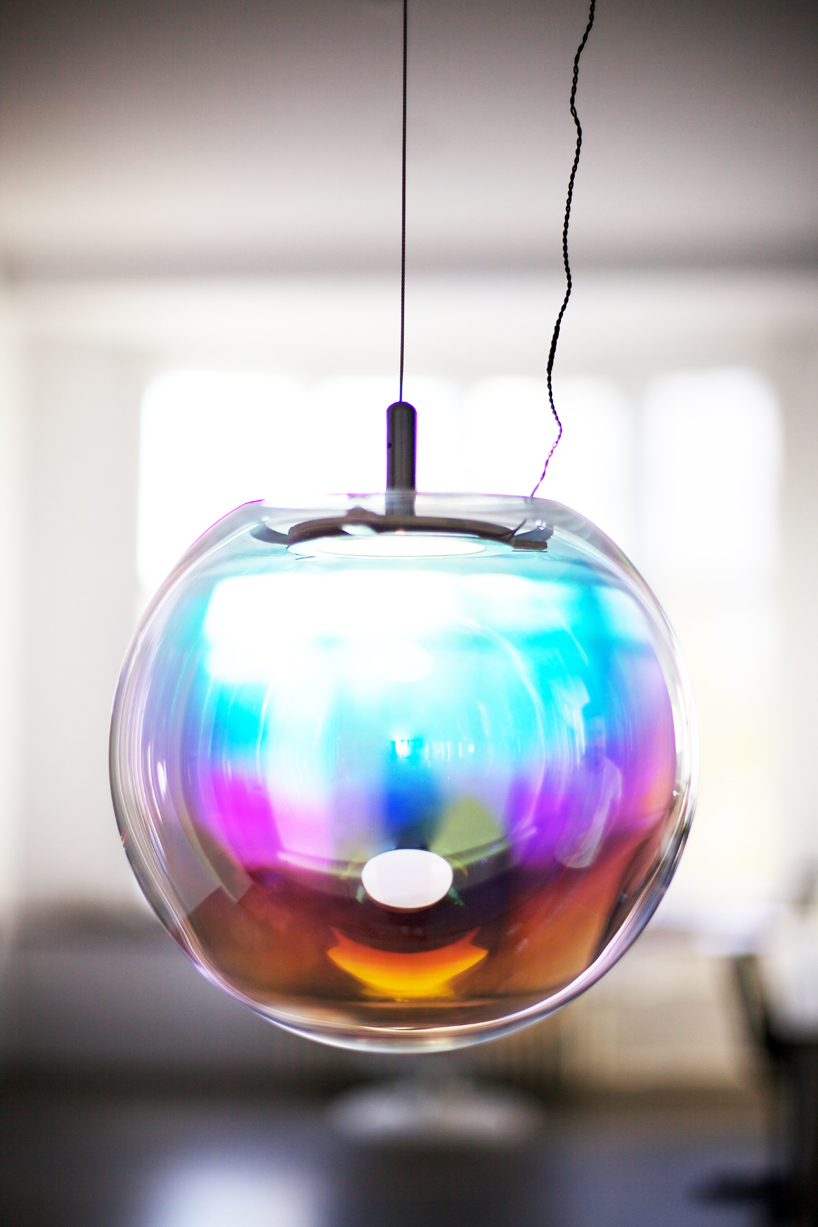 Iris by huntedhunter from germany
designer's own words:
"For this feeling of wonder shows that you are a philosopher, since wonder is the only beginning of philosophy…"
- Plato: Theaetetus 155D
"Iris" crystal ball lamp
The story of "Iris" begins in 2011. Whist attending a furniture trade show in Milan Sebastian Scherer made an interesting discovery, somewhere far beyond the bustling Italian metropolis. In the underground station Duomo some children were blowing soap bubbles. He stood still and watched, fascinated by their game – what made these floating spheres so enchanting? Something created out of a single breath. Its shimmering effect and light, floating movement combined to make a simple thing into an enthralling spectacle.
Could it be possible to capture this fleeting, aesthetic moment in an object?
Back in Berlin Sebastian gets to work. There were many, only partially successful, attempts to put the iridescent colour quality of a soap bubble onto glass. Mid of 2013 came the breakthrough - a company in Rhineland-Pfalz that specialises in the dichroic colour coating* of glass and has realised countless international art and design projects, including Olafur Eliasson's. The challenge for the process was to coat a spherical form and create something new that has not been seen before.
The glass lamp "Iris", named after the Ancient Greek word meaning rainbow, is made of a handblown crystal sphere that is dipped into an alcohol solution and then fired. The coating shimmers in a different colour from every angle.
An Oled Module will serve as the source of light and fixture, its extremely thin framework will ensure the design of the lamp is not compromised.
Both the design and technology behind "Iris" are a challenge and aim to create an inspiring luminary piece.
The crystal ball has long been an object shrouded in myth and wonder. So too shall the "Iris" light encourage the onlooker to reflect upon and question the world around it.
Remaining stages for the final prototype:
- Further development of the coating process (strength, uniformty of colours)
- Finalising the dimensions (ø 20, 30, 40, 50 cm)
- Development of the electrical components (Oled)
* Dichroic colour coating: the iridescent colouring effect is created by light wave interference. From each different angle the interference gives off a different wavelength of the colour spectrum. The different wavelengths are perceived as different colours by the human eye.
iris_1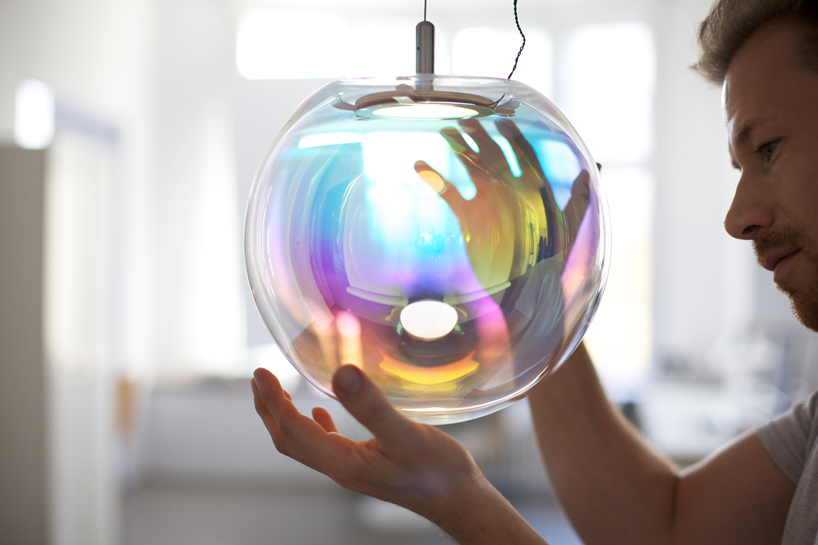 iris_2
[jwplayer config="mplayer" width="818px" height="600px" file="https://static.designboom.com/wp-content/compsub/369199/2013-10-15/video_1_1381856430_52299dc786be32ee7b64b06498e56ff2.flv" html5_file="https://static.designboom.com/wp-content/compsub/369199/2013-10-15/video_1_1381856430_52299dc786be32ee7b64b06498e56ff2.flv" download_file="https://static.designboom.com/wp-content/compsub/369199/2013-10-15/video_1_1381856430_52299dc786be32ee7b64b06498e56ff2.flv"]
video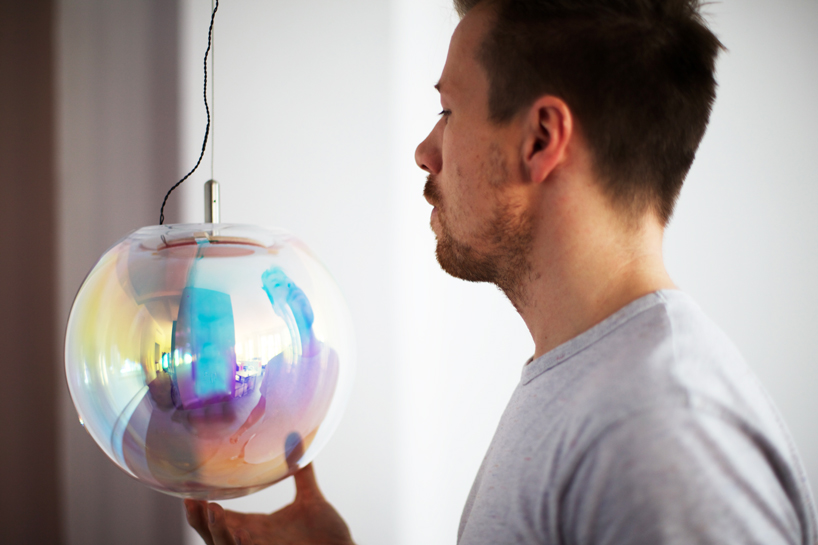 iris_3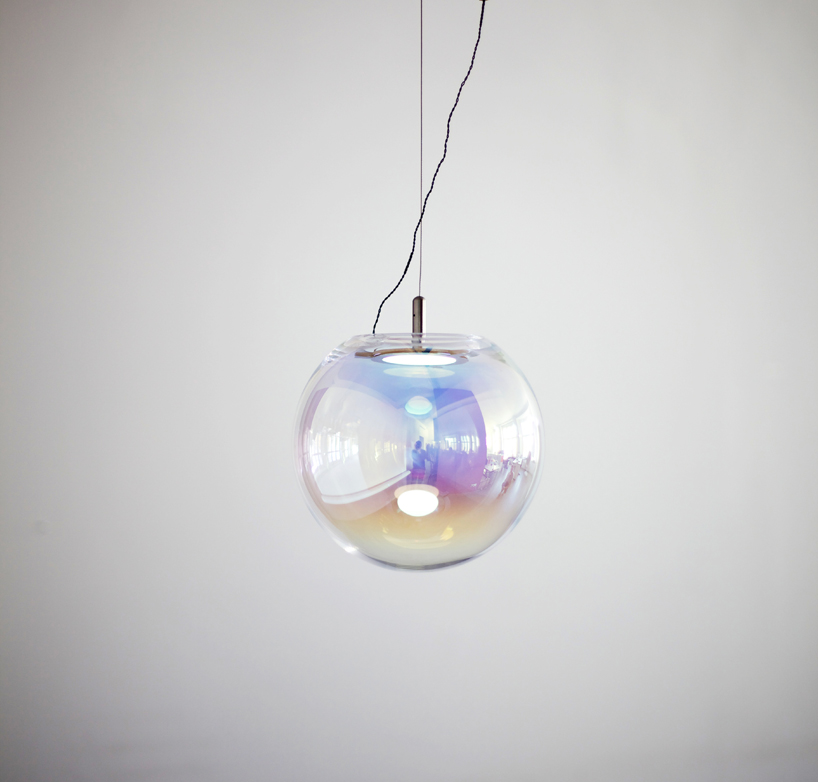 iris_4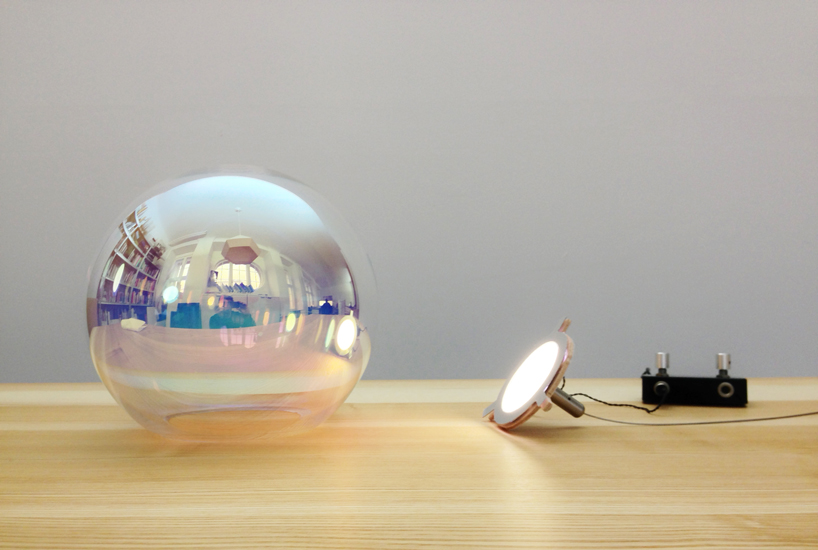 iris_set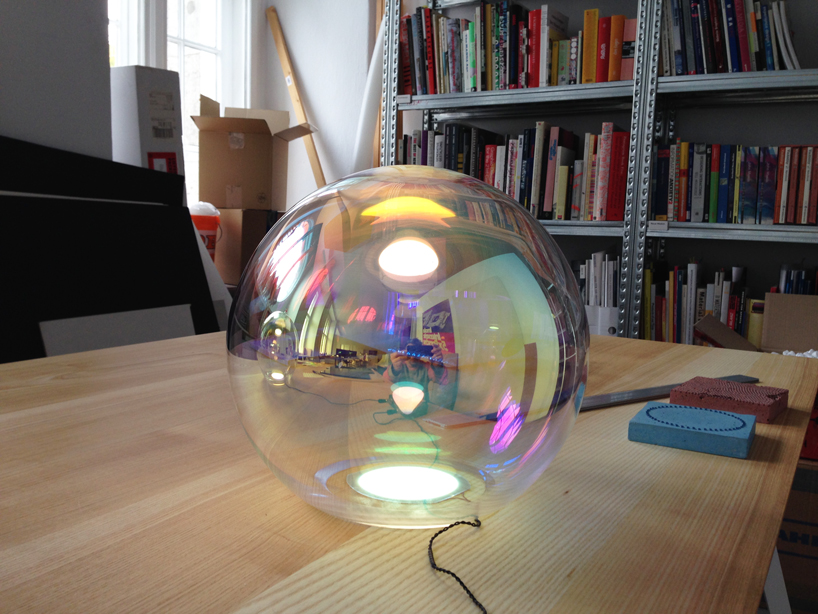 iris_without_fixture
shortlisted entries (200)