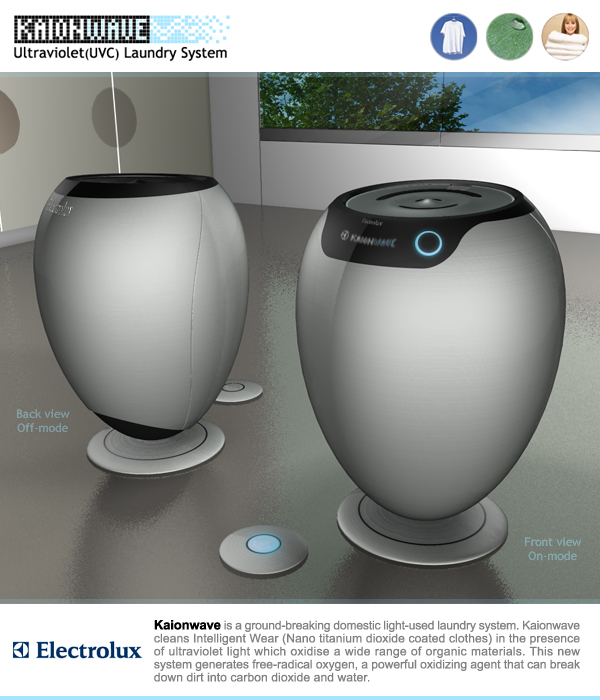 kaionWAVE by wang sin ee from australia
designer's own words:
Kaionwave is a ground-breaking domestic light-used laundry system. This is the first-of-its-kind washing machine that uses ultraviolet-C light for the cleaning of laundry. Kaionwave cleans Intelligent Wear (Nano titanium dioxide coated clothes) in the presence of ultraviolet light which oxidise a wide range of organic materials. This new system generates free-radical oxygen, a powerful oxidizing agent that can break down dirt into carbon dioxide and water. At the same time, the high intensity of Ultraviolet-C energy will be able to penetrate through every article of fabric and is effective in killing bacteria and viruses as well.
Kaionwave is ideal for the households where space is at a premium because it functions both as a washer and a dryer. The wireless design is power by electromagnetic induction technology which will provide the user the freedom of placing Kaionwave within the house of future. The waterless and chemical-free design requires minimum maintenance, paired flawlessly with it intuitive user interface and safety considerations, anyone in the family could operate it.
KaionWAVE_Mainboard
KaionWAVE_User Interface
KaionWAVE_System
shortlisted entries (123)