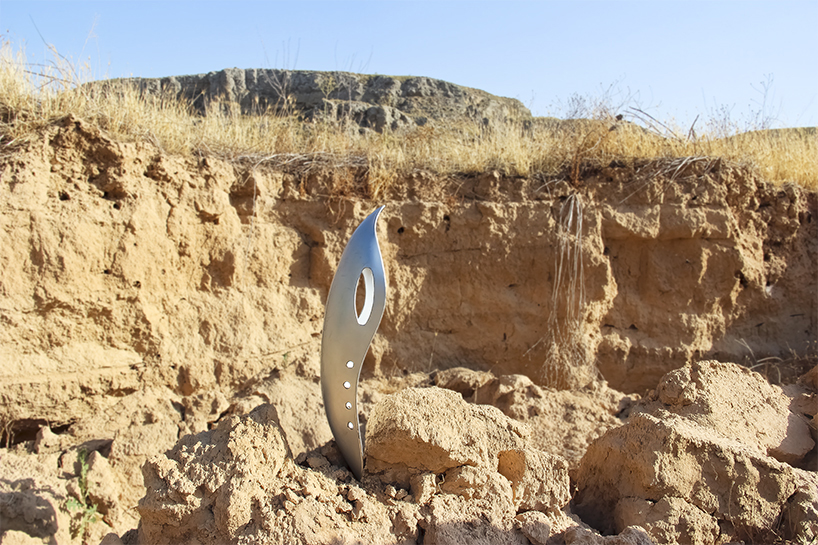 konk by Product design from spain
designer's own words:
The Inspiration
The main objective was to design a simple and useful multifunctional tool, which had an easy and low-cost production. The design is robust and is thought to last in the time. The material employed is high resistance aluminium. The idea is that the higher-end model would be produced from titanium.
Its shape is the result of many months of experimentation until we achieved the correct shape and proportions. The organic shape adapts to human ergonomics and nature environment. Each part of the design has been thought carefully for functionality maintaining its attractive aesthetics.
Our first source of inspiration were the turtle shells, as a result of this, we designed a rigid and strong structure with a concave shape which allows many different uses.
Holes and handgrips allow a free rope configuration.
Stages of Development
Like many good ideas, our initial one came to us nearly by coincidence, we were working on another project when we suddenly found a shape that surprised us so much that we decided to enquire on it.
After many prototypes and a long search we have found the final design, having tried a lot of alternatives and discarded many variations.
Our method consisted in the old trial and error, we carried out real scale prototypes using all kinds of materials testing them and finding all problems, improving them in the following one. We did also print many small 3d prototypes to test resistance and shape aspects.
We also spoke with experts in real survival experiences and amateur future users to get in touch with our target and test its true functionality and its market acceptance.
The last prototype has been done in polyurethane resin, straining the liquid resin in a wood mould and giving it a metallic finish.
Now we are looking forward to the next steps, and we want to continue developing this product and finally produce it.
The Function
The Konk's objective is to make life easier on the natural environment in situations in which a great element´s versatility is needed to cover basic necessities.
Konk brings together in a single object the functionality of a dozen of them.
It can be used as an auxiliary tool in situations such as survival, rescue, outdoors sport and activities, nomadic life and for the off-the-grid communities.
FIRE INSULATOR
STOVE/WOK
FLOAT FISHING /
TORPEDO RESCUE BUOY
SHIELD
TRAP
SHOVEL
BUCKET
TRANSPORTATION
SLEDGE
EMERGENCY HAMMOCK
EMERGENCY STRETCHER
SUNLIGHT/SMOKE SIGNAL
BACKPACK FITTING
ROPE CONFIGURATION
STACKABLE
shape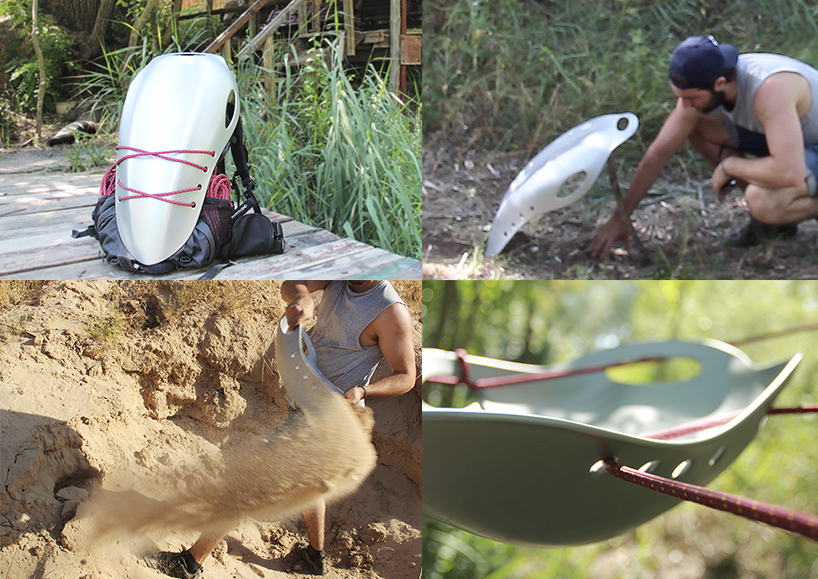 utilities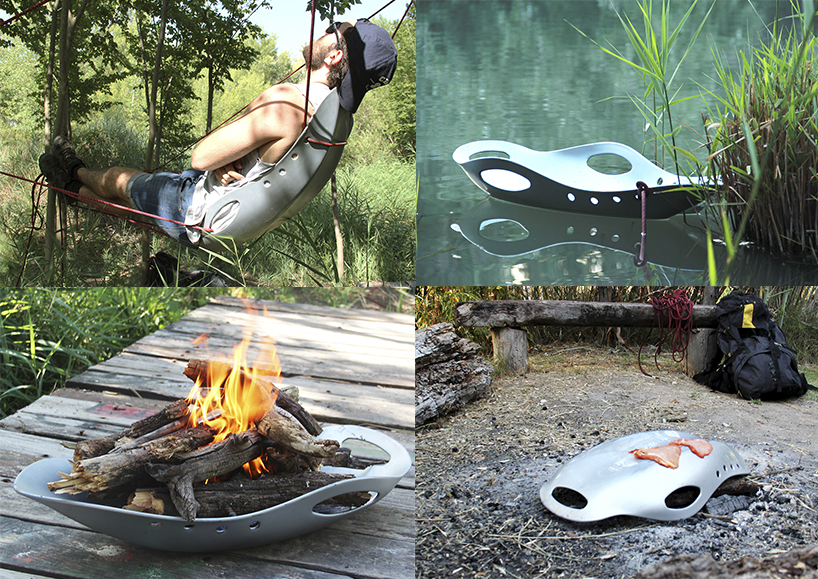 utilities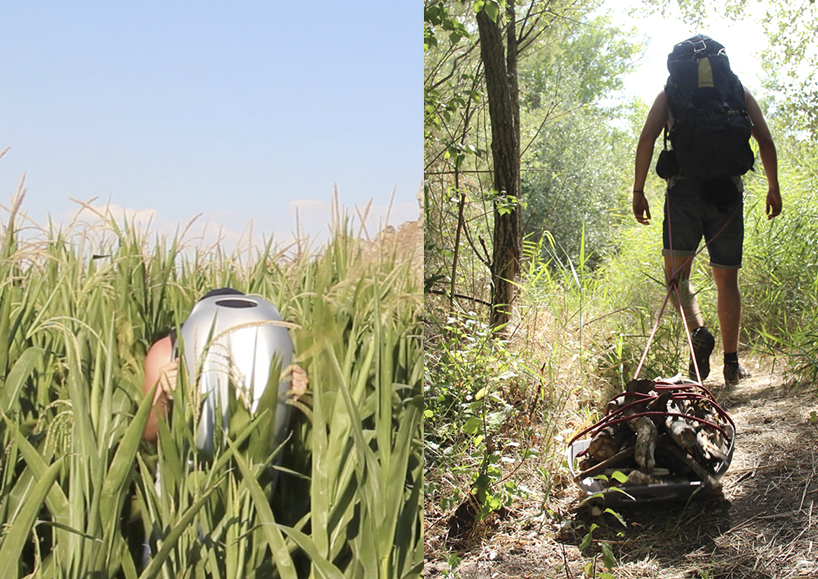 utilities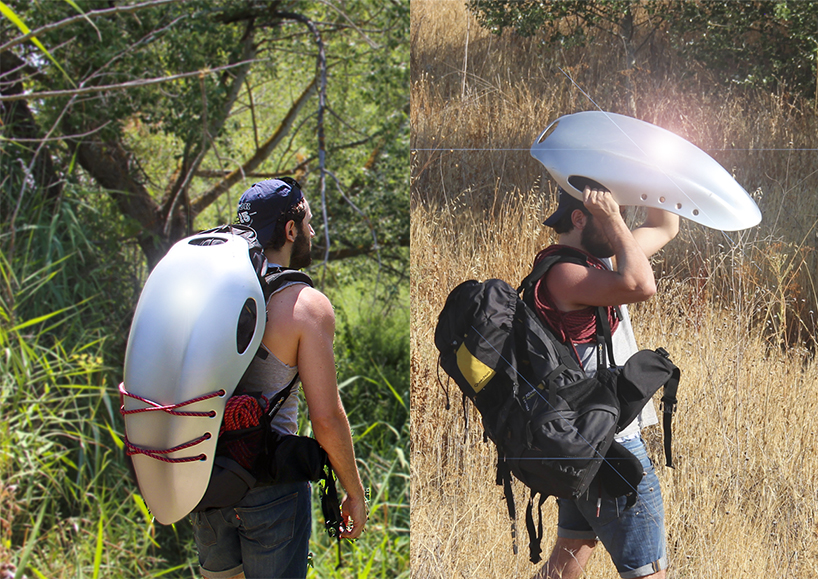 utilities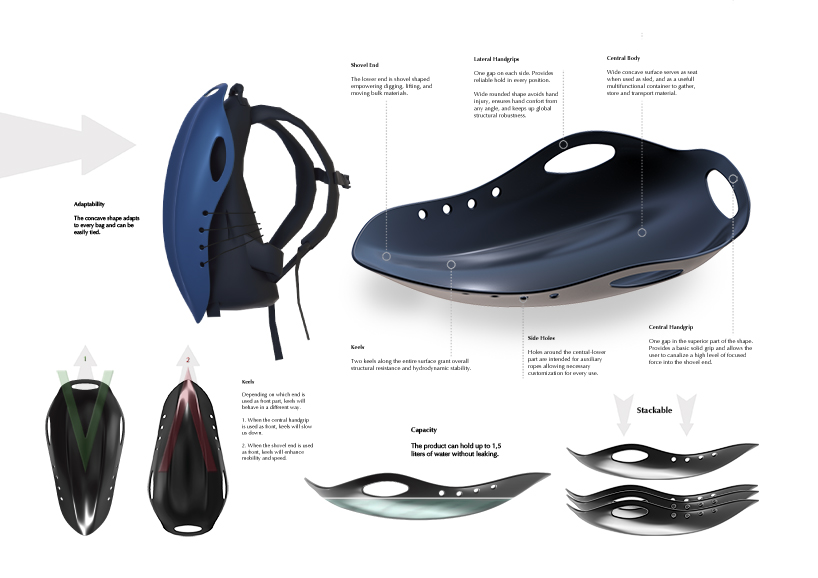 explanation