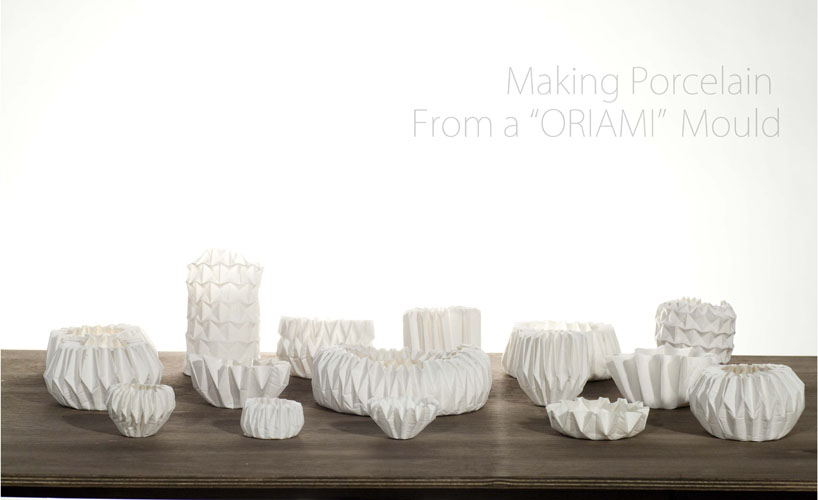 making porcelain with a by 五十嵐 瞳 from japan
designer's own words:
Making Porcelain with a "ORIGAMI" Mould
Traditionally, plaster mould has been used for casting porcelain.
Plaster mould enables stable forms in quantity manufacturing, but has the difficulty to make minor changes. Now in an age where diversity and originality is expected, a more flexible means of manufacturing is required.
Using paper moulds for casting has several merits. Paper burns away in the kiln, reducing the action of taking the porcelain out of the mould. Also, as the clay is fragile before firing, it needs a certain thickness to be taken out of the mould. As a paper mould does not need unmoulding, it is possible to make extremely thin porcelain.
By applying this principle and layering numerous paper moulds with thin coats of clay, I was able to create porcelain similar to puff pastry. This porcelain has numerous thin layers with air between that gives it new property such as heat-insulation and heat retention, giving it a potential to be developed into new products, architectural materials and tableware.
Paper moulds are more economical than plaster moulds, and can be made almost anywhere. This enables porcelain manufacturing even in developing countries and areas which are poorly equipped. Also, details and changes can be added in a shorter period of time, which enables cheaper manufacturing and a wider range in form. Furthermore, quantities of porcelain with the same shape can be made by conforming the pattern of the paper moulds.
Seeking for further possibilities and new value arouses motion in life. Taking items and material, such as pottery and paper, from familiar surroundings and redefining its production process has lead me to possibilities of further development. Creating features that had never been made has lead me to new values.
I wish to keep on seeking this motion.
Making Porcelain with a \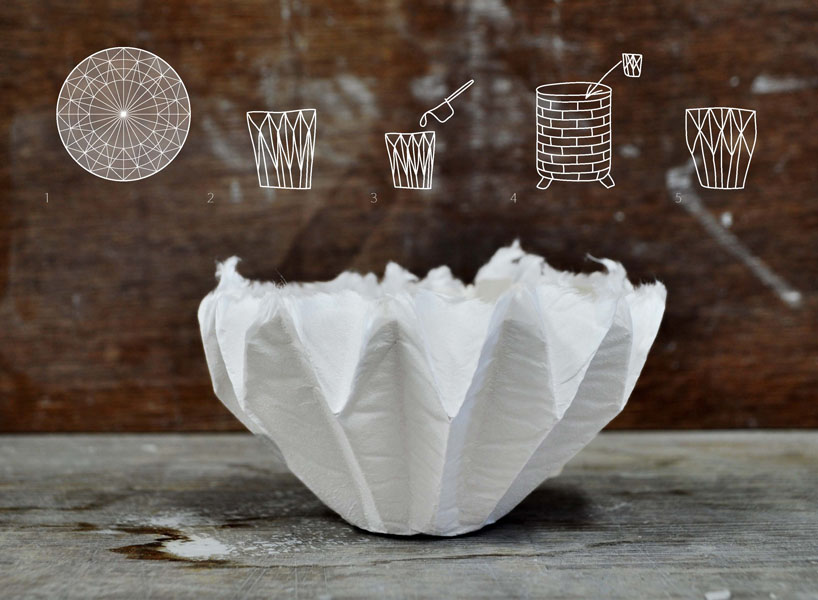 Technique of ORIGAMI Porcelain [jwplayer config="mplayer" width="818px" height="600px" file="https://static.designboom.com/wp-content/compsub/368632/2012-12-31/video_1_1356961946_76460627c2b460bc18cd7a16e6b8a20d.m4v"] video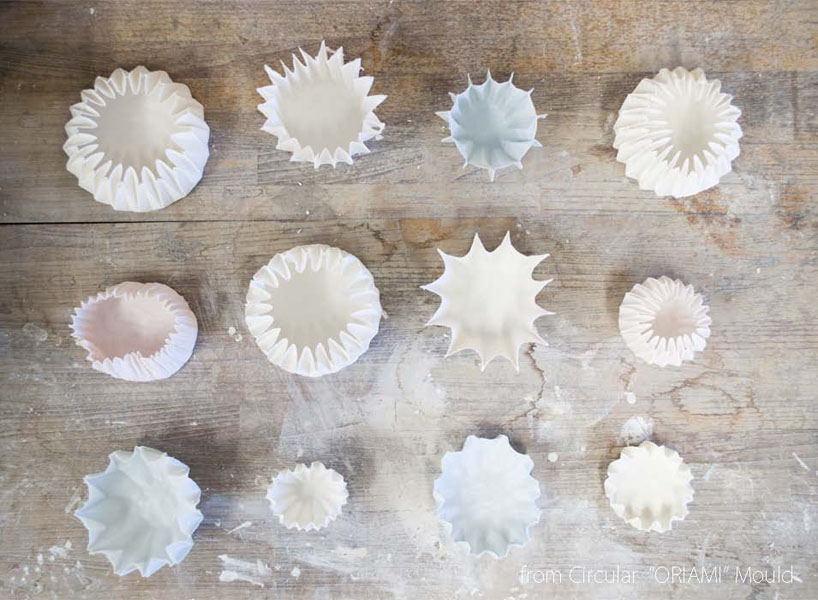 Variation of the form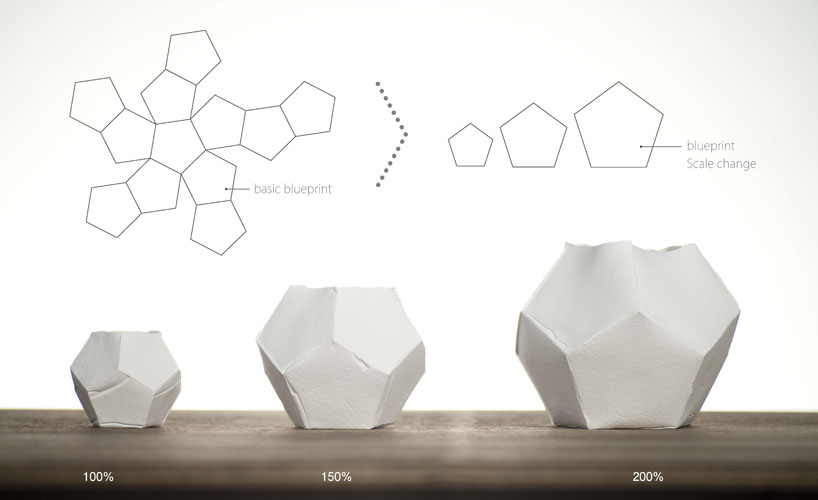 Variation of the size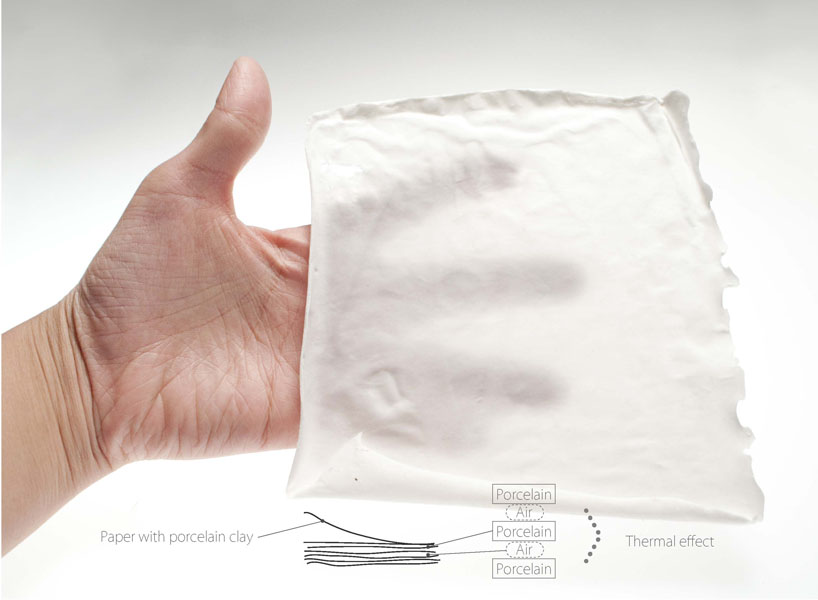 New properties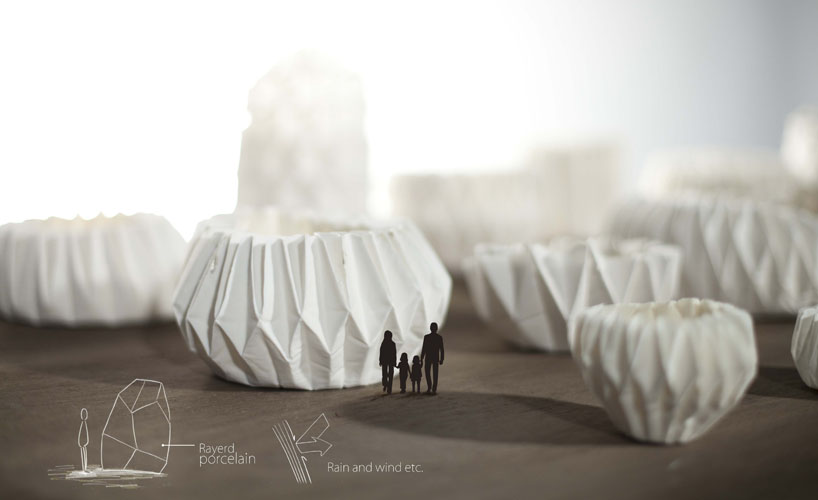 Application to Architecture
shortlisted entries (156)