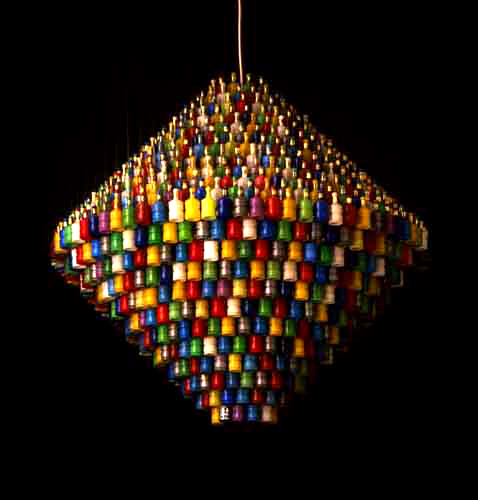 MILLENNIUM CHANDELIER + SHADEY FAMILY by stuart Haygarth from uk
designer's own words:
1. MILLENNIUM CHANDELIER
The chandelier is made of 1000 exploded Party Poppers collected ( on 01.01.00 ) after the Millennium celebrations in London. Each Popper is suspended on a line from a platform above. The sculptural shape sways and moves like an organic form when hit by a breeze of air. Although this original millennium light is a ' one off ' piece due to its narrative connections, it can be recreated using new party poppers. The chandeliers would be self produced in small quantities rather than mass produced industrially.
2.SHADEY FAMILY
This is a linear chandelier created from a selection of found glass lamp shades. Individually, each shade is not particularly eye catching but when grouped together in a unit they become harmonious and beautiful. This project is about re-cycling unwanted and discarded lampshades and reconfiguring them to create a stunning light. The chandelier reminds me of a family because each lampshade has its own character but when together they join forces and become one entity. Although using the same formula to construct the chandeliers each light would be original. The lights would be self produced in small quantities.
MILLENNIUM CHANDELIER
SHADEY FAMILY
shortlisted entries (139)