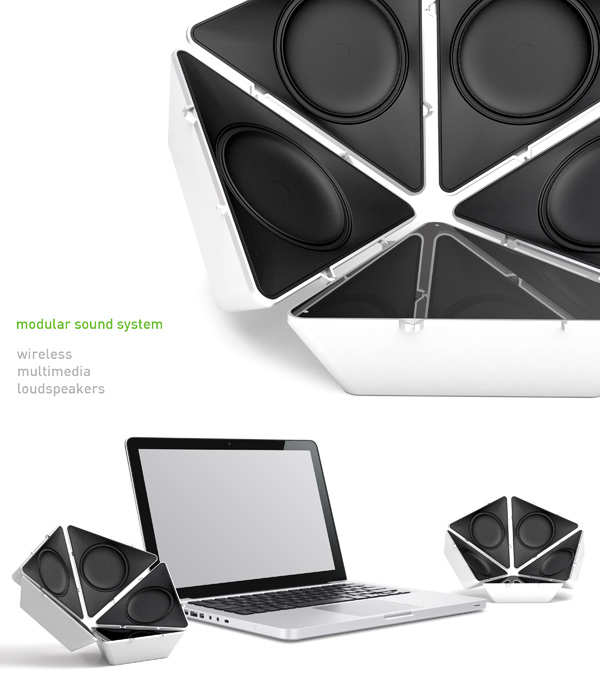 modular sound system by dotline collective from france
designer's own words:
Music in every form ----------
Rapidly changing lifestyles and environmental issues require new design concepts. In order to overcome the fast obsolescence of electronic products, modern technological design should be able to answer ever-changing demands, and adapt itself for different uses at different times.
----------
This challenge is reflected in our entry for the design of a future loudspeaker :
A contemporary sound diffusion system that can take different shapes, and allows an infinite variety of combinations.
----------
Our aim is to involve the user in the design process and give the ability to create personalized, original or derivative configurations.
Infinite possibilities can be built, adapted to every type of interiors, to each room of the house : An omnidirectional loudspeaker, a wall sound sculpture, a pair of wireless multimedia stereo loudspeakers are just a few examples.
----------
Our modular sound system is based on two triangular basic modules :
- A speaker module, including a full range driver with its own amplifier, enclosed in a solid enclosure with integrated connectors on each sides.
- A wireless receiver module, based on the same enclosure and connectors.
Each module can be connected on every side to another module
----------
Using the same principle, other modules can be added to create even more possibilities : an ipod dock module, or a bigger speaker module for a better bass response, for example.
example 1 : multimedia loudspeakers
example 2 : wall sound scultpure
example 3 : suspended omnidirectional loudspeaker
shortlisted entries (155)