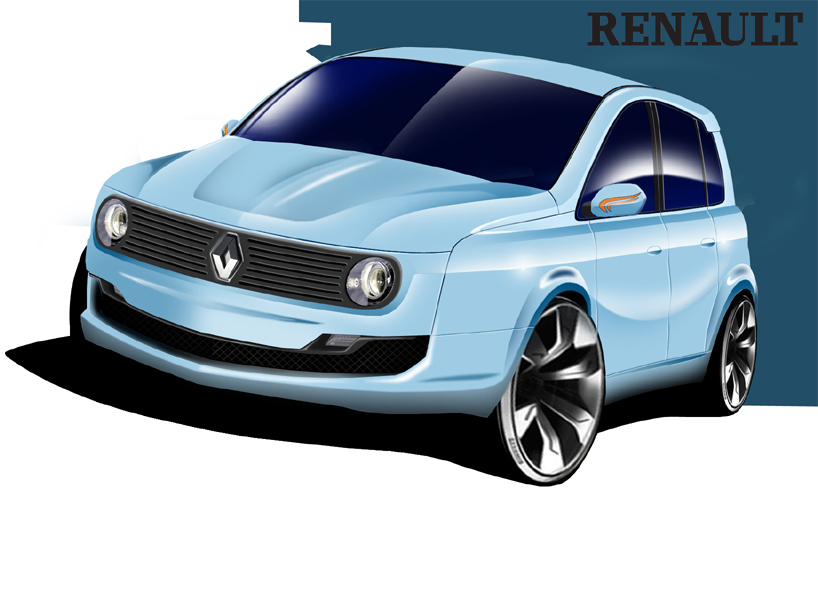 new renault 4 concept 2011 by Duarte Andrade from portugal
designer's own words:
hi, my name is duarte andrade i'm 29 years old and I am from a island called madeira in portugal. i am not a professional designer and never had a design degree, but i love drawing cars.
this is my renault 4 concept, it has a retro design to look like the first one in all aspects and i tried to keep all the original lines.
in my opinion the body work should be done in very lightweight material such as plastic reforested with carbon fiber inside. it can stand on a modus platform reduction production costs.
the window should be high reflected material so it could keep the interior cool and use less air-condition and not having to open any window, saving energy and becoming more fuel efficient.
the exterior light com with led`s and the renault logo that can be turn on at night making the car more recognizable and working as a car parking light for those that keep there car on the street.
the motor should always be hybrid such as in gasoline or diesel. the electric one should have solar panels on the roof and should also use brake and suspension to create electricity too improve fuel autonomy.
the new 4 concept is a car design for the city, having a new and fresh look, has space for 5 people being able to turn into 2 seat car, making it useful for work and as a family car.
this is my 4 concept, a concept able to fight against the news rivals of other car companies like the new mini, fiat 500, wv beatle, cars that became best sellers.