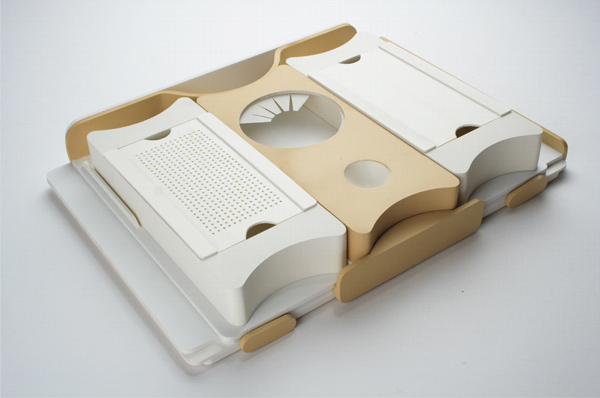 one handed kitchen equipment for handicapped people by gabriele meldaikyte from uk
designer's own words:
This all in one kitchen equipment is helpful innovation for people with fracture, permanent disability, paralysis to one side.
Entitled One handed kitchen equipment, this specializes kitchen tool not only makes food preparation by one hand simple, but also encourages handicapped people to be self-reliant.
The beuty of the product is that both lefties and righties can use it with ease.
Designed to be used during food preparation, the product has a number of configurations (7 in all):
1.One-handed food cutting equipment
Notice the body leaning on one end to keep the food in place?This is the key element that makes this concept work.
The brown color pieces are the moving parts of the system.
So top board and bottom board are moving elements of the kitchen equipment. The top board is used for food preparation by one hand and bottom board is cutting board. When both, top and bottom boards are working together, they become one-handed food cutting equipment, where instead of disordered hand is used all body pressing strength.
2. elements for stabilizing bread while buttering
3. one-handed different diameter tubes opener
4. one-handed fruits and vegetables cutting and peeling equipment
5. egg and different diameter tubes holder
6. one-hand changeable graters
7. food box
Several fixing elements and non-slip rubbers add stability to the workstation, so the device stay still during food preparation process.
Besides, all kitchen device is easily detachable, so all elements are washable.
all in one kitchen equipment for handicapped people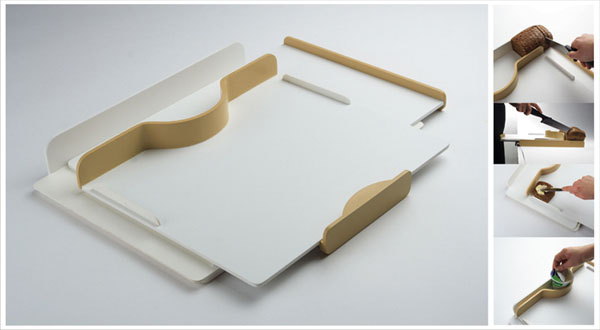 one-handed food cutting equipment,elements for stabilizing bread while buttering, different diameter tubes opener
one-handed fruits and vegetables cutting and peeling equipment, egg and different diameter tubes holder, changeable graters,food box
shortlisted entries (153)