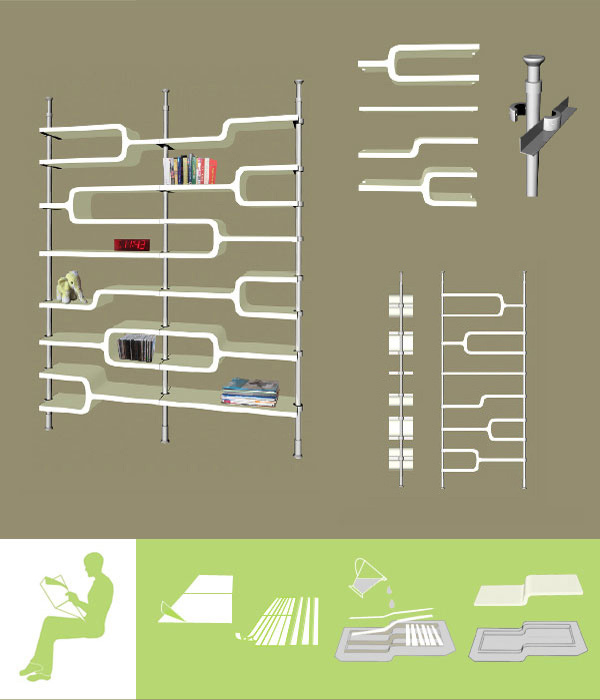 papier maché shelf radio tray by katja hettler from germany
designer's own words:
Have you ever asked yourself, what to do with the stacks of newspapers piling up in your living room corner? How about having them recycled into a cool piece of furniture! Surely you've experienced - at least once in your life - working with good old papier-maché. You might remember it as being gluey, messy and not very sleek. But the technique of papier maché can also be used in an industrial way with precise results using moulds and compression techniques. Various sheets of unsized rag paper are pasted on both sides with a mixture of glue and starch, then pressed into a metal mould and smoothed to remove air bubbles. The edges get trimmed and the sheets waterproofed. Finally the ensemble gets dried at very high temperature. Once dried it can be varnished with durable industrial resins or higher quality coatings like Japanese lacquer.
Here some examples of what your newspapers can become...
SHELVES Four different shapes made of moulded papier-maché are used as shelving elements. For reinforcement light wooden frames are embedded into the cast. The shelves lay on horizontal angles that are screwed along aluminum poles. These are fixed between the floor and ceiling and are adjustable to various room heights ranging from 2,50 m to 3,50 m. This system allows for maximum flexibility and can be used as a variable shelving, room divider or simply a coat rack.
RADIO This small travel radio / mp3 player is an ecological alternative to plastic radios. The papier-maché casing has a sliding mechanism that encloses and protects the technical core during the journey. Upon arrival the case can be opened and all functions are accessible. A solar panel provides fresh juice on sunny days, while a manual pull out mechanism generates the required energy during dark winter times.
TRAY This light-weight, yet endurable (airplane-style) food tray coated with traditional Japanese Urushi lacquer serves as an ecological and aesthetic alternative to temporary plastic containers. It can be coated in a heat resistant and dishwasher proof resin.
shelf
radio
tray