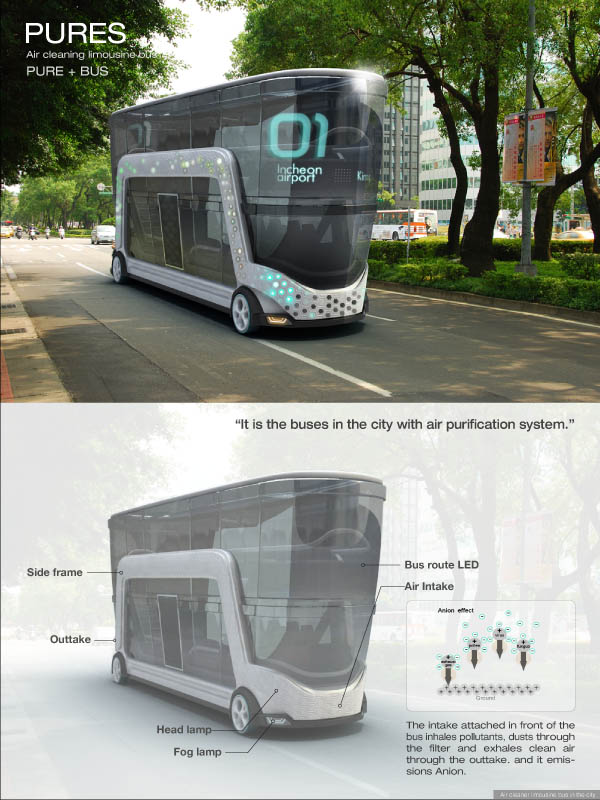 pures_(modified) by Gun-woong Kim from korea
designer's own words:
Pure + Bus = PURES.
In modern days, people are forced to breathe polluted air mixed with smoke from the cars and carcinogenic substances coming out from the industrial factories. This causes the respiratory and cardiac disorders to people and causes smog and dusts.
As most people know, cars were the main cause for air pollution but these days, development of electronic cars and eco friendly energy enabled cars not to discharge pollution substances. But still there are a lot of air pollution going on in earth and global warming rapidly going on. To these situations, we found the answer in public transportation, bus. PURES is the buses in the city with air purification system.
PURES is limo type double decker bus and can accept a lot of people and can be used as airport limo bus, or city tour limo bus, which need large person acceptance. The intake attached in front of the bus inhales pollutants, dusts through the filter and exhales clean air through the outtake. Side frame contains intake, outtake, filter with air cleaner sensor and LED graphic device unit. Intake units are automatically closes when the bus stops and opens when bus starts and inhales through the intake and air cleaner filter. Also the driver can open the intake for air cleaning. The graphic device shows the process of air cleaning and can be used as advertisement mechanism when air cleaning device is not on. Also the graphic device installed in front of the bus can be used as front light. The motive for exterior design of PURES is from Korean traditional bowl 'Chosun Beakja', which has beautiful lines. The straight curve toward the sky for the roof shape is very suitable for airport limo as the concept of the door to the world as same as the airport and air planes.
The passengers can see the environment around through the front glass of the bus and wide, comfortable seats provide relaxation. The sliding door in the middle of the bus makes elder people and people with many luggage easier to get in and out.
PURES' engine uses electronic battery and energy for aircleaner unit is supplied by the solar panel on the roof of the bus.
We are sure that PURES will make the city environment more clean and pleasant.
It is the buses in the city with air purification system.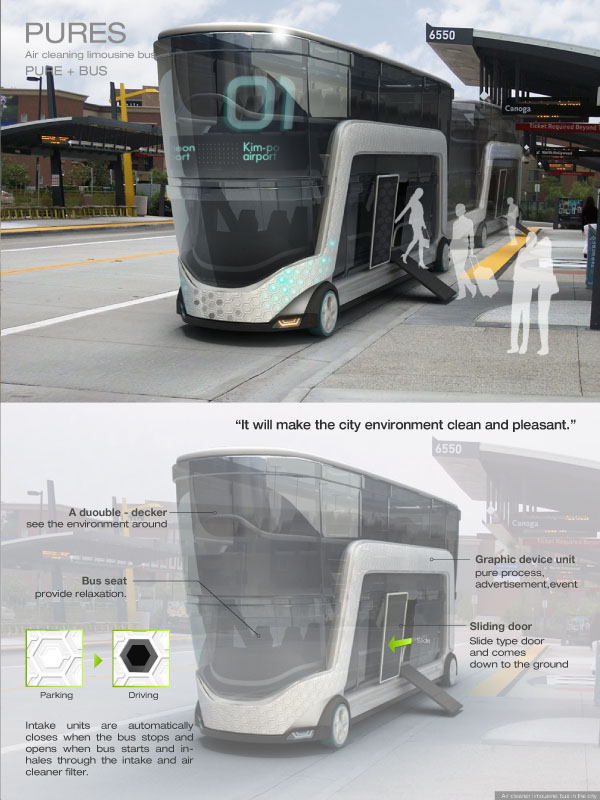 It will make the city environment clean and pleasant.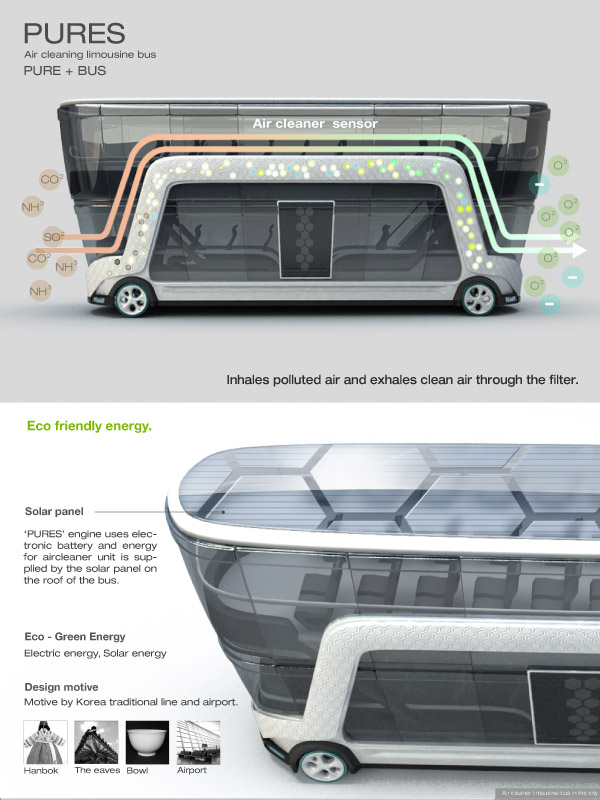 Inhales polluted air and exhales clean air through the filter.