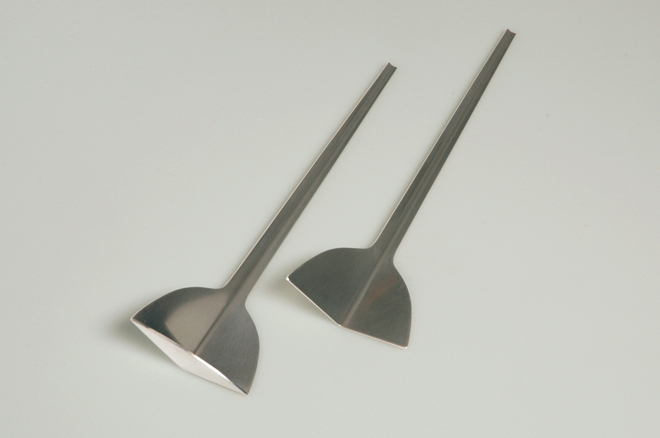 SLIGHT salad set by andreas hegert from sweden
designer's own words:
In the not so distant future it will be (as it is now) very important to do all we can to minimize human damage to our planet. We must change our habits and not overconsume. Things must be produced to last longer in both design and material. In dining we may also have to change what we eat. Different salads are already more a main course than a side order. Eating more vegetarian food gives both environmental- and health benefits.
The SLIGHT salad set is made in recycled, anodized aluminium for its good mechanical properties:
-It is lightweight which means that transports will be cheaper and more environmentally friendly.
-It is durable, which means it will not break or deteriorate easy, thus lasting for years.
-It is easy to recycle, over and over.
SLIGHT is inspired by both our past and future. It is made from a minimum of material yet it aspirers to be both elegant and timeless. The two almost identical peaces fit perfectly into each other making them easy to produce, pack and transport. They come in four anodized colours. The anodization makes the aluminium water-resistant.
SLIGHT salad set
SLIGHT fits perfectly together
SLIGHT colour variation
shortlisted entries (160)