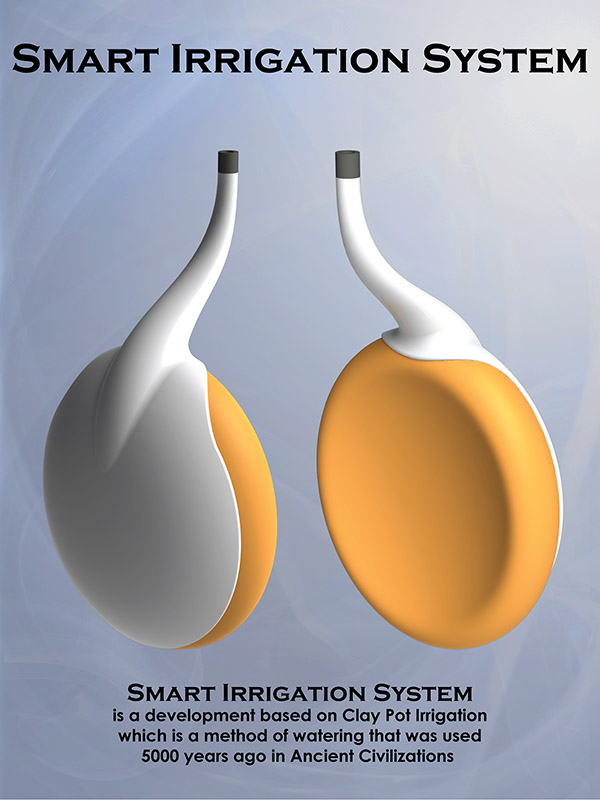 smart irrigation system by babak ghobadi from usa
designer's own words:
In the most common methods of agricultural irrigation, a large part of water is wasted due to evaporation of surface, and the remaining goes deep in the earth without being reached and used by the plants. These kinds of problems can be found in dry lands which the soil is warm and dry, and have limited water resources.
Clay pot irrigation is a method of watering which was used 5000 years ago in Ancient civilizations in dry climates like Persia, Egypt and Syria. In this method, a clay pottery would be buried in the earth next to the plant or tree's root with a possibility of filling water through the pharynx. By development of the technology and the changes of process in agriculture machinery, despite of the vast benefits this method got abolished.
Smart Irrigation System, with the upgrade and renovation of the old system and its adaptation to the modern agricultural condition, intents to help saving the limited resources of freshwater in the world. Due to leaking water from the Storage Jar's earthenware sponge layer the roots get moisture and wet directly from the jar without wasting any water. Smart Irrigation System is a method of underground irrigation which is capable of adapting and innovating for being used for any kind of small plants, trees, home gardens or vast agricultural lands.
With installing Smart Irrigation System in the earth around the plant's root, moisture reaches directly to the roots. Due to the natural tendency of this system, the balance of the moisture is always regulated automatically from the jar's sponge layer without using any kind of outside energy consumption. In addition, there is the possibility of mixing water with the fertilizer or plant nutrition in the container.
Advantages:
• Saving water • Saving fertilizer and toxin • Energy saving • Ability of developing methods and innovation • Direct root watering • Automatic control of equivalence humidity • Preventing from any disturbance for agricultural tools and machineries • Preventing from Loss of Weeds • Preventing from salinity of water in dry land areas
smart irrigation system page 1
smart irrigation system page 2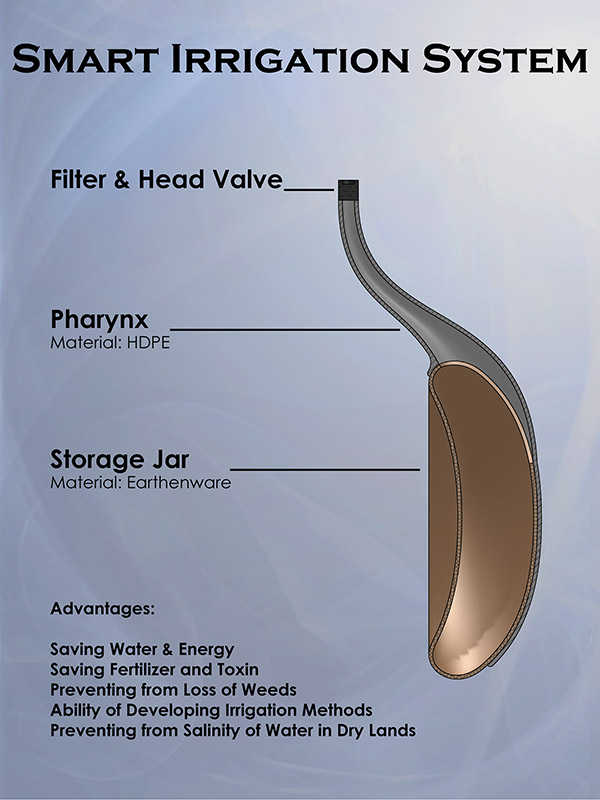 smart irrigation system page 3