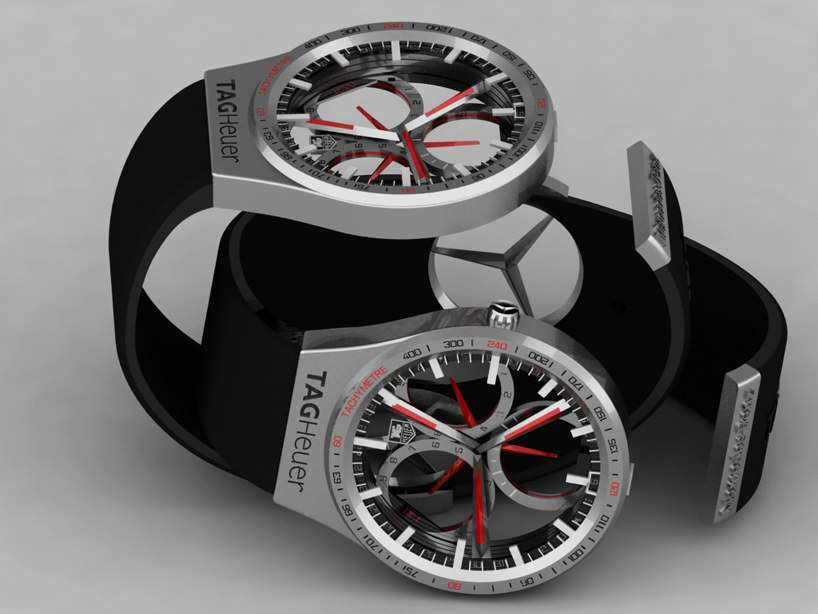 TAG Heuer Formula 1 watch by Peter Vardai by peter vardai from hungary
designer's own words:
the firm tag-heuer was founded in 1860 and is celebrating its 150th anniversary this year. i aimed at designing a watch that is worthy of the brand's traditions and communicates its innovative tendencies at the same time.
the tag-heuer is one of the few watch brands that have been cooperating with the same formula-1 team, the mclaren-mercedes for quite a long time, 25 years. i was inspired by the brand's models connected to auto racing and chose the tag-heuer grand carrera calibre 36 rs caliper chronograph model as starting point to design a watch representing the great traditions of the brand.
all over the design one can find references to formula-1 and mercedes-benz. the sport car effect is emphasized by the arms with vivid red inlet. pressing the buttons on both sides of the mercedes logo releases the strap. the source of the light airy character of the watch is the placement of the arms. the arms are placed on great cogwheels which makes them rotate not around the center but connected to the rim. by this and the noncontinuous strap i could achieve the light air of the inner surfaces.
out of the three middle arms the left one is the tenth, the right one is the hundredth seconds while the bottom one displays the charge of the watch. the button is placed in the first teg-heuer logo.
the watch is supplied with both a rubber and a metal strap.
TAG-Heuer Formula-1 concept
TAG-Heuer Formula-1 concept
TAG-Heuer Formula-1 concept
TAG-Heuer Formula-1 concept
TAG-Heuer Formula-1 concept
TAG-Heuer Formula-1 concept
shortlisted entries (519)