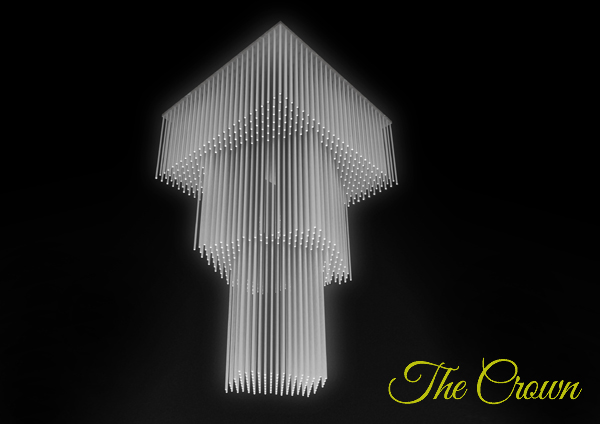 the crown by olga sjöroos from finland
designer's own words:
The source of inspiration for "The Crown" has been traditional chandelier which has been updated into a modern shape. In the design we wanted to maintain the classical look but at the same time give it a new twist by highlighting unsymmetrical elements and new technology. It suits well in both private and public space. "The Crown"'s technology is based on the combination of LED –lights and light-fiber. This allows it to be used in several ways, depending on the amount of light needed. Both types of light can be used at the same time or separately. The lights can also be programmed for different shapes, which can be defined customly. The ecology and maintenance of the chandelier has been considered by cutting out all the unnecessary material. It's base is a hollow aluminium plate, which also hides the wires of LED -lights and the projector of light-fiber. The hanging light-fibers are covered with thin plastic pipes, that are 5 mm thick and made out of recycled plastic, to keep up the shape. The pipes also cover the LED –wires which are shining at the end of the pipes.