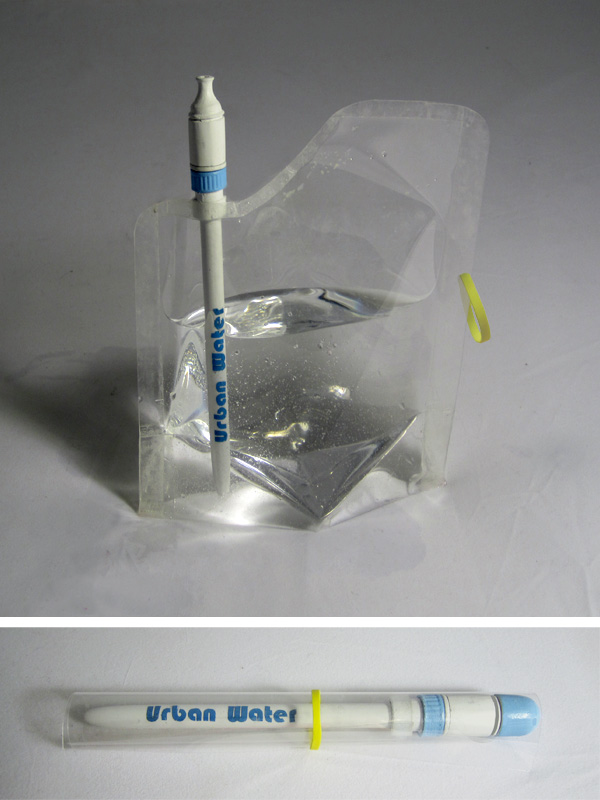 urban water by sungun chang from usa
designer's own words:
It is ironic that people in developed regions of the world such as Europe, Asia and North America are the ones spending most money for bottled drinking water. Priced higher than fuel from gas station, bottled water does not only burden consumer's wallet but creates more than hundred billion plastic bottle waste per year and unnecessary carbon footprint that are harmful to earth's environment. "Urban water" is the product design proposal that aims to solve this bottled water crisis by providing portable water purification and container system for the individual living in urban setting. The main benefit of "Urban water" that distinguishes itself from other filtered water bottle is its unparalleled portability. The dishwasher safe BPA free polyethylene container unit with nylon coating can be neatly rolled around the compact size straw carbon filter to be stored and carried in a pen size while not in use. Holding 300ml of water when fully filled, "Urban Water" can filter up to 100 liter of tap water with its replaceable carbon filter that screens out harmful chemicals such as chlorine and fluorine used in public drinking water to treat bacteria.
Urban Water (Roll and carry it in your pocket)
drinking out of urban water
What to do when you are thirsty in the city