apr 11, 2012
deadstock by castor design
catherine lamp
castor design has found a home for neglected industrial parts, old products and raw building materials by giving them a new, sophisticated use with the launch of deadstock. part of castor's unique design approach is driven by the constraints of discarded, forgotten materials to form elegant new products sympathetic to the original history of the components. the deadstock series was inspired when castor found stock of unused steel components in a defunct lighting factory in toronto. the old lamp parts were discovered in dust-covered boxes that had not been touched for 30 years. the series forms a collection of six products including various lights and a totally unique marble coffee and side table, all with the trademark industrial edge combined with the quality of refined innovative design.
each new product combines simple movement within the parts to provide options for angle of light, look and use. 'we like to take old materials that would otherwise become waste and re-contextualize their use,' explains castor's brian richer. 'finding this old stock, produced in canada by one of the largest lighting manufacturers, represents a part of history. by re-interpreting the definition of the parts, adding new materials and techniques we are creating a new story for each product.
the deadstock collection includes the deadstock cannonball pendant light incorporating old lighting shades stamped into metal balls, textured glass lenses and finished in black or white coating, comes in groups of three with adjustable height. the bold deadstock jib wall lamp carries through the ball shape with an adjustable head and new dimmer technology in a flat florescent bulb panel. mixing of materials is apparent in the deadstock floor lamp with a CNC (computer numerical control) turned oak body, metal base and fully adjustable deadstock shades in black or white. the uncomplicated catherine table lamp has a brass body with BMO carrara marble base, incorporating a cold cathode florescent light-source. the axis floor lamp challenges every angle – machined from a solid piece of aluminum tube, the minimal LED housing creates an extension of the main body. smaller tubes move freely to create adjustable legs that determine the angle of the light.
the designers had another obstacle to overcome before putting the new products into production; a limited supply of the found parts. to ensure an ongoing supply of these parts, castor was able to track down the original manufacturer to reactivate the 30 year old machinery that produces these otherwise obsolete parts. this resurgence of old machinery to make parts for the new lights revives important tooling techniques disappearing from north america. perhaps the most notable up-cycling in the collection comes in the form of carrara marble, straight from the bank of montreal (BMO). building refurbishment project in toronto. carefully selected pieces of this 37 year old marble have been cut, cleaned and polished to form a limited number of deadstock BMO marble tables. the solid brass legs and cast aluminum brackets add a striking contrast. 'from an ecological point of view we are saving raw materials and making the old parts desirable again", explains partner kei ng. the designers have also sourced bulbs using the latest in leading edge and environmental lighting technology from canadian manufacturer turolight. turolight's ilano (TM) flat panel fluorescent bulb lasts as long as an LED bulb at a fraction of the cost and reduces power.
catherine lamp
axis floor lamp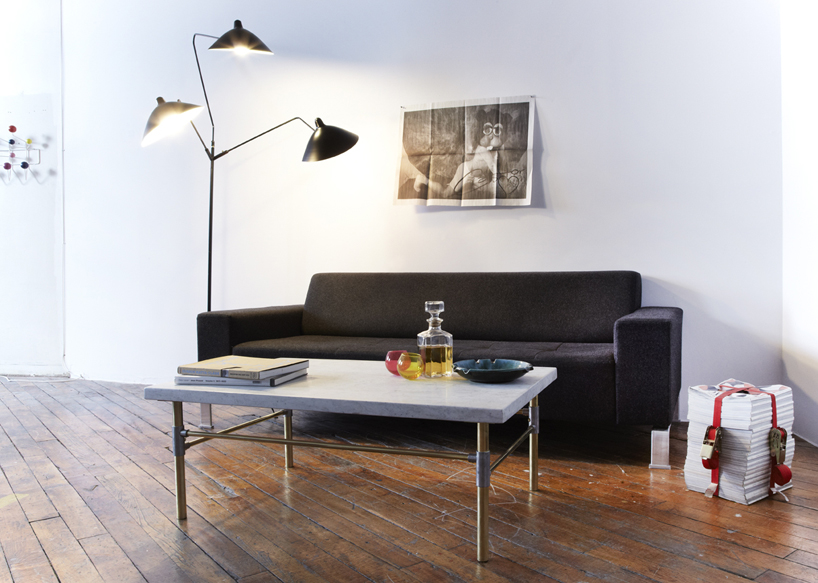 BMO coffee table
deadstock floor lamp
cannon ball light
cannon ball light
jib wall lamp
a diverse digital database that acts as a valuable guide in gaining insight and information about a product directly from the manufacturer, and serves as a rich reference point in developing a project or scheme.