as cities and populations continue to grow, the use of bridges not only improves accessibility and infrastructure for all modes of transport, but it also explores different artistic approaches that facilitate a common ground between strangers. movable bridges have an extra function—they usually have dynamic characteristics that allow the passage for boats. generally powered by electric motors, these bridges can be also operated by humans. below we list 10 amazing movable bridges and their transformations around the world.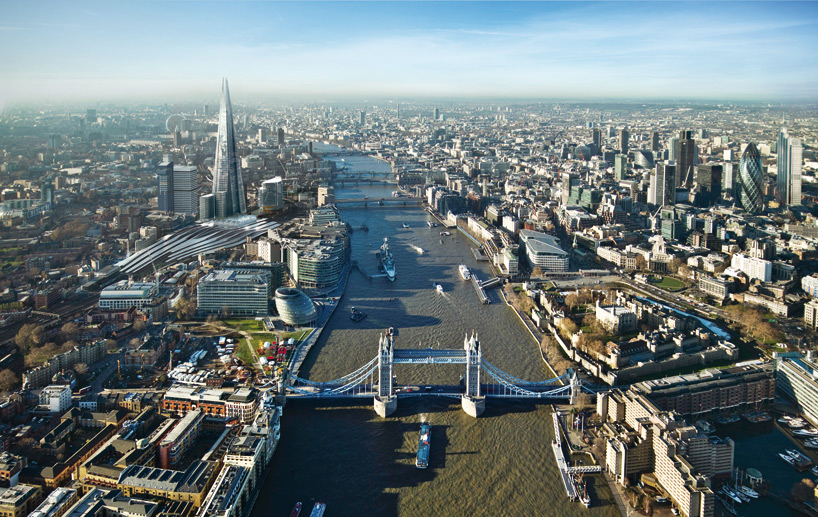 tower bridge, london
image © sellar
built between 1886 and 1894, london's tower bridge is one of the city's landmarks. it crosses the river thames and is owned and maintained by the city of london corporation, a charitable trust. it consists of two bridge towers tied together at the upper level by two horizontal walkways, designed to withstand the horizontal tension forces exerted by the suspended sections. the bridge is 800 feet (240 m) in length with two towers each 213 feet (65 m) high, built on piers.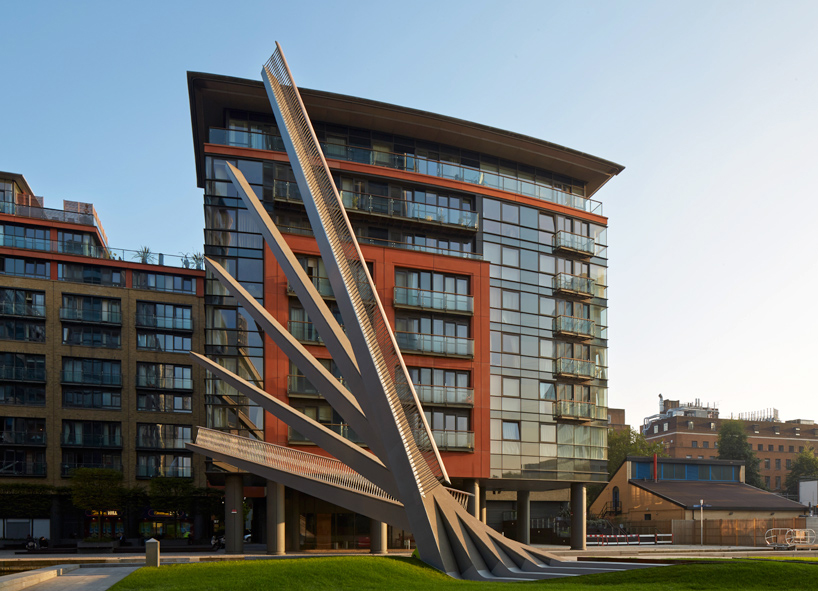 paddington foot bridge by knight architecture in london
see more of this project on designboom here
image © edmund sumner
in london's merchant square, a mixed-use waterfront site at paddington basin, a movable footbridge designed by knight architects has opened to the public. working alongside structural engineers AKT II, the cantilevered design spans 20 meters across the grand union canal connecting the development. using hydraulic jacks, the bridge is envisioned as a kinetic sculpture that opens in a way similar to that of a traditional japanese fan.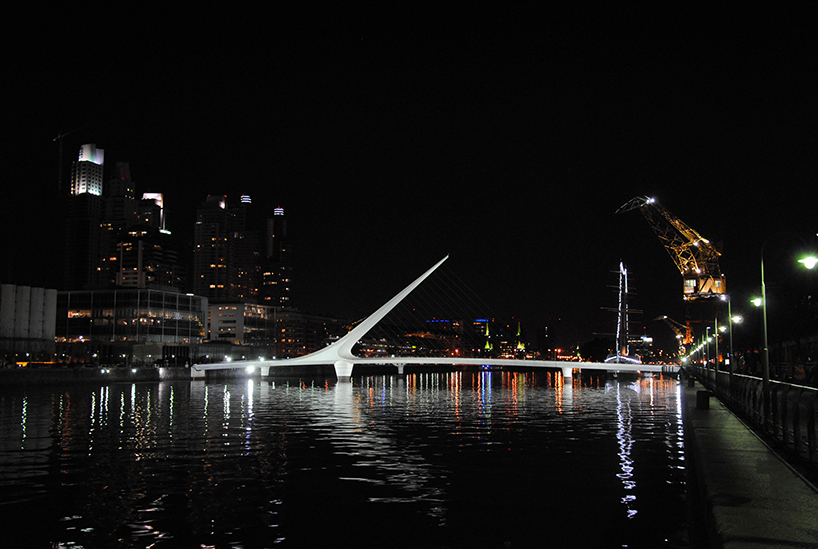 puente de la mujer by santiago calatrava, buenos aires
image © leandro neumann ciuffo
designed by spanish architect santiago calatrava, puente de la mujer (spanish for 'woman's bridge'), is a rotating footbridge in buenos aires, argentina. it is of the cantilever spar cable-stayed bridge type and is also a swing bridge, but somewhat unusual in its asymmetrical arrangement. it has a single mast with cables suspending a portion of the bridge which rotates 90 degrees in order to allow water traffic to pass. when it swings to allow watercraft passage, the far end comes to a resting point on a stabilizing pylon.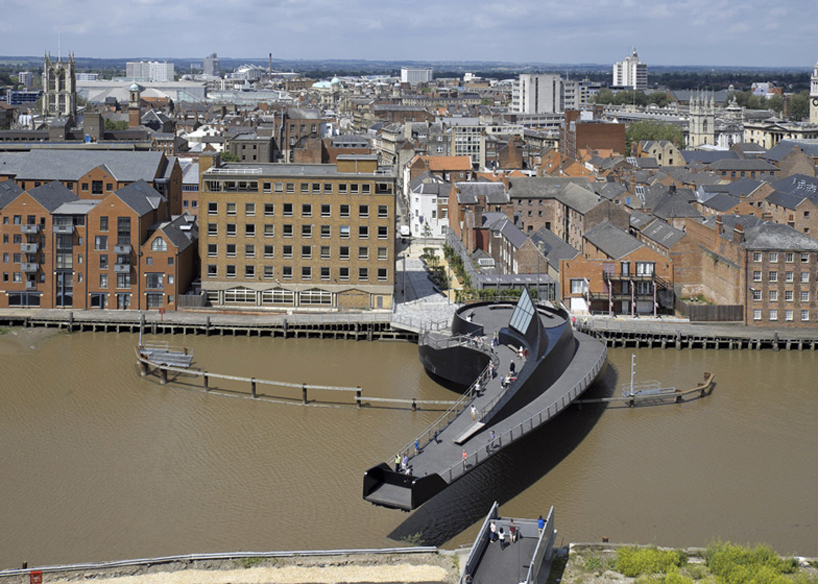 scale lane bridge by mcdowell+benedetti in hull, england
image © timothy soar
designed by london architects mcdowell+benedetti, the 'scale lane bridge' has been shaped like an apostrophe. located in hull, england, this movable bridge is only for pedestrians. the bridge features a restaurant and a viewing platform on its rotating axis.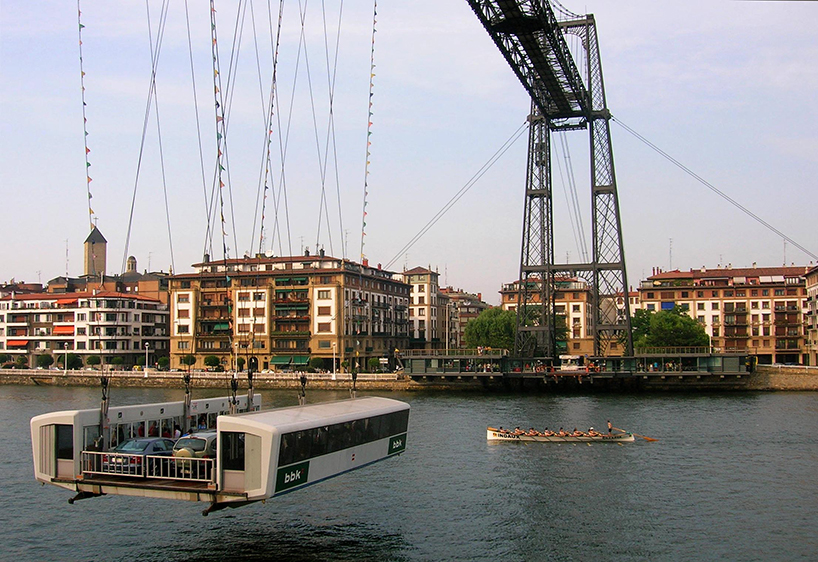 vizcaya bridge, spain
image by javier mediavilla ezquibela
the vizcaya bridge (bizkaiko zubia in basque, puente de vizcaya in spanish), is a transporter bridge that links the towns of portugalete and las arenas (part of getxo) in the biscay province of spain, crossing the mouth of the nervion river. it was built to connect the two banks which are situated at the mouth of the nervion river. it is the world's oldest transporter bridge and was built in 1893, designed by alberto palacio, one of gustave eiffel's disciples.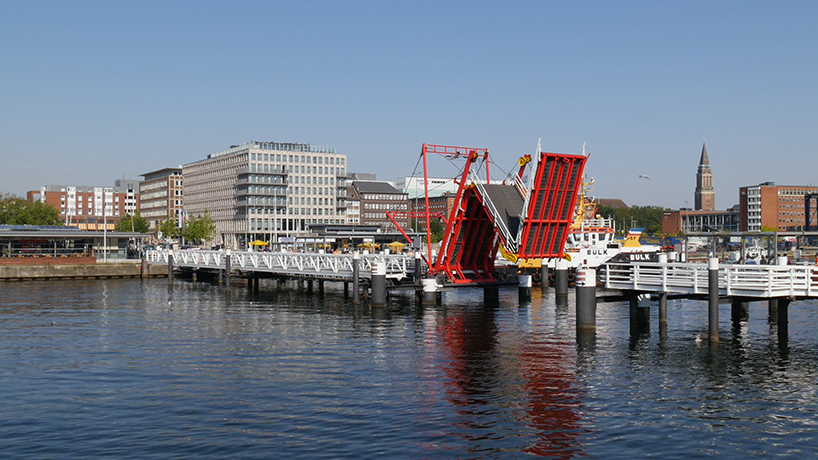 hörn bridge in kiel, germany
image by video image 4k
the hörn bridge (german: hörnbrücke) is a folding bridge in the city of kiel in the german state of schleswig-holstein. the bridge is a three-segment bascule bridge with a main span of 25.5 metres (84 ft) that folds in the shape of the letter N. built in 1997, the bridge opens once every hour in order to allow small- and medium-sized ships to travel in and out of the hörn, offering one of the best panoramic views of the city of kiel.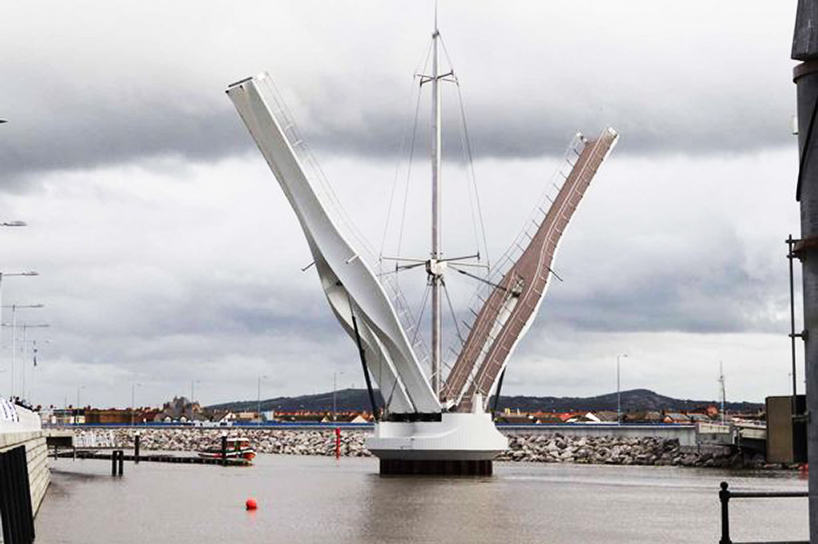 the dragon bridge at foryd harbour in rhyl, wales
image by the daily post
the dragon bridge at foryd harbour in rhyl, wales is a multi-million pedestrian and cycle bridge. spanning 80 meters, the bridge is part of the harbor's regeneration plan as it incorporates a public square and quayside building creating a hub for the area surrounding the water. thanks to a impactful lighting scheme, the bridge is a feature both during daytime and nighttime.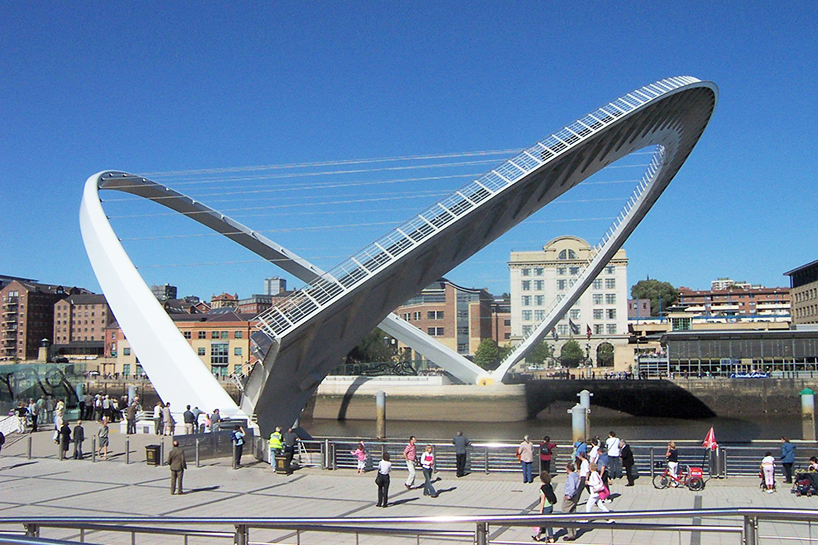 gateshead millennium bridge in newcastle, england
the gateshead millennium bridge is a pedestrian and cyclist tilt bridge spanning the river tyne in england between gateshead's quays arts quarter on the south bank, and the quayside of newcastle upon tyne on the north bank. opened for public use in 2001, the award-winning structure was conceived and designed by architect wilkinsoneyre and structural engineer gifford.[1] the bridge is sometimes referred to as the 'blinking eye bridge' or the 'winking eye bridge' due to its shape and its tilting method.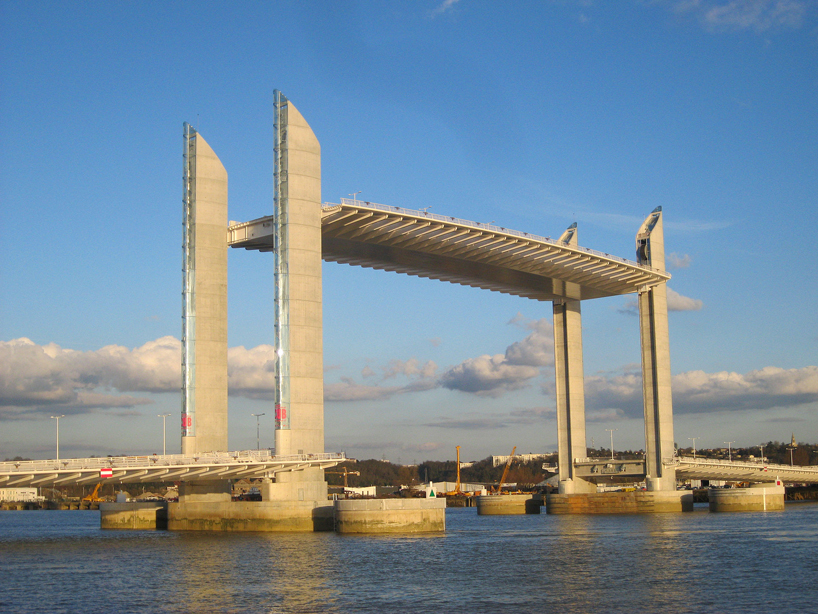 pont jacques chaban-delmas, bordeaux, france
image by prométhée
the pont jacques chaban-delmas is a vertical-lift bridge over the garonne in bordeaux, france. it was inaugurated on 16 march 2013 by president françois hollande and alain juppé, mayor of bordeaux. its main span is 110 m (361 ft) long. as of 2013, it is the longest vertical-lift bridge in europe. it is named in honour of jacques chaban-delmas, a former prime minister of france and a former mayor of bordeaux.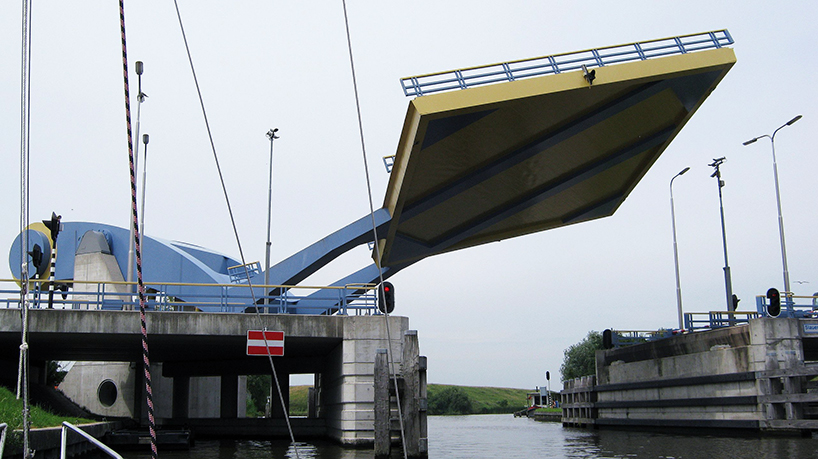 slauerhoffbrug 'flying' drawbridge in the netherlands
designed by emile asari, the slauerhoffbrug (english: slauerhoff bridge) is a fully automatic bascule bridge in leeuwarden in the netherlands. it uses two arms to swing a section of road in and out of place within the road itself. this movable bridge is also known as the 'slauerhoffbrug 'flying' drawbridge'.
may 20, 2020
may 20, 2020
may 08, 2020
may 08, 2020
apr 28, 2020
apr 28, 2020
apr 21, 2020
apr 21, 2020
apr 13, 2020
apr 13, 2020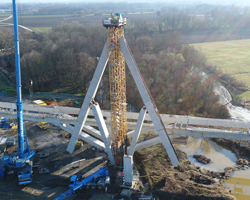 mar 04, 2020
mar 04, 2020
a diverse digital database that acts as a valuable guide in gaining insight and information about a product directly from the manufacturer, and serves as a rich reference point in developing a project or scheme.