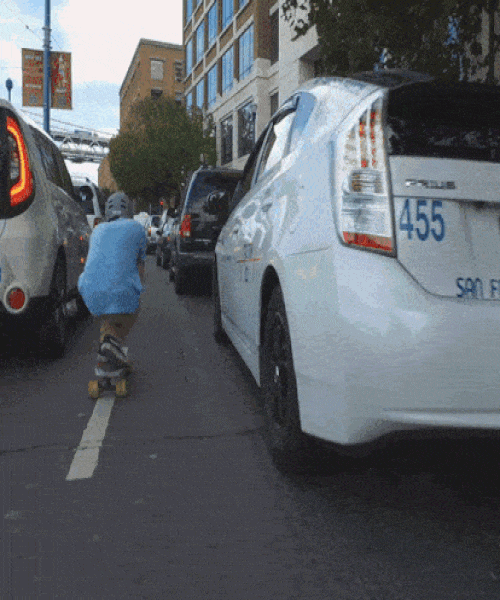 oct 27, 2016
acton creates blink electric skateboards with 4WD powertrain
new electric skateboard models are hitting the street regularly which is great news for interested consumers, but may be a little tough for new manufacturers looking to distinguish their boards from the pack. this is proving pretty easy for acton, which uses a four-wheel-drive hub motor system; distinct hexagonal deck; aluminum and carbon fiber construction; and integrated lighting to make its 'blink qu4tro' the first ever premium board with all-wheel-drive. it is also introducing two boards: 'blink S' and 'blink S2'; for getting from A to B.

AWD can ride up hills
the american manufacturer currently offers the 'blink lite' and 'blink', calling the former the lightest electric skateboard on the market. at 7.7 lb (3.5 kg), the lite weighs about a pound (0.45 kg) less than others that have made 'world's lightest' claims. now acton is growing the 'blink' range, and the 'qua4tro' becomes the most advanced electric longboard to date. while you shouldn't make the mistake of recognizing this title in a market as ever-changing as electric skateboards, in case tomorrow proves otherwise, the blink 'qua4tro' safely has the combination of components and design yet to be seen from other boards.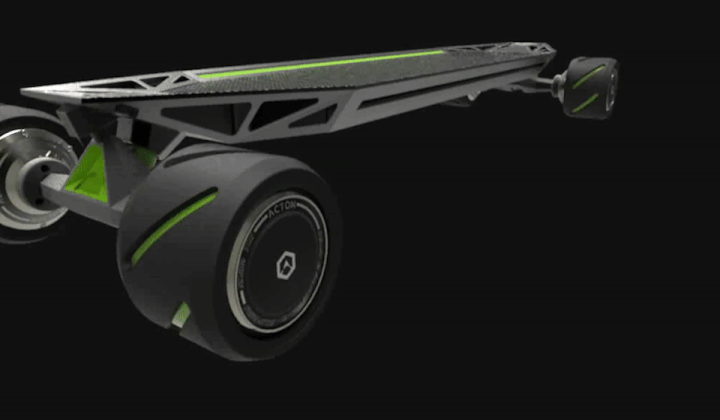 motors integrated in all four wheels
not every automobile with all wheel drive is necessarily an off-road utility vehicle; some high-performance sports cars, including the new bugatti chiron, make use of AWD technology. acton follows suit with the 'qu4tro', using all-wheel-drive simply to enhance on-street performance. it takes the motors from the underside of the deck, and places them inside the wheels. these four motors combine to 1600 watts of power, that includes a 35 km (22 mile) range; 37 km/h (23 mph) top speed; and hill climbing capabilities up to 30 percent. none of these numbers stake the claim as 'world's best', but the combination is still quite impressive. the 35 km range is decent no matter how you put it.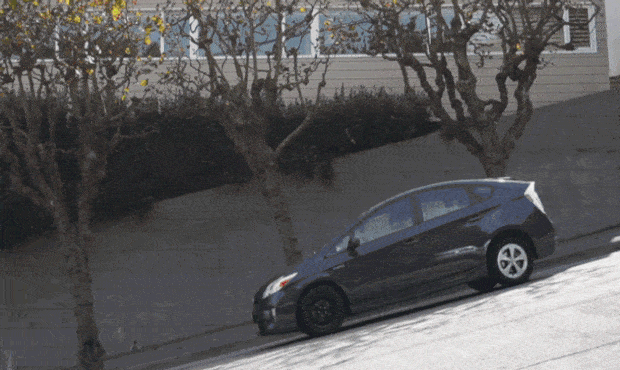 qu4tro travels a 30% inclince
helping the 34-in (86 cm) 'qu4tro' achieve its performance, acton ditches classic maple wood for a stretched octagonal carbon fiber deck supported by an aluminum chassis. this reduces weight to 17 lb (7.7 kg), not bad considering this board has four motors rather than one or two. the 'qu4tro' can climb steeper grades; hold more weight (280 lb/127 kg) that the rest if the competition. another distinguishing feature of is its integrated lighting, which includes a red taillight and white led running lights along the sides. the remote can secure to the board to double as a carry handle. a regenerative braking system helps riders get the most range out of the panasonic lithium-ion battery pack, which charges in three hours.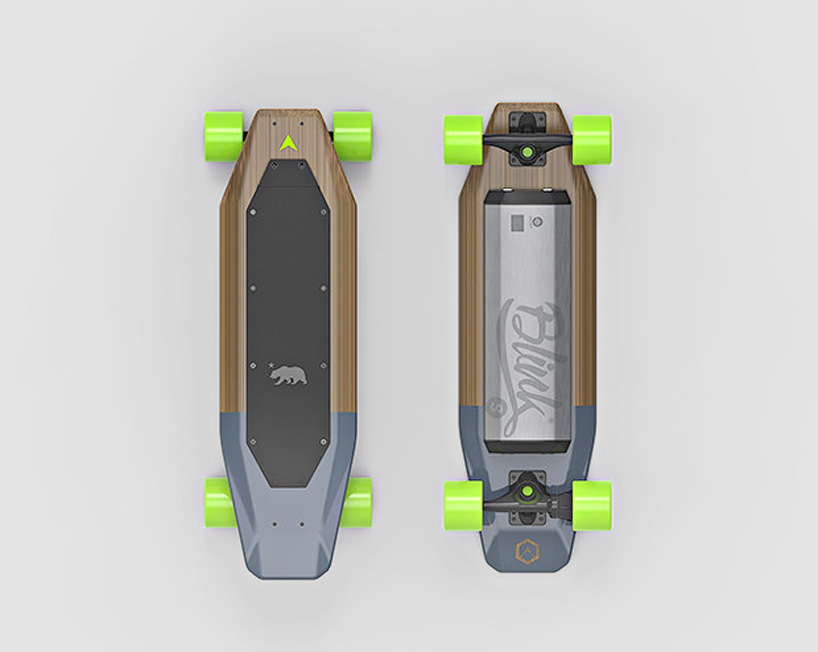 on top and beneath the blink S deck
not everyone needs to skateboard 22 miles without a single push, or motor up the steep hills of san francisco. some just have an electric board for short commutes; bridging the gap between public transport; or cruising around the neighborhood. the 'blink S' and 'blink S2' have been in constructed with this at the core, both of which feature maple wood and aluminum construction.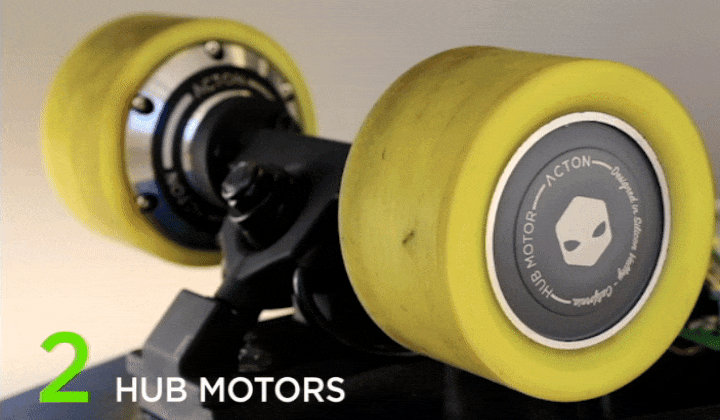 two motors can travel between 29-24 km/h
the 'blink S2' is the mid-range specification among the new boards. its 1000 watts of dual-motor power equates to a 16 km (10 mile) range; 29 km/h (18 mph) top speed; and hill climbing ability up to 20 percent inclines. it weighs in at 12 lbs (5.4 kg). the 'blink S' features a single 600W hub motor; 11 km (7 mile) range; 24 km/h (15 mph) top speed; 15 percent grade hill climbing, and 10 lbs (4.5 kg) weight. both feature lithium-ion battery packs made from samsung cells, with the 'S' charging in just 45 minutes; and the 'S2' in 1.5 hours. they also have regenerative braking and integrated lighting.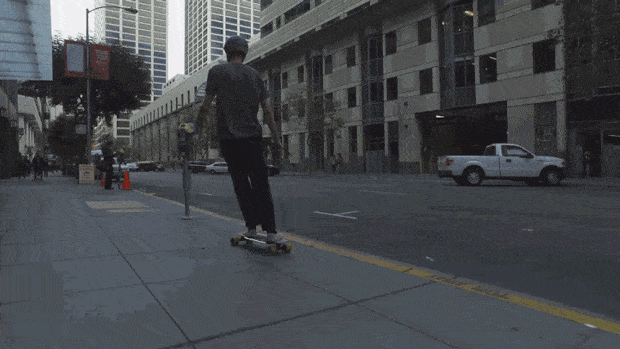 braking enhances battery life
it wouldn't be a new gadget in 2016 without an accompanying smartphone app of course. the 'acton app' can change between ride modes; check mileage among other features. acton has already comfortably surpassed the funding target on its indiegogo campaign, which can be viewed here.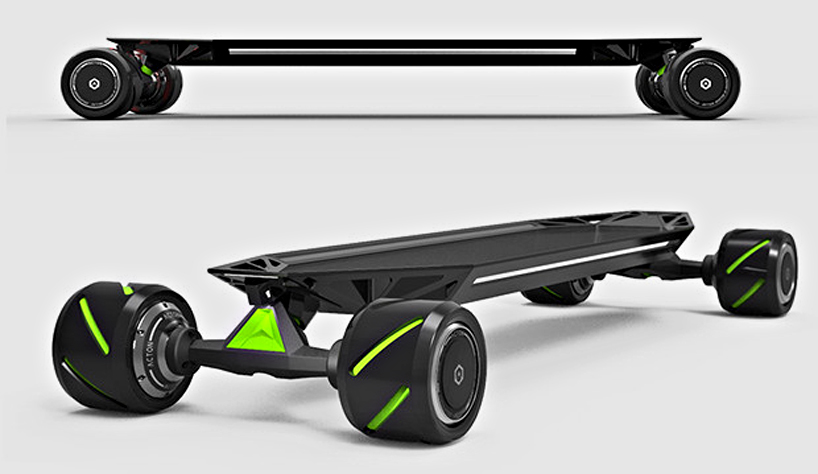 blink qua4tro has aluminum and carbon fiber construction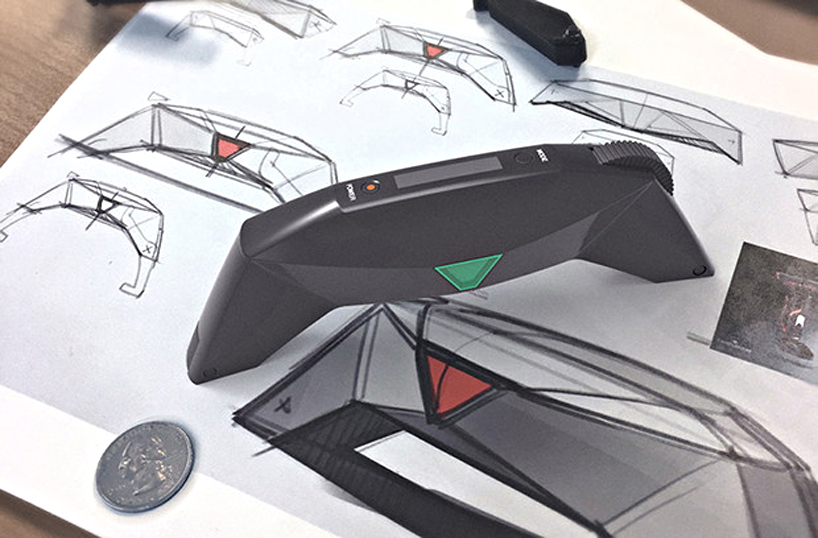 speed control can clip-on trucks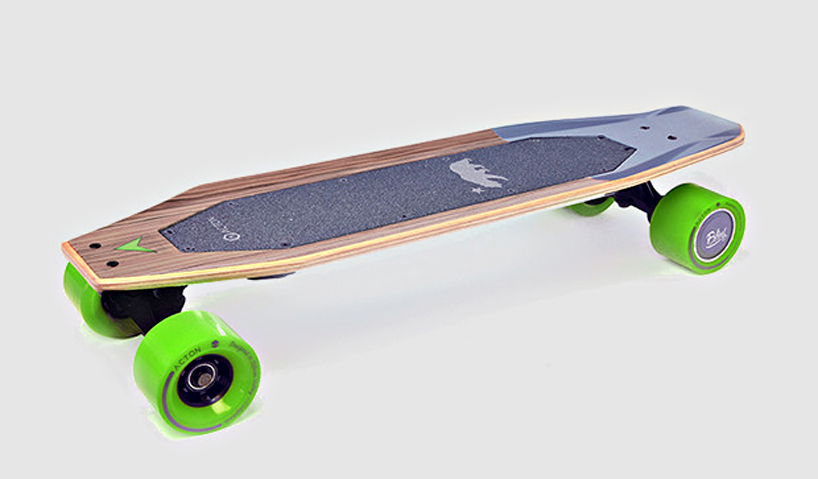 apr 28, 2020
apr 28, 2020
mar 12, 2020
mar 12, 2020
jan 23, 2020
jan 23, 2020
nov 27, 2019
nov 27, 2019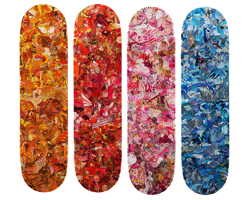 nov 18, 2019
nov 18, 2019
oct 01, 2019
oct 01, 2019
a diverse digital database that acts as a valuable guide in gaining insight and information about a product directly from the manufacturer, and serves as a rich reference point in developing a project or scheme.