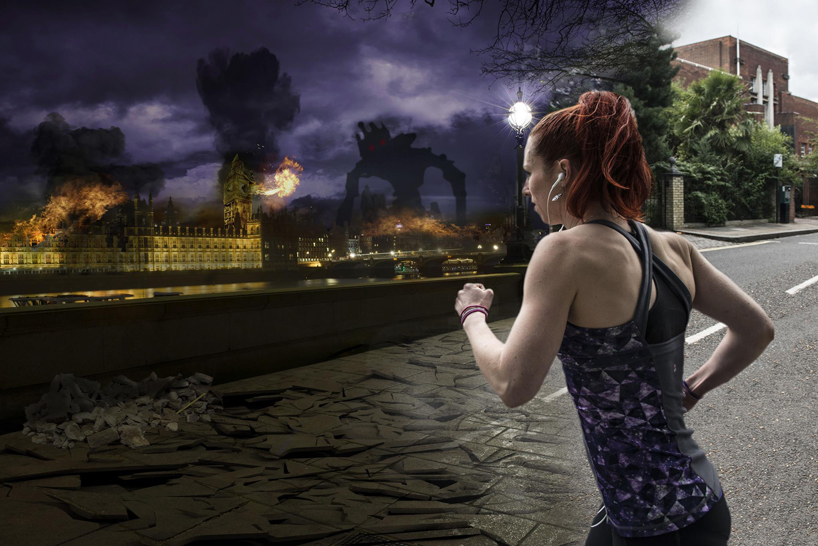 oct 08, 2014
apocalypse survival training app puts listener in alien-invaded london
apocalypse survival training app puts listener in alien-invaded london
images courtesy of imaginactive fitness
the 'apocalypse survival training' app by imagainactive fitness combines an action adventure story with an exercise workout, using an audio narrated program. by being immersed into the portrayed scene, the concept provides a challenging full body session that adds extra excitement and entertainment. season 1, the first batch of routines, runs over 37 progressive 30 minute episodes that alternate between strength circuits, holistic drills and running. the iphone or andriod driven application places the listener with a group of survivors in an apocalyptic alien invasion of london and sets fitness missions to overcome.

kickstarter campaign video
video courtesy of imaginactive fitness
the audio adventure app allows users to workout at their own level as an individual or with friends, and either at home or in your neighborhood. this makes the exercise regime convenient as well as more fun, engaging and thus effective. season 1 of the apocalypse survival training application is being funded through its kickstarter campaign in the aim to be available on the market in 2015.
apps
(107 articles)
sep 07, 2016
sep 07, 2016
sep 06, 2016
sep 06, 2016
aug 29, 2016
aug 29, 2016