may 30, 2011
asus: padfone
'padfone' hybrid computing device, by asus
asus has unveiled its 'padfone' hybrid, which features a smartphone and tablet dock, letting users centralize data storage into a single device but offering seamless switching between the screens when a larger visualization or touchpad keys are desired.
on its own, the phone functions conventionally, but it can also be inserted into a built-in dock on the back of the tablet. when connected, the phone effectively serves as processor for the larger screen, with all smartphone features and functions accessible on the tablet, solving the need for data transfer back and forth between devices. display switching is done automatically upon docking, so that apps and documents open on the phone will be instantly expanded onto the tablet screen. the dock also features a larger battery from which the cellphone can recharge.
the prototype model debuted at computex 2011 features a 4.3-inch android smartphone and 10.1-inch tablet dock, but asus has not yet determined the final dimensions of the eventual retail product.
bottom view of the device with phone dock closed
front view of the tablet
3/4 front and rear views of the smartphone
aug 08, 2017
aug 08, 2017
apr 11, 2017
apr 11, 2017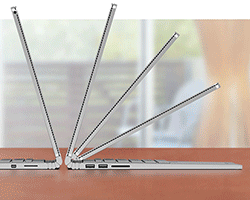 oct 07, 2015
oct 07, 2015