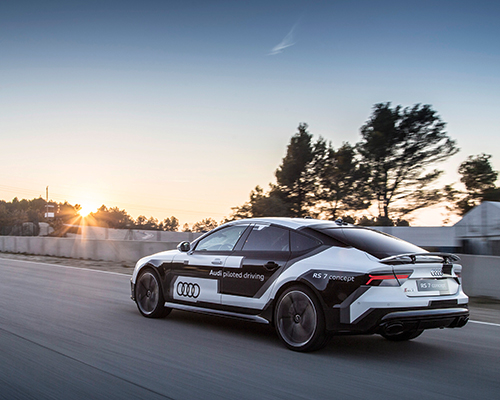 nov 19, 2015
designboom tests the accuracy of AUDI's improved autonomous RS 7 in barcelona
designboom tests the accuracy of AUDI's improved autonomous RS 7 in barcelona
all images courtesy of AUDI
for awhile now, AUDI has been testing piloted driving under increasingly challenging conditions, by taking their AUDI 'RS 7' self-driving concept to various international race courses in order to test and tune its piloted functions at performance limits. 'each race track is different and presents new challenges for us. we use the knowledge we gain to enhance the robustness and performance of our test vehicle. this has resulted in excellent lap times with a best lap time of 2:07.67 minutes for the 4.2 km (2.6 mi) long course', says thomas müller, responsible for the development of braking, steering and driver assistance systems at AUDI. müller also cites these types of test drives as being beneficial to the development of AUDI's production assistant systems, such as collision avoidance assist as seen in the automotive company's new AUDI 'A4'.

designboom CEO massimo mini witnessing the autonomously driven AUDI 'RS 7' concept
video courtesy of AUDI
in october of 2014, an initial self-driving 'RS 7' project named 'bobby' completed a driverless lap of the hockenheimring circuit in germany at speeds of up to 240 km/h (149.1 mph) — see designboom's test drive of 'bobby' in girona, spain here. the current generation of the car named 'robby' has been updated, enhanced and refined, and is powered by a 4.0 TFSI V8 biturbo engine with a power output of 412 kW (560 hp). in respect to 'bobby', 'robby' is approximately 400 kg (881.8 lb) lighter — its trimmed down weight making it even more agile than ever before.
in july 2015, 'robby' hit the sonoma raceway in california without an active driver, pushing lap times that were better than those of sports car drivers. on the occasion of the smart city expo world congress 2015, AUDI hosted a special event where international journalists could test drive the AUDI 'RS 7' self-driving concept on the challenging FAST parcmotor race track just outside of barcelona, spain demonstrating the vehicle's technological competence in autonomous driving.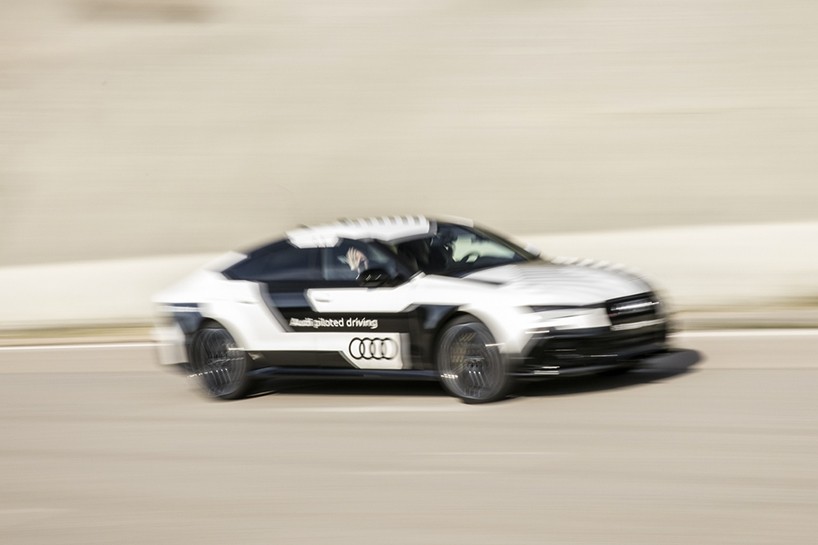 the AUDI 'RS 7' piloted driving concept features V8 4.0 TFSI quattro engine
designboom CEO massimo mini took to the passenger seat of the AUDI 'RS 7' at FAST parcmotor race track, where he experienced the high powered four door sedan at full throttle — from its sensor technology and data processing, to vehicle control and stabilization. after being taken around the circuit, massimo took to the challenge to see if he could match the autonomous system's impressive time of two minutes, nine seconds. however, the exact GPS coordinates and braking precision offered by the piloted driving system could not be beat, and his own personal best resulted in a time of two minutes and 25 seconds.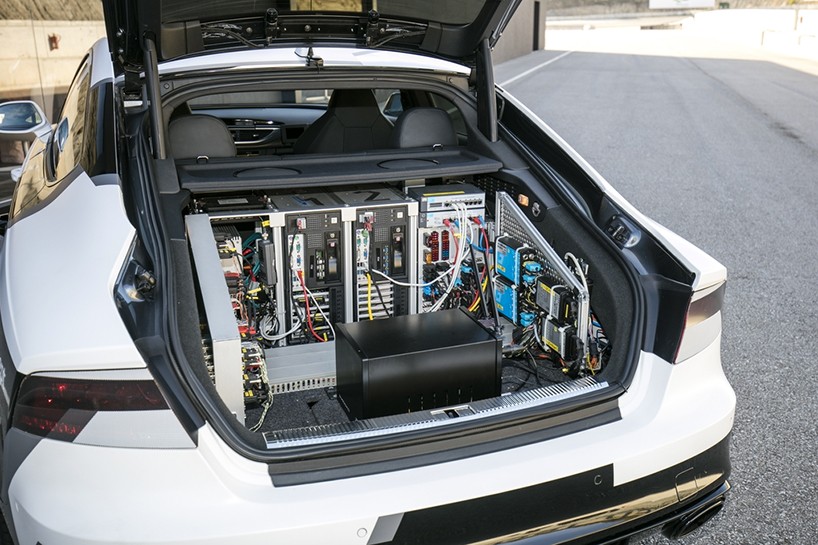 the trunk is filled with computer processing power for the autonomous system
at AUDI, technological developments related to piloted driving stand for the principles of safety, time savings, efficiency and convenience. these systems potentially can make a valuable contribution toward safety, especially when the driver is overwhelmed or underwhelmed by driving tasks. when used to temporarily assume driving tasks, the predictive technology makes driving more efficient, reduces stress and enhances comfort. it also gives drivers greater freedom for organizing how they spend their time in the car.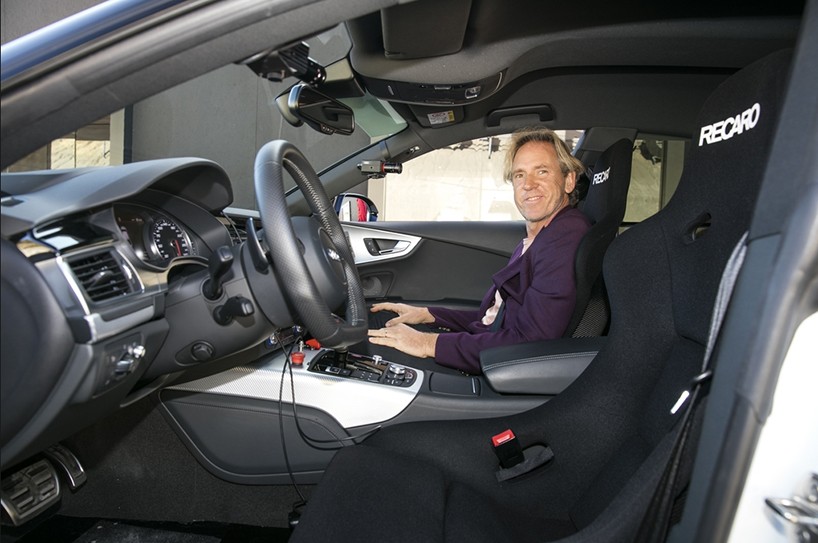 designboom CEO massimo mini in the passenger seat
this research development is now being applied through the AUDI urban future initiative which puts forth a multifaceted effort that addresses prospective mobility challenges through a collective and interdisciplinary context. the AUDI urban future initiative works with teams from around the globe to stimulate new visions dedicated to the future of urban mobility. the first of its pilot projects are taking place in somerville, boston, USA where they are implementing a piloted parking garage for self-driving cars; and intelligent traffic management through software and a phone app. read more about the AUDI urban future initiative projects on designboom here.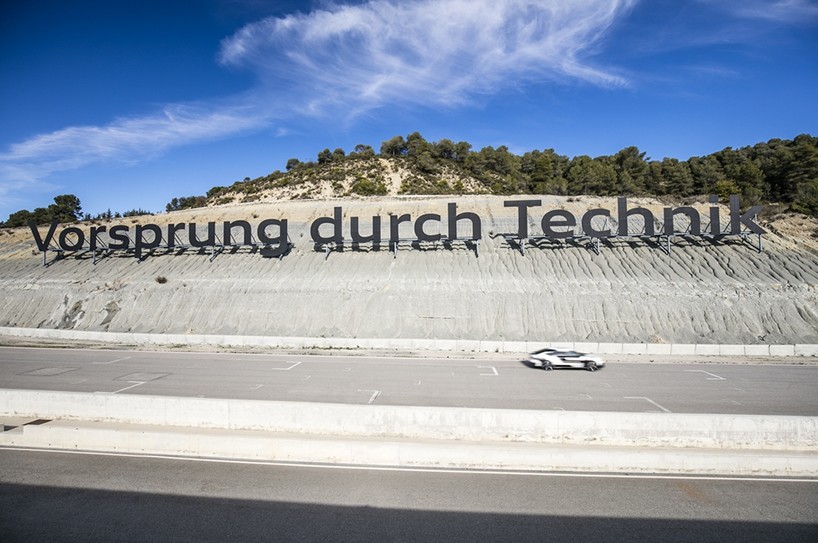 the FAST parcmotor race track near barceolona, spain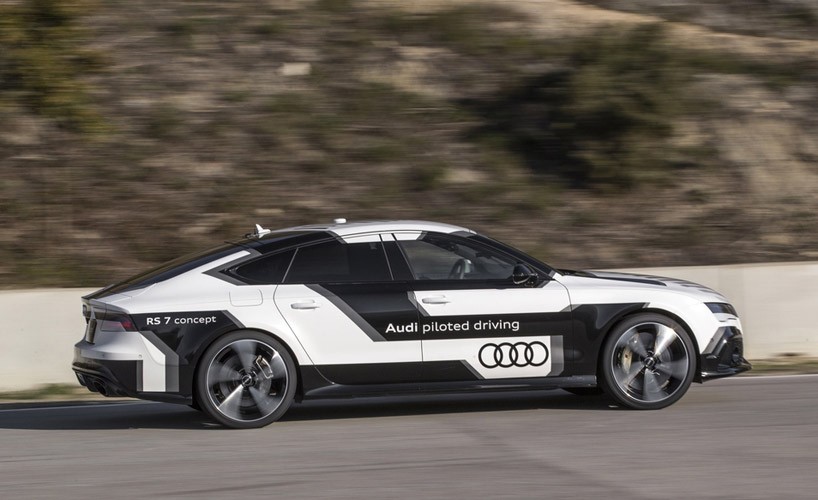 AUDI 'RS 7' piloted driving concept tech specs:

engine: V8 4.0 TFSI quattro
performance: 412 KW / 560 bhp
torque: 700 Nm
displacement: 3993 cc
acceleration: 0 to 100 km/h in 3.9 seconds
top speed: 305 km/h
AUDI
(129 articles)
apr 02, 2020
apr 02, 2020
jan 15, 2020
jan 15, 2020
nov 20, 2019
nov 20, 2019
oct 31, 2019
oct 31, 2019
sep 10, 2019
sep 10, 2019
aug 06, 2019
aug 06, 2019
nov 20, 2015
nov 20, 2015
jul 17, 2015
jul 17, 2015
dec 11, 2014
dec 11, 2014
jan 29, 2020
jan 29, 2020
oct 31, 2019
oct 31, 2019
aug 02, 2019
aug 02, 2019
a diverse digital database that acts as a valuable guide in gaining insight and information about a product directly from the manufacturer, and serves as a rich reference point in developing a project or scheme.