it's been some time since bandit9's last release, the sculptural EVE MK II MOTORCYCLE created exclusively for the M.A.D. gallery. instead of releasing a new bike every few months, the saigon-based bespoke motorcycle workshop decided to give itself time to reflect on the kind of bikes it wanted to create; and the impact it wanted them to have on a scale beyond motorcycles. bandit9 has always been, and will always be about creating a more exciting and optimistic future. but not a lot today inspires the sci-fi nerd in bandit9 creator, daryl villaneuva. from his perspective, we make have made innovative leaps in computing devices, but automotive design is lagging. he assumes it is because automotive concepts are squashed to a boring pulp by outdated road regulations. at bandit9, they choose not to be governed by that.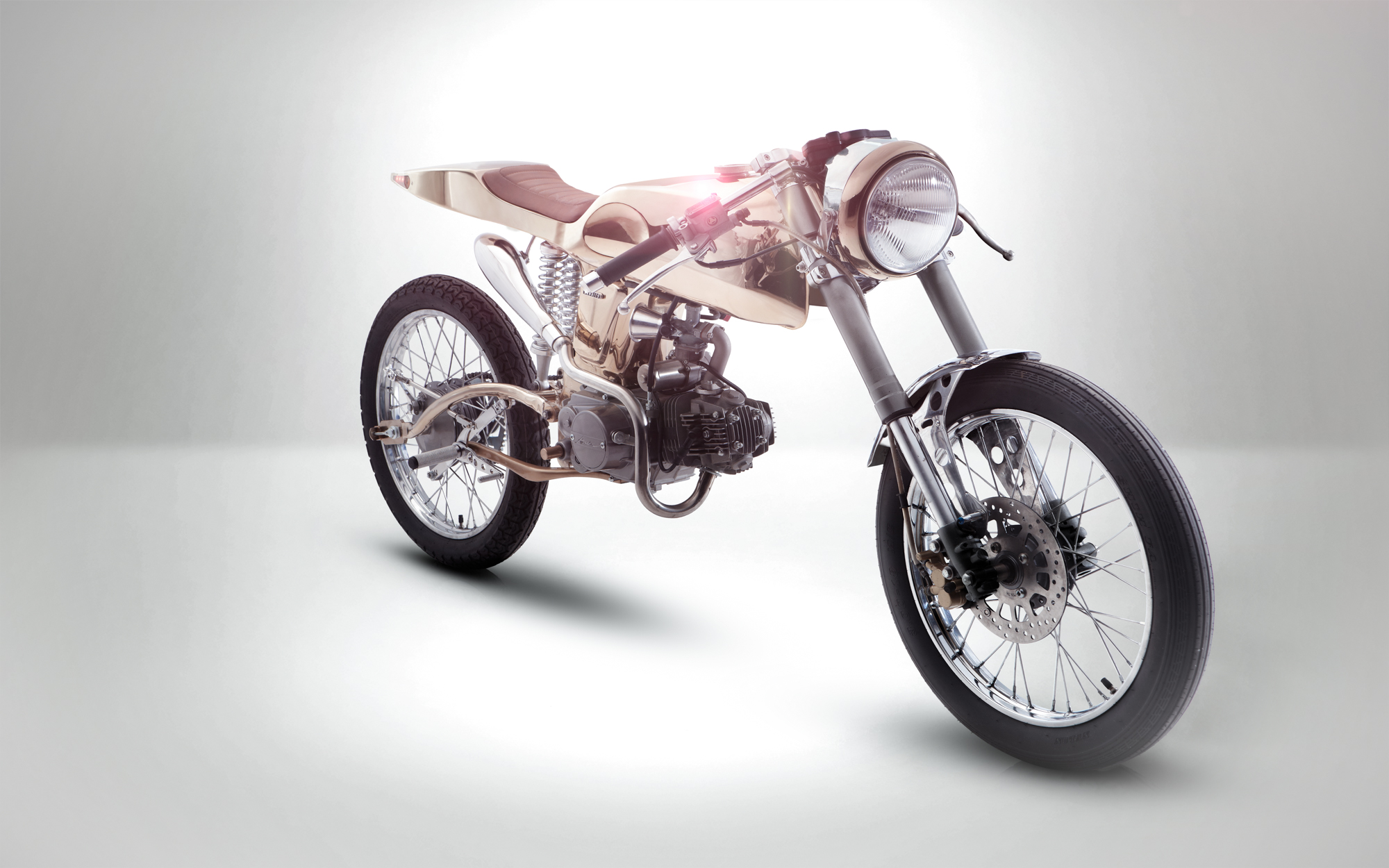 bandit9's latest piece of mechanical art
all images © jeremy wong 
this is 'EDEN', bandit9's latest creation that comfortably sits between the disciplines of sculpture and motorcycle design. based on a 1967 honda 'supersport', the 'EDEN' has been rebuilt and redesigned from the ground up to fit to the concept of the future. apart from the frame, little else remains from the original 'supersport' design. the pistol-shaped frame is now longer to give the 'EDEN' the proportions and stance of a larger motorcycle.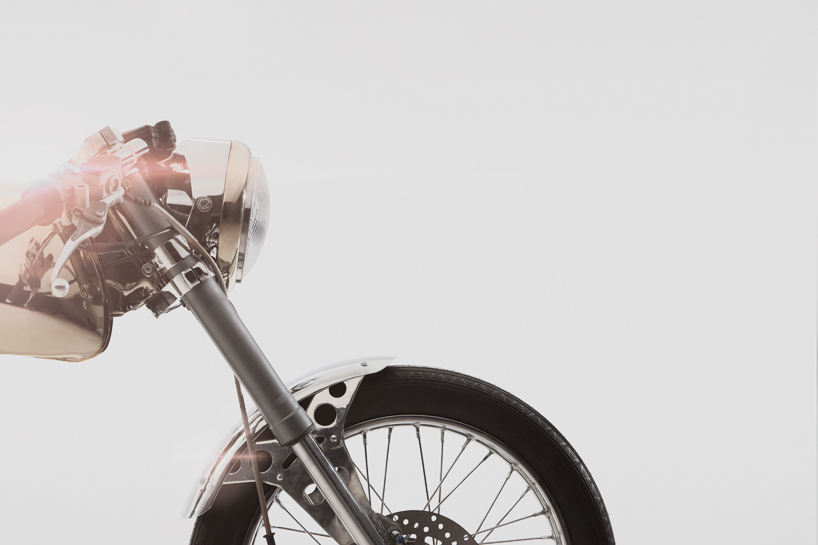 finished in champagne gold
the fuel tank and rear cowl, hand crafted from stainless steel, have been integrated into a single, uninterrupted form. the 'EDEN's' delicate lines flow like water. in motion, the reflection of the environment moves like ripples through the champagne gold finish, creating a truly mesmerizing effect.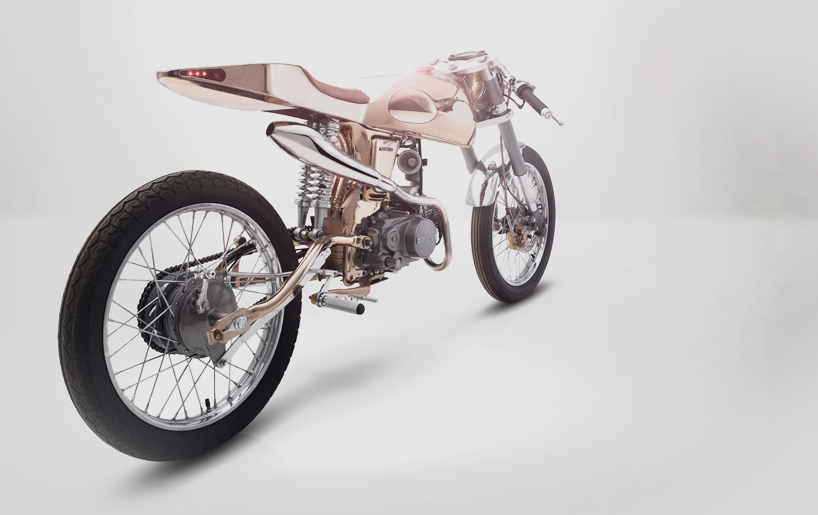 sculptural form handcrafted in stainless steel
the marquee feature of the 'EDEN' is its smallest detail. the black marble gas cap is exquisite, bringing a new level of luxury and style to motorcycles. the black marble is encased in a brushed bezel with knurled edges. the marble pattern is carefully chosen and delicately cut from a slab of tuscan polished marble, making each and every 'EDEN' unique. incredible care went into designing the the sculptural bike's subdued color. after months of experimenting with different mixtures of copper, bronze and silver chrome, we arrived at a sophisticated champagne gold; a tasteful and elegant hue that hits the goldilocks zone – not too much, not too little. just the right tinge of gold.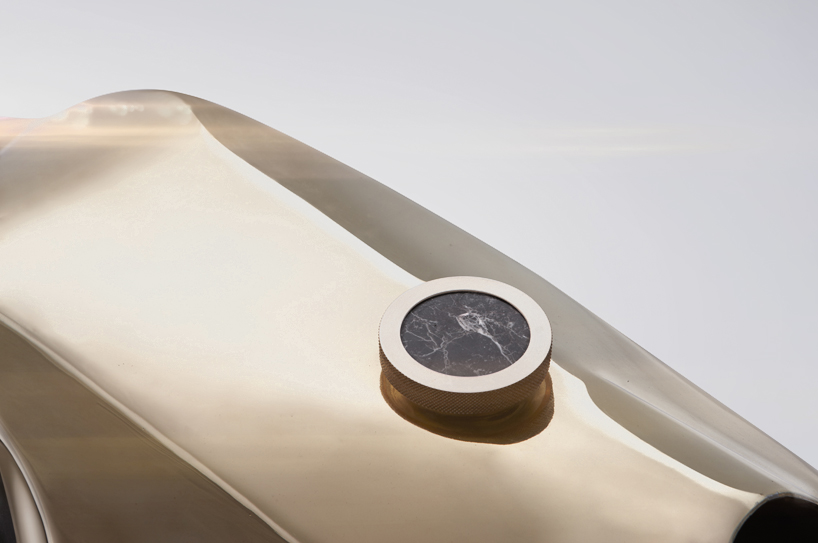 black marble gas cap
the silver muffler, inspired by brancusi's sculptures, is handcrafted from lightweight steel and polished to a perfect glass-like finish. its asymmetry makes the muffler feel like a fine sculpture piece. as graceful as it looks, it sounds like a well-engineered canon when pulling on the throttle. other features include the titan headlight; an oversized beacon taken from a wrangler. the titan headlight is made of a series of sculptural metal shapes held together with a champagne gold trim. the arc swing arm is made from solid steel and was designed to complement the turns and twists of the 'EDEN'. to complete the luxury experience, the hand-stitched seat is covered by italian calf leather dyed in a cognac brown.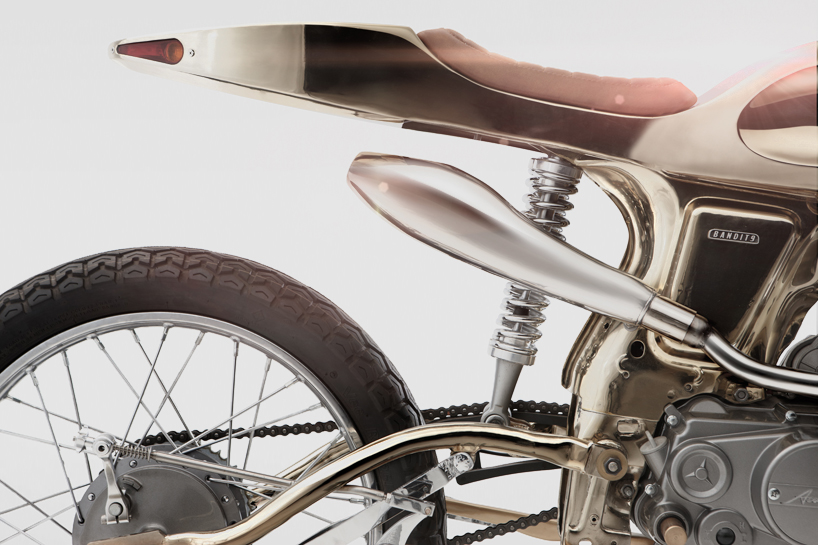 limited production run of 9 units
the' EDEN' was designed for those who, like bandit9, expect a lot more from a motorcycle. it's never been about cold hard specs, all of that fades into the background when you begin to appreciate what the bike was intended to do. while the 'EDEN' is a fully functioning motorcycle capable of highway speeds and perfect for inner city travel, it is so much more than a commuter tool. it's a license to dream. it's like owning a working film prop from the latest star wars flick. it's a statement piece that sits like a sculpture in the corner of your home office. with a limited production run of 9 units, the 'EDEN' can be a part of any car collector's ensemble of rare vehicles. that's what we think a modern motorcycle should be able to do.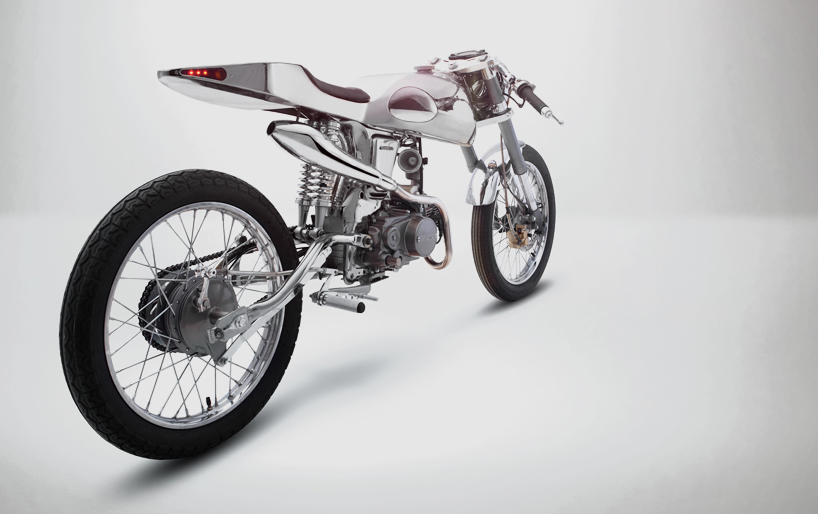 also available in reflective silver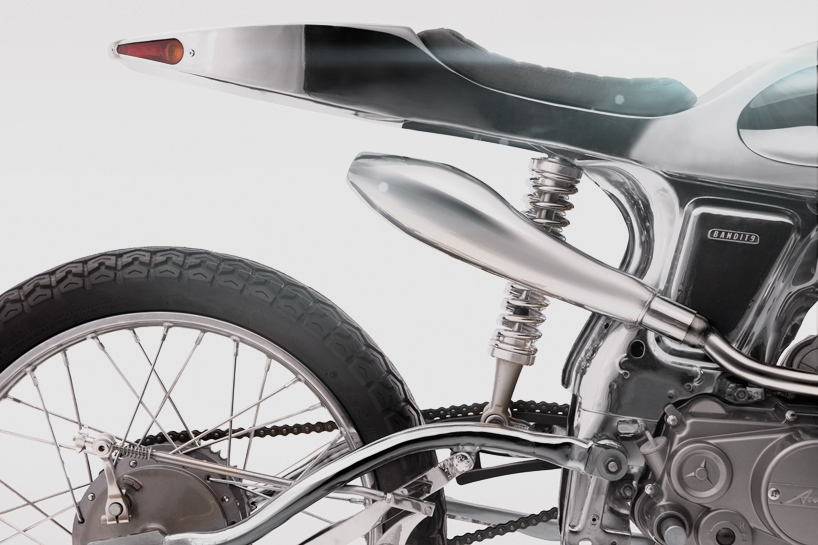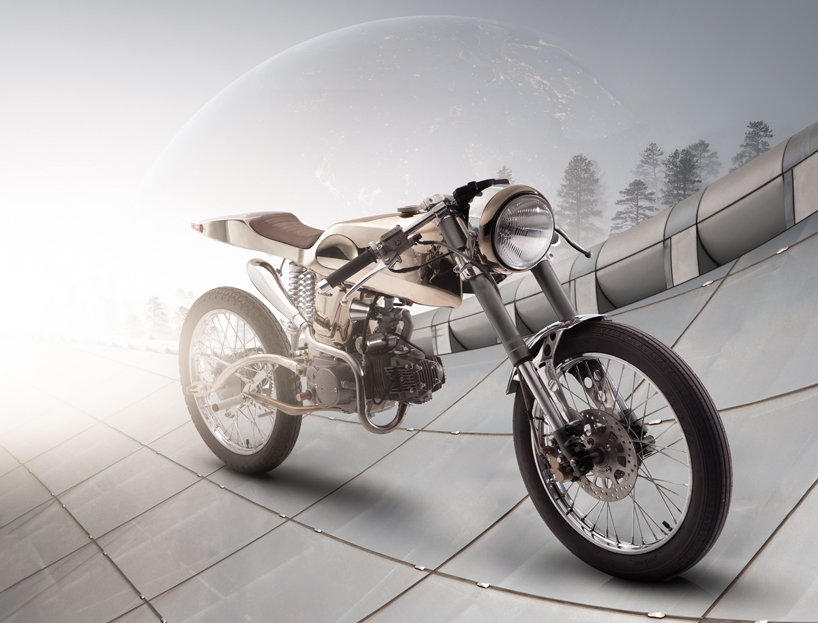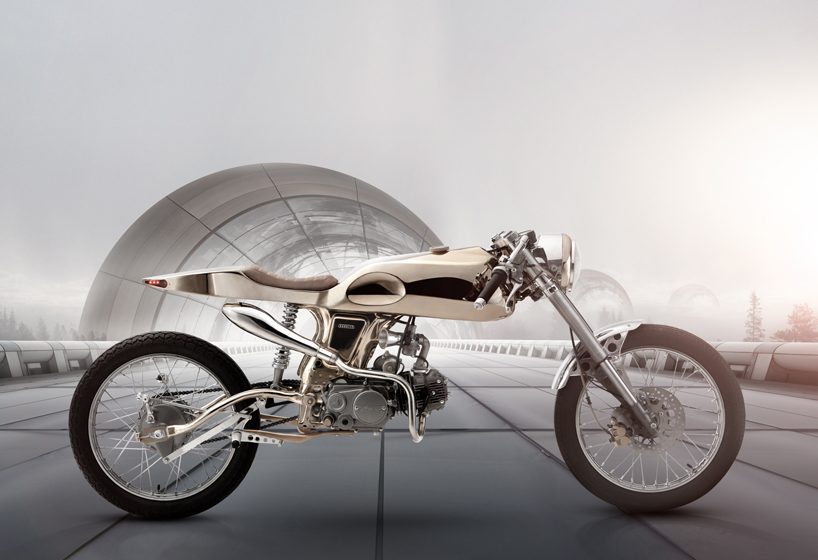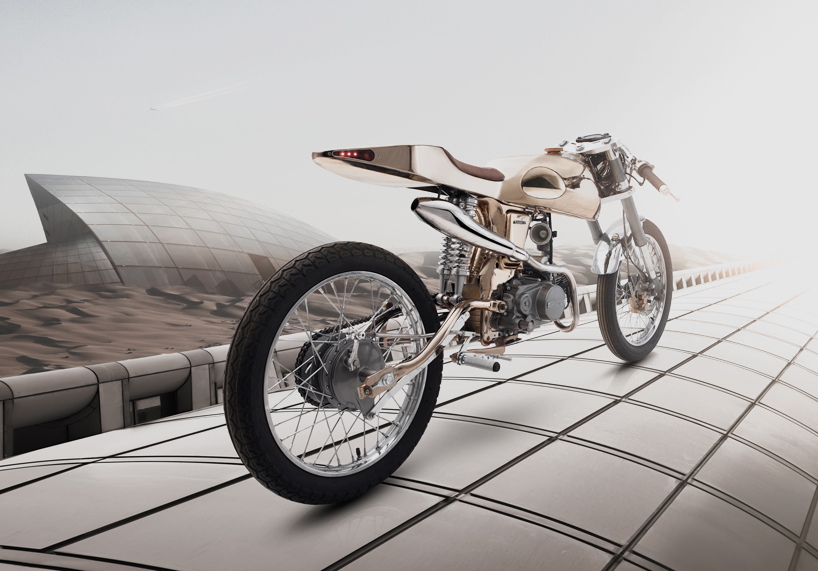 Save
dec 24, 2018
dec 24, 2018
dec 17, 2018
dec 17, 2018
mar 09, 2018
mar 09, 2018
dec 11, 2017
dec 11, 2017
aug 29, 2017
aug 29, 2017
dec 04, 2016
dec 04, 2016
mar 18, 2019
mar 18, 2019
mar 08, 2019
mar 08, 2019
feb 24, 2019
feb 24, 2019
jan 28, 2019
jan 28, 2019
jan 27, 2019
jan 27, 2019
jan 03, 2019
jan 03, 2019
a diverse digital database that acts as a valuable guide in gaining insight and information about a product directly from the manufacturer, and serves as a rich reference point in developing a project or scheme.