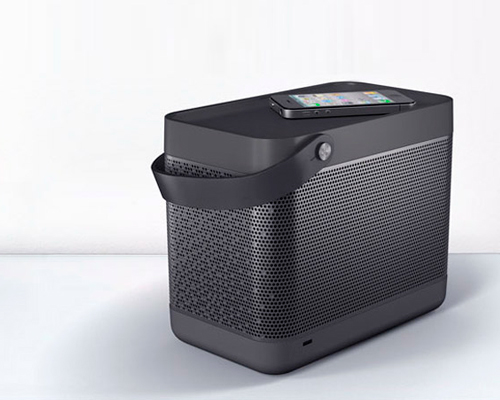 jan 12, 2012
beolit 12 portable stereo by bang & olufsen
'beolit 12' portable music system by bang &olufsen
at CES 2012, danish design house bang & olufsen has simultaneously launched its B&O play company, designed to bring 'contemporary design [to] the digital generation'; and the new brand's first product, the 'beolit 12' portable music system.
created by danish designer cecilie manz, 'beolit 12' features apple airplay technology for seamless wireless streaming  from apple devices. the design is suggestive of the company's 1960's transistor radios of the name name, but featuring an aluminum grille, a range of loudspeaker fabric colour options, and an italian leather carrying strap. a 120-watt amplifier on the 2.1 stereo system is connected to two tweeters and a 4-inch subwoofer, offering powerful sound for its 2.8kg (6.2 lb) weight. designed for simplicity, the 'beolit 12' control panel features  an on/off button, airplay switch, and volume control.
detail view  
the device's rechargeable battery has a playback time of approximately 8 hours wired (4 hours airplay), capable of simultaneously charging iPhones, iPads, or other connected devices. the 'beolit 12' is expected to retail for 800 USD in america and 700 euro in the E.U. available in late january 2012 in dark grey, additional colours of yellow, blue, and light grey are expected in showrooms this spring.
the holed exterior, exposing the loudspeaker fabric beneath, is created through a 12-step process

video demonstration of the 'beolit 12'
available in january in dark grey, a ligh grey model and other colors will be produced for spring 2012
apr 27, 2017
apr 27, 2017
nov 22, 2016
nov 22, 2016
sep 05, 2016
sep 05, 2016
apr 27, 2017
apr 27, 2017
apr 21, 2016
apr 21, 2016
feb 12, 2016
feb 12, 2016
dec 30, 2012
dec 30, 2012
jan 19, 2012
jan 19, 2012
jan 12, 2012
jan 12, 2012
aug 19, 2017
aug 19, 2017
aug 08, 2017
aug 08, 2017
aug 07, 2017
aug 07, 2017