feb 14, 2014
BMW 4 series gran coupe combines 4-door functionality
BMW 4 series gran coupe combines 2-door coupè looks with 4-door functionality
all images courtesy BMW group

following the reveal of the coupé and convertible, the BMW 4 series gran coupé is the third model to join the 4 series family, featuring a longer, wider and more dynamic track stance than any of the previous midsize four-door coupes. the BMW 4 series gran coupé boasts the same dimensions as its two-door coupé counterpart – a length of 4,638 millimeters, a width of 1,825 millimeters and a wheelbase of 2,810 millimeters – but instead is raised twelve millimeters higher, with a stretching roof line that extends 112 mm longer into the rear quarter panels and trunk.
under the hood, the highest-end 435i is powered by a turbocharged six-cylinder in-line 3.0-liter engine, delivering 306 horsepower and 295-lb-ft of torque; it sprints from 0 to 100 km/h (62 mph) in just 5.5 seconds.
up front, the 4 series gran coupé is characterized by classic design features such as BMW's recognizable kidney grille and full LED dual round headlight clusters. the body surfaces are detailed with precision, with distinguishable multifaceted contours. three-part, wide air intakes in the apron emphasize the front end; extreme left and right apron corners reveal vertical air channels for the 'air curtains'. the aerodynamic feature generates a veil of air around the front wheels enhancing the efficiency and fuel economy.
the gentle slope of the roofline stretches the appearance of the sides, smoothly merging its appearance on the side windows with a B column dressed in high-gloss black.
the rear of the car features clear horizontal lines that accentuate its athletic stance; the taillights are positioned at the outer edges, transitioning the design elements that join the body side panels with the rear section. when viewed from the rear, the roof of the 4 series gran coupé appears wider than that of the two-door version due its proportion.
in contrast to a two-door coupé, the 4 series gran coupé offers passengers easier access when entering or leaving the vehicle thanks to the four-door configuration. the doors are frameless, having the characteristic design features of the german luxury brand's midsize coupés. 'taking its cue from a large BMW coupé, the new BMW 4 series gran coupé combines a dynamic and sleek silhouette with additional functionality and more spaciousness in the rear passenger compartment,' says won kyu kang, exterior designer.
inside the cockpit, the interior demonstrates an approach known as layering – the intelligent utilization of space through the structuring of lines and surfaces into layers – expressing driver orientation without compromising the passenger experience. 'the interior of the four-door coupé unifies the seemingly contradictory character of a dynamic two-door coupé with the elegance and utility of a BMW saloon or a BMW gran turismo.' adds tim shih, interior designer.
the backrest can be folded in 40:20:40 configurations to create more luggage and stowage space as required – with a flat floor for easy loading and unloading. when the seat is completely folded down, the maximum volume capacity is expanded to 1,300 liters, enough to transport long a like golf bags, snowboards and skis
BMW
(111 articles)
jul 09, 2017
jul 09, 2017
jul 06, 2017
jul 06, 2017
jul 04, 2017
jul 04, 2017
jul 31, 2014
jul 31, 2014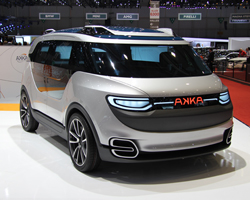 mar 12, 2014
mar 12, 2014
mar 10, 2014
mar 10, 2014