on the occasion of the concorso d'eleganza villa d'este 2017, BMW debuted the world premier of the 'concept 8′ series, and with it, introduced a completely new design language for the brand. with a sweeping sculptural form, the concept car exudes a more sophisticated and luxurious style, yet still delivers a strikingly dynamic character. from the reinterpreted 'kidney' grille to the precise lines that flow along the flanks, the automobile is unlike any BMW seen before and will roll into production as early as 2018. it will top the brand's model line, with other ranges following its design language shortly afterwards.
at the exclusive presentation of the BMW 'concept 8' series, designboom interviewed adrian van hooydonk, senior VP of BMW group design, who discusses the car's more sculptural form, its more emotional character, and how the sophisticated design language will influence the brand's upcoming models.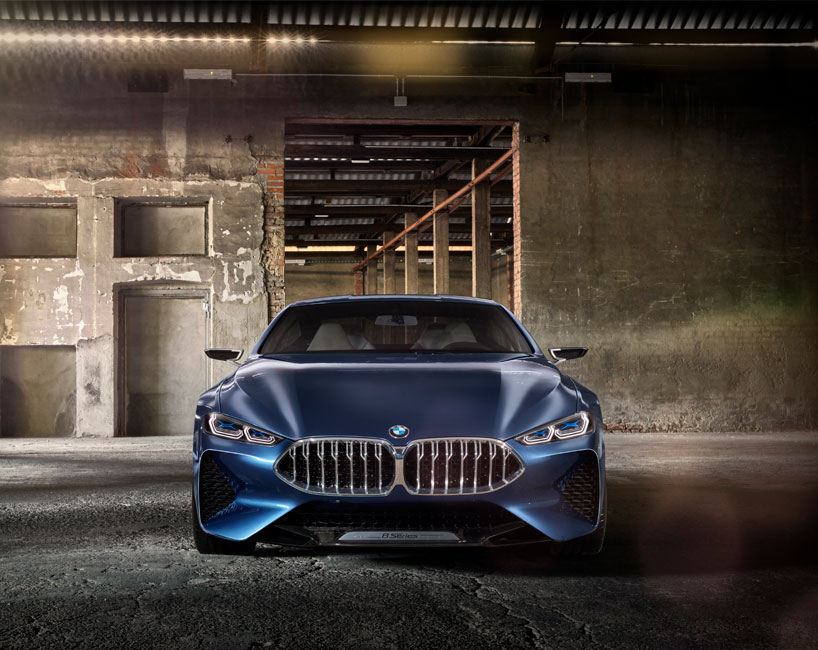 all images courtesy of BMW AG
designboom (DB): how significant is it for BMW to present a new 8 series concept?
adrian van hooydonk (AVD): for BMW, it is quite significant for two reasons. first of all, this is a car that will end up right at the top of our model range, which is very significant in its own right. secondly, it is momentous because it is previewing our next step in the development of our form language. it shows how we want to have an even cleaner style, which uses fewer lines. those that we do have are very deliberate and very precise. however, in spite of all of that, we want to make our cars more emotional and stronger in character. with this concept, I think this aim has actually been achieved between the lines. this is with some very strongly curved surfaces and that really brings across the emotional elements.
DB: why is BMW's design language focusing much more on sculptural forms now?
AVD: over time, the BMW design language has developed quite a bit, and I think in the past 10 years, we have managed to set up a whole model range in a very cohesive and dynamic way. it has brought us a lot of sale success. 10 or 20 years ago, the brand believe that we should do a big step in design for every second generation. however, I believe that times have changed so now we are taking a different view. we now feel that with each new car, there is an opportunity to push the brand forwards, both in terms of design and technology. that is what we want to do now, but we also felt that in this ever so more complex time in society, the design of a luxury object should somewhat be calming and soothing, and it should be an object that you really want to live with for a very long period of time. people, our customers, really valuable the time that they spend in their car because it is a private moment for them. it is when they can do whatever they want, whether that is concentrating on the drive or making a phone call. in our busy lives and working days, this period is now the most personal time that they have. with a clean and sophisticated design, we believe that the visual language has a good chance at living and being appealing for a long time.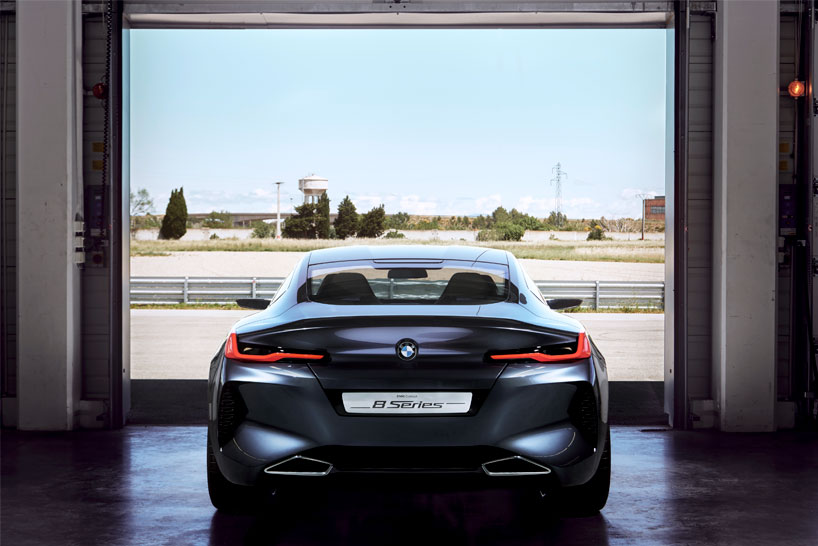 DB: will this focus on luxury and sophistication be seen in the design language of all future BMW models then?
AVD: if you look back in our history, we haven't always had a complicated design language. over time, we did add more elements, but sometimes you need to free yourself of some of the things that we have grown accustomed to or that you have come to love. this opens things up for new opportunities and that is exactly what we are doing here and with our next vehicle generation. we are pretty much going to role out several new designs like this in the next two years.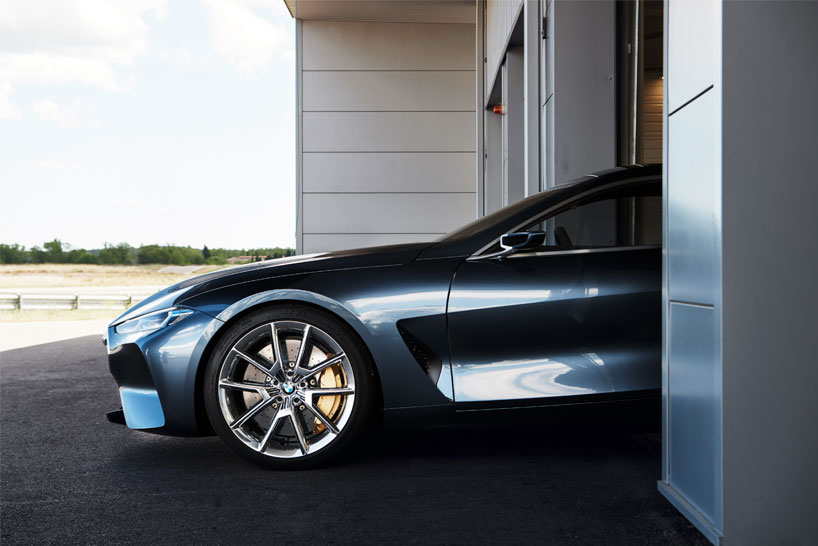 DB: one of those big changes is the new interpretation of the BMW grille. how and why did you decide to change an element which is so iconic for the brand?
AVD: the grille is obviously very iconic. we can show people nothing but the grille, and they will know its a BMW. the new one is very functional as it intakes most of the air for the combustion engine. we wanted to place the grille as low as possible and make it as wide as possible in order to create a sporty look. furthermore, the trapeze shape makes it look very dynamic as well.
if you look around the room [where BMW are presenting a collection of different 8 series model generations], there has been a lot of changes to the grille – more than you would actually think! we took encouragement from this and decided to make a bigger change to the grille for the future. a significant part is also the connection between the two sides, which we haven't done for a very long time.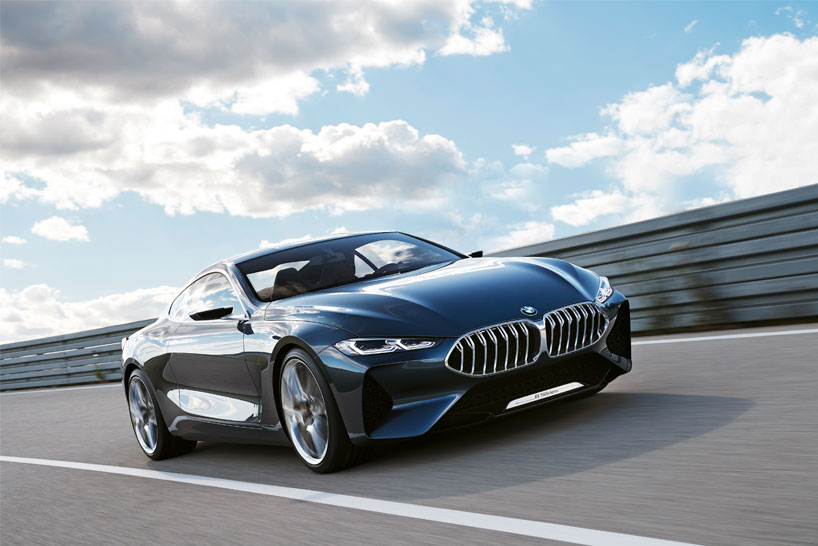 DB: so although you are introducing many new changes, the design still links back to the brand's heritage?
AVD: in all of our designs, there is always a link to our past but we also wanted to add to the history. we want to write a new chapter of course. I feel that a brand like BMW is like a living organism. you must feed it otherwise it will die. that is what we are aiming to do with this concept, it is the next step in the BMW life.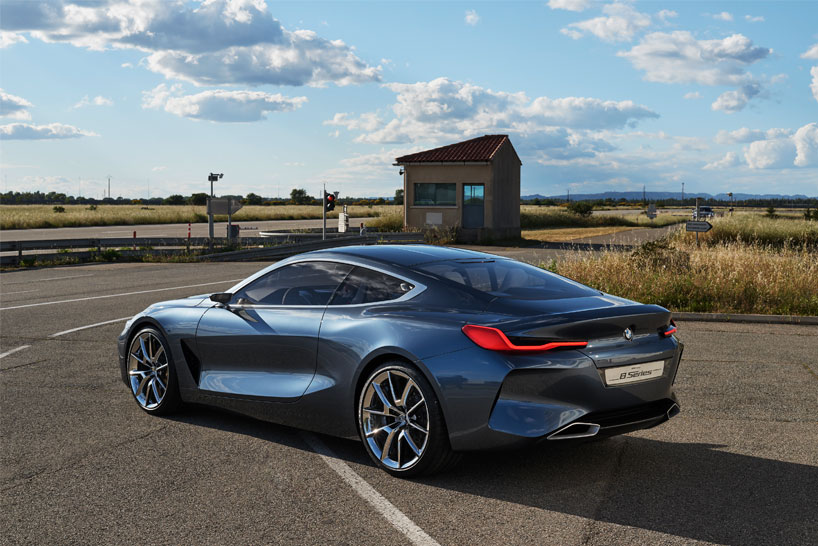 DB: with technology becoming an ever more important aspect for automobiles, how does the concept embrace new technologies and highlight what we will see from BMW in the near future?
AVD: by and large, our cars will have more and more technology. they will be become more clever; with sensors all around and inside them, and they will be connected to the internet, as well as other cars, constantly. also the cars will become self-learning. when you got into a car a couple of years ago, you would have to correct all the switches to your preferred settings. we believe that in the near future, you will not have to do that any more. every new BMW will take a step towards this intelligence. it simply means that there will be fewer switches as the car will also need less input. it can already do a lot of things on its own so we don't need to tell it so. for every BMW, it will be very important that the driver is in control. we don't want to take that away, and the car won't take over unless you ask it to. this continues from what we showed in our vision next 100 concept.
DB: what changes will be made between this concept and the actual '8 series' production car?
AVD: the production car will be extremely close to what we are presenting here [at the concorso d'eleganza villa d'este 2017]. this concept is more than just a sketch so to say. it is very close to what we aim to do in production and that is as much as I would like to reveal for the time being, in case I ruin the surprise.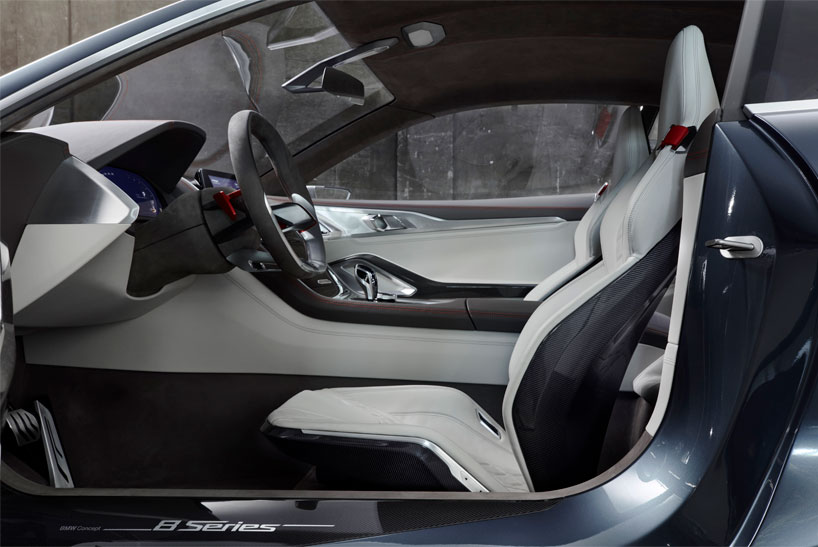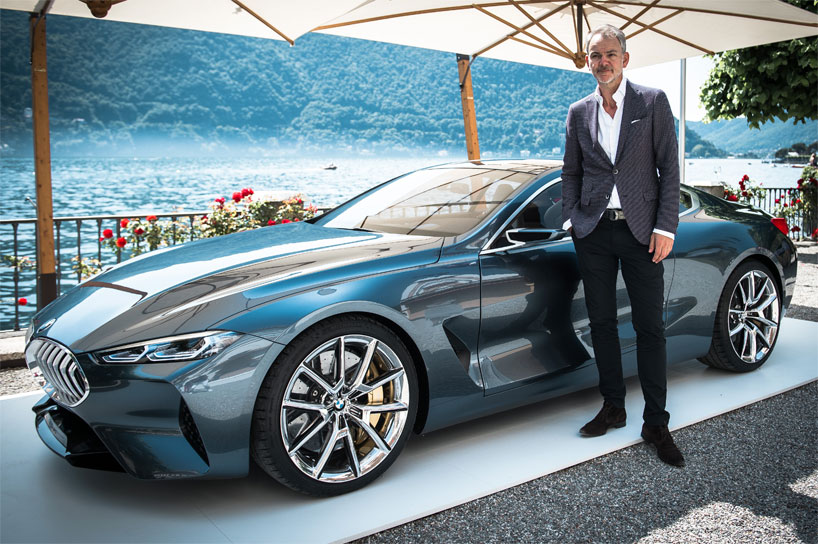 adrian van hooydonk, senior VP of BMW group design, next to the BMW 'concept 8 series'
BMW
(190 articles)
feb 20, 2020
feb 20, 2020
feb 15, 2020
feb 15, 2020
jan 08, 2020
jan 08, 2020
dec 23, 2019
dec 23, 2019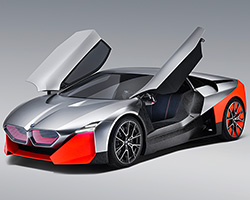 dec 10, 2019
dec 10, 2019
nov 06, 2019
nov 06, 2019
feb 19, 2020
feb 19, 2020
jan 15, 2020
jan 15, 2020
jan 15, 2020
jan 15, 2020
jan 07, 2020
jan 07, 2020
jan 03, 2020
jan 03, 2020
dec 13, 2019
dec 13, 2019
feb 17, 2020
feb 17, 2020
feb 15, 2020
feb 15, 2020
feb 14, 2020
feb 14, 2020
feb 13, 2020
feb 13, 2020
feb 02, 2020
feb 02, 2020
jan 30, 2020
jan 30, 2020
aug 14, 2019
aug 14, 2019
may 28, 2019
may 28, 2019
may 26, 2019
may 26, 2019
may 28, 2018
may 28, 2018
may 31, 2017
may 31, 2017
may 29, 2017
may 29, 2017
a diverse digital database that acts as a valuable guide in gaining insight and information about a product directly from the manufacturer, and serves as a rich reference point in developing a project or scheme.