mar 02, 2011
BMW MINI: rocketman at geneva motor show 2011
BMW MINI 'rocketman' concept, at the geneva motor show 2011
with the premiere of its 'rocketman' concept at geneva motor show 2011, BMW MINI has designed the smallest vehicle the brand has produced since 1959. measuring just under eleven feet in length, the three-door vehicle features three seats, with a fourth optional to add to the rear. the trunk capacity is likewise flexible, and accessible through a design that splits the cars tailgate into two parts: a top segment attached to the roof that lifts upwards, and a lower component which extends outwards from the body like a drawer. the car's doors are double-hinged, sliding forward and out in addition to swinging open, to provide easy entry and exit even in close quarters.
full view of the car
a split tailgate and wide-opening side doors maximize the space available
closer view of the double-hinged side door
aerial view of the glass roof, whose crossbeams recreate the british flag
inside, the rocketman is designed with a leather interior and wrap-around light strip. the center control console and dashboard, operated through either steering wheel buttons or a trackball, features 3D graphic capabilities, allowing more immediately relevant information to be presented in the foreground, while less important data remains accessible but not distracting. three light modes illuminate the LED trim and details of the car in different colours and modes.
the car's control console features 3D graphic capabilities
interior view
retaining the recognizable shape of earlier mini models, 'rocketman' features large headlights, chrome grille trim, and trapezoidal rear lights. wraparound windows are capped with a transparent glass roof, along which braces run to recreate the appearance of the british flag. the car is modeled on a carbon fibre frame, and enthusiasts predict that if produced, it will be powered by the BMW's newly developed three-cylinder engines, capable of attaining upwards of 75mpg (3 litres per 100 kilometres).
aerial view with doors open, showcasing the double hinge feature
the tailgate drawer in use
interior concept sketch depicts the removable rear seat
concept sketch for door mechanisms

video showing the opening mechanism of the prototype's side doors and tailgate

video describing the concept behind 'rocketman'
mar 15, 2011
mar 15, 2011
mar 10, 2011
mar 10, 2011
mar 09, 2011
mar 09, 2011
MINI
(45 articles)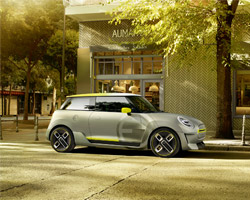 sep 19, 2017
sep 19, 2017
sep 15, 2017
sep 15, 2017
sep 06, 2017
sep 06, 2017