desigboom interviews head of BMW motorrad design edgar heinrich
image courtesy of BMW
BMW raised the curtain on its newest motorcycle concept at the 2015 concorso d'eleganza in villa d'este. the 'motorrad concept 101' is an american entrenched cruiser boasting a six cylinder 1,649 cc inline engine that produces colossal amounts of torque. the very elongated and streamlined silhouette has a dropped-shaped frame that is typical of baggers – meaning, an exclusive type of custom bike especially popular in the united states. below the high front trim, the large front wheel stretches the long body forward. the prototype was assembled by roland sands design, while design done in-house by BMW and their california-based consultancy branch designworks — which includes don cammorata and ola stenegard. the 'motorrad concept 101' is covered in silver paint surfaces, brushed aluminium and carbon, with dark wood elements that add exclusive counterpoints. the milled wood with its discreet grains, is only treated with oil. the model designation is integrated in the wood surfaces as an elaborate aluminium insert and badge. on the seat, fine-grain perforated black leather is complimented with a brown leather strip. designboom caught up with head of BMW motorrad design edgar heinrich to talk about the 'motorrad concept 101', and the direction of BMW motorcycles to come.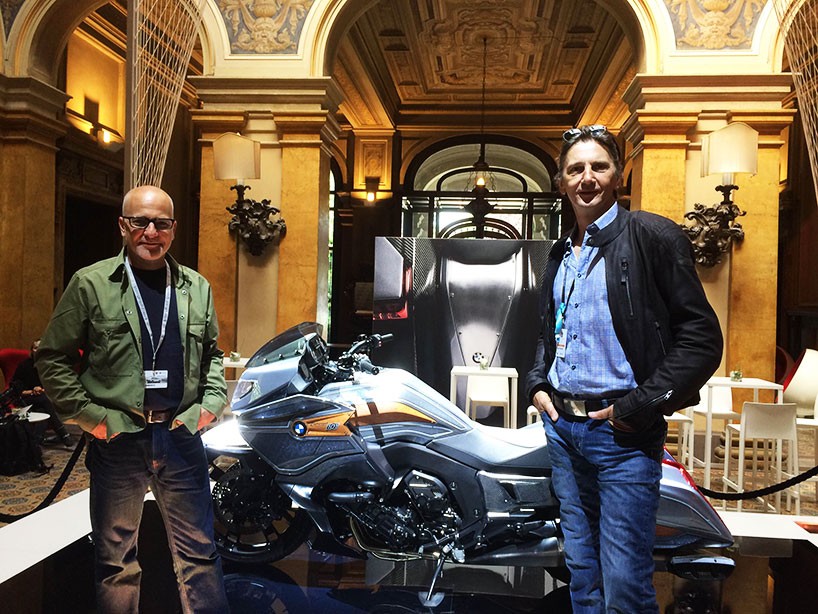 designwork's don cammorata and BMW designer edgar heinrich at concorso d'eleganza
image © designboom
designboom (DB): can you tell me about the concept bike, and the ideas and concepts that went into the project?
edgar heinrich (EH): we try to do one concept bike per year. we've done some quite interesting bikes in past years so of course the question was what could we do this year. on the one hand, it should of course be very interesting for us and unexpected, and it should also be something different from what we've done in years before. so there's always a discussion going on about what are we going to do this time. right now in the scene, there are lots of these flat-twin customizations, people love the boxer engine — the flat twin — so we thought we're going to use some other engine. one that I like very much is the inline six, and it's a bit what I feel, underrated, because it's a beautiful, superb engine, but you don't see lots of things come with it. now, it's only for the GT and GTL – a nice bike, but only really for one purpose. so there was the idea that we do something with this inline six, and we do lots of touring in america also, but don't really have the perfect bike for the long highway, low-speed typical american cruising. we said, this is the perfect thing, we combine this engine with this vision of endless highways, sunset type of thing. the idea was born, and then of course you have to apply the rules for the bikes, which is why we called it the 101. it's the typical american way to measure the capacity in cubic inches, which turns out to be 101, it also turns out that our BMW designworks dependency is along highway 101 — it was a nice coincidence. we also wanted to have the design done by american guys, not by us europeans, because american rules should be set by americans obviously. so we had don and ola and some other guys from designworks working on the bike. we think it turned out to be a real authentic interpretation.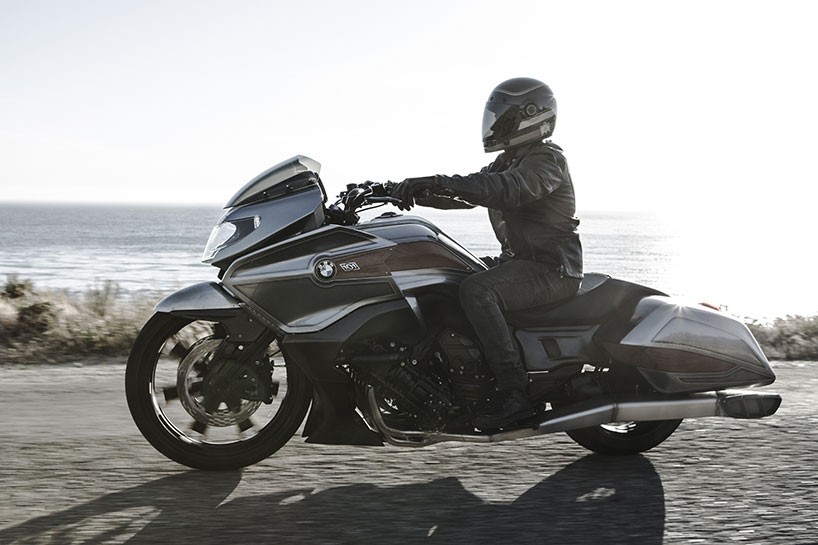 two side cases integrated in the streamline
image courtesy of BMW
DB: on the bike you have several components from roland sands design, what role did roland play within the project?
EH: actually, this story goes back to the concept 90 which we did two years ago. in those days, we were looking for a partner to execute the concept, and found roland to be the perfect match. first of all, we needed a partner for the customization, and roland was perfect because on the one hand everything he does is performance driven. we wanted to have a person who really understands performance, not someone to just customize the bike, it should also work. secondly, he's a very cool guy, a kind of friend you could say. so it's always fun, he's very motivated and it's easy and cool to work with him. third, he's also very professional when it comes to deliveries, timelines, or processes; even now we have a collaboration with him providing parts for the 90. he has it all. it turned out to be the perfect partnership before, so when we did this bike he was the obvious choice. the design was done in-house by BMW with assembly and contrast parts by him that are high class, and very typically american — people love it.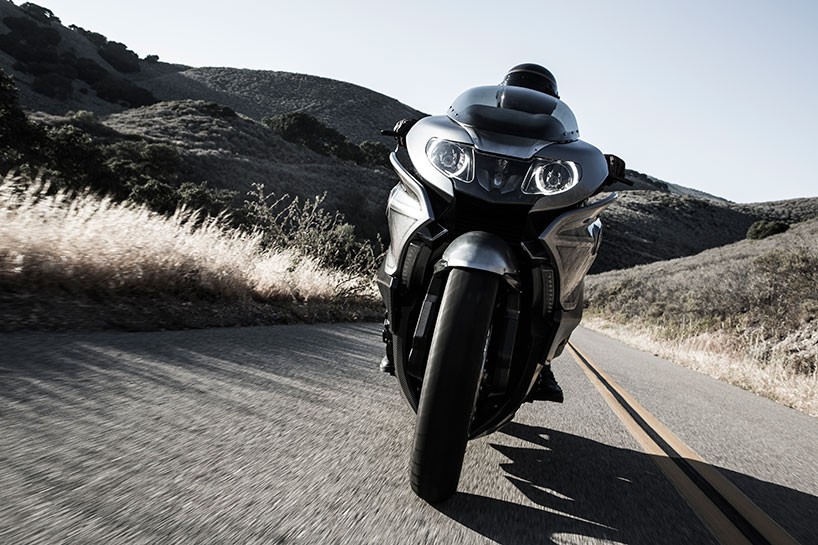 front trim is brushed aluminium
image courtesy of BMW
DB: can you go more into the materials, how did you go about choosing materials and presenting this bike as the future of touring motorcyles?
EH: when the idea was born to do this bike, it was very clear that it had to serve all these BMW requirements. first of it has to have the performance, the engine should perform really good, and the chassis as well. then we said, this should be the pinnacle of luxury on two wheels; which is how we told it. to achieve this of course we wanted to have real materials and to emphasize the craftsmanship behind it. it has very high-end, hand driven aluminum, carbon fiber laminates, wood inlays, and the contrast parts. all of this requires a lot of craftsmanship to do, and this was important as part of the story, to visualize the high-end which is behind the whole build. secondly the combination of the materials is also quite outstanding some how. they make the bike very intriguing and exclusive. you really don't see wood on a bike, and combined with aluminum and carbon fiber. the materials usually live in different worlds, and we just brought it all together. I think it works nice.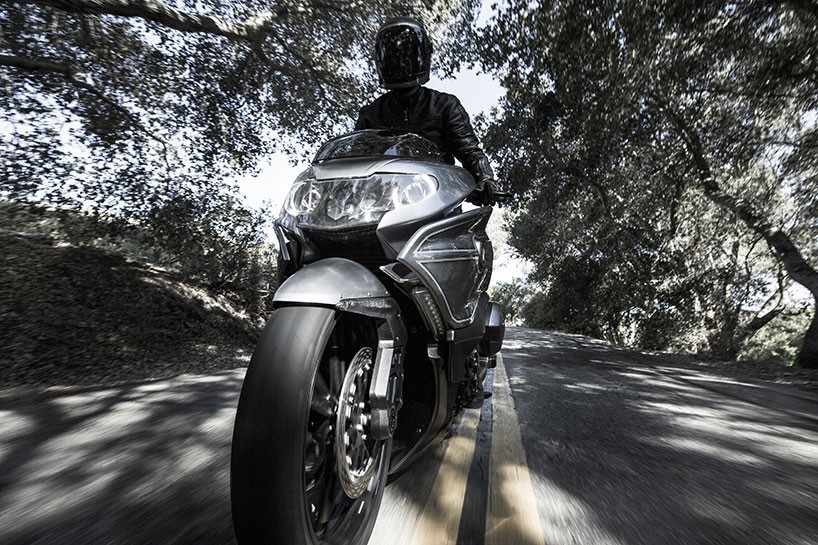 clear lines and modelled surfaces shape the athletic body
image courtesy of BMW
DB: what are some of the components, technologies, or materials that BMW might bring into production bikes in the near future?
EH: I mean, parts of these things like carbon fiber, is standard on our race bikes. you can buy all the aftermarket parts. parts on the concept 90 can be bought from roland sands. aluminum is something we also do on the concept 90 aftermarket parts. I mean the wood, we don't really have on a bike, and I cannot really say this would be feasible right now; there needs to be testing and stuff. the wood here [on the 101] is mahogany, which is just oiled. it works perfectly here, but I cannot say how this would look in five or ten years, exposing the bike on salt or to water or rain, sun. we find wood of course on the interiors of cars, but interiors are a different thing. I mean, difficult to say. we just took it for the show bike is all.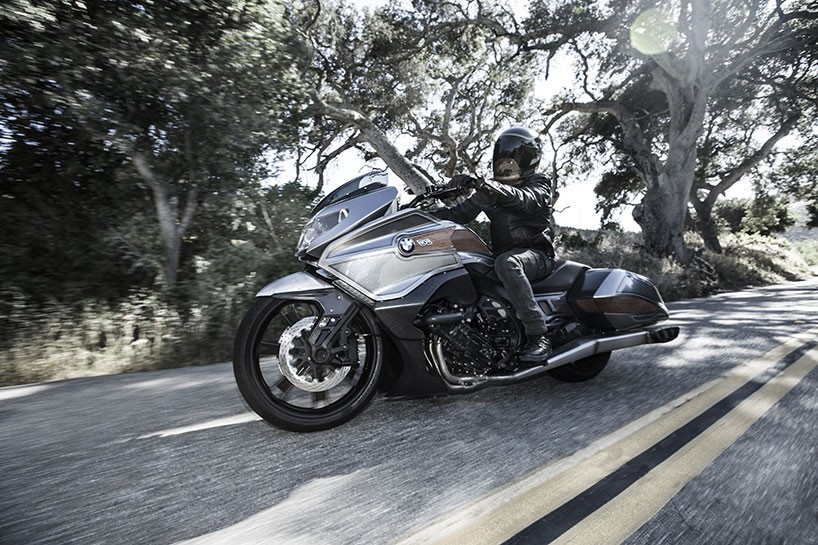 two side panels encase the front trim
image courtesy of BMW
DB: last night [during brief concept presentation] you mentioned BMW is in the process of making bikes for younger riders, or starting to attempt to attract younger customers. what are some of the steps you're taking?
EH: there's basically two major projects we are undertaking. first is just to; – within certain segments we are really trying to make the bikes more emotional. we think that biking is really combing back as a thing of lifestyle. not just for the sake of biking or riding fast, but being part of a, more of an accessory you might have. it's about being cool, surfing, work, and part of these things is a bike; a part of the lifestyle. it's not about being singly a biker, but having a bike is part of the lifestyle. it's not really a performance thing, more emotion. this is why we thought of a bike like the 90, it's really fueled this need. our second approach, is really going into smaller CC's. that means bikes getting a bit lighter, easier to handle, not super big performance, and also easier for young people to buy of course.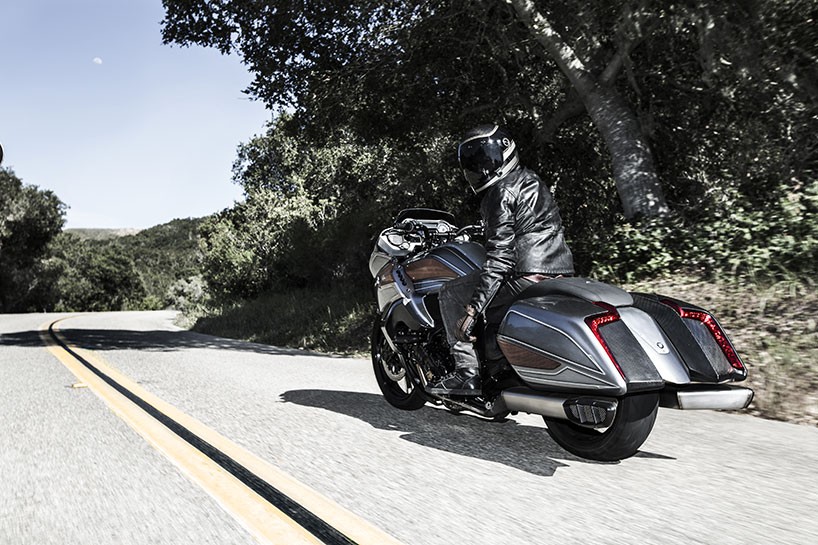 two LED bands in the dark colored rear section
image courtesy of BMW
DB: how has the current design industry changed since you originally came to BMW?
EH: I came to BMW in 198 — (laughs) — something I don't know '7, '6. the industry has changed a lot. when I started in BMW it was of course a very small department. we sold few bikes and design was more, the engineers did something and when it was done they threw it over the fences and 'now you can do something, make it a bit nice, put some stickers and choose a nice color.' that was the design, so we didn't really have a big lever. this has changed dramatically, we have a very big lever now. even management knows you need to have a design, a good design, to be successful in the market. I mean, design is like a hygienic factor. I always try to compare it to coffee machines. all the coffee machines make proper coffee, the customer goes, 'uhhhh this is the nicest one, I like this'. the actual making of coffee, is a hygienic factor. so, now put this within the bike industry. all the bikes are reasonably good, the bike needs to work but I think there's even more you have to do to get the desirability. the emotion really makes it desirable, and only then is it a luxury item. or, a huge accessory. people have to love it, and if you love something you buy it. this isn't because it works properly, working is a hygienic factor.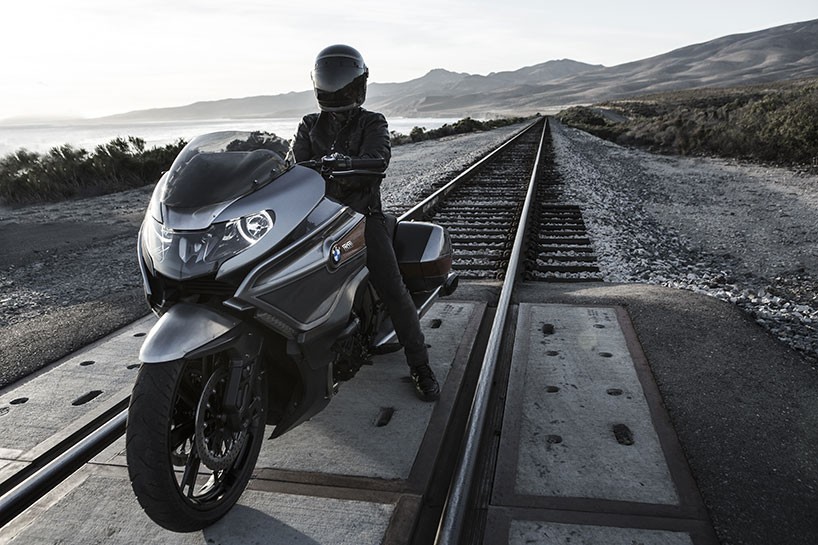 image courtesy of BMW
DB: from all the historic bikes display this weekend, do you have a favorite?
EH: yeah, I mean there are actually some very cool bikes. some of the hero bikes from my youth, like the CB's and the Z1 and H2. I mean these were, when I was young, the hero bikes. but then again there are super heros like the '39 BMW 500 kompressor (on which georg meier became the first foreign rider to win the TT on a foreign make). they just started it did you hear it maybe? it's incredible. I mean I'm just born too late. then there's the 2RC164, the honda bike. (a 250 cc four-cylinder custom fit to jim redman, which helped him gain the second of six TT victories in the 1964 lightweight TT) these are probably the two super heros out there today.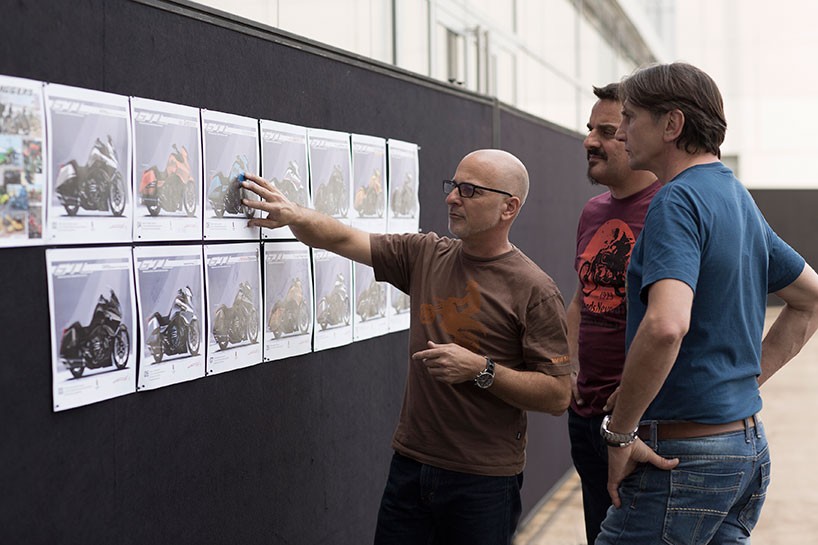 color designs with don cammorata
image courtesy of BMW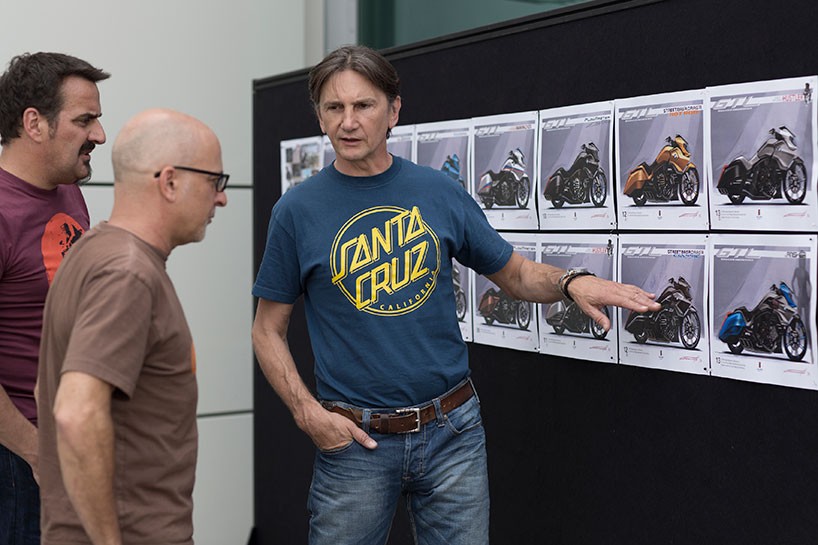 BMW designer edgar heinrich with design works
image courtesy of BMW
piotr boruslawski
I designboom
may 26, 2015
a diverse digital database that acts as a valuable guide in gaining insight and information about a product directly from the manufacturer, and serves as a rich reference point in developing a project or scheme.
designboom will always be there for you
milan, new york, beijing, tokyo

,
since 1999