during the concorso d'eleganza villa d'este 2017, BMW motorrad debuted a zero-emission urban mobility concept, titled 'concept link', which is neither a motorcycle or a scooter. with a low-slung, stretched body and flat seat paired with the diagonally rising front portion, the design takes a very unique appearance. this is further supported by a completely new form language that, over a two color tone body, displays a modern style with clear lines, large surface areas and simple, precise shapes. although sourcing influence from the BMW motorrad 'VISION NEXT 100', the latest electric concept is much closer to realization, enhancing technology and design that are capable to use and produce today.
at the exclusive unveiling at the concorso d'eleganza villa d'este at lake como in italy, designboom interviewed edgar heinrich, head of design of BMW motorrad. here, the designer provided additional insight into 'concept link': its trio of connectivity capabilities, completely new design language, and what the motorcycle/scooter can be classified as.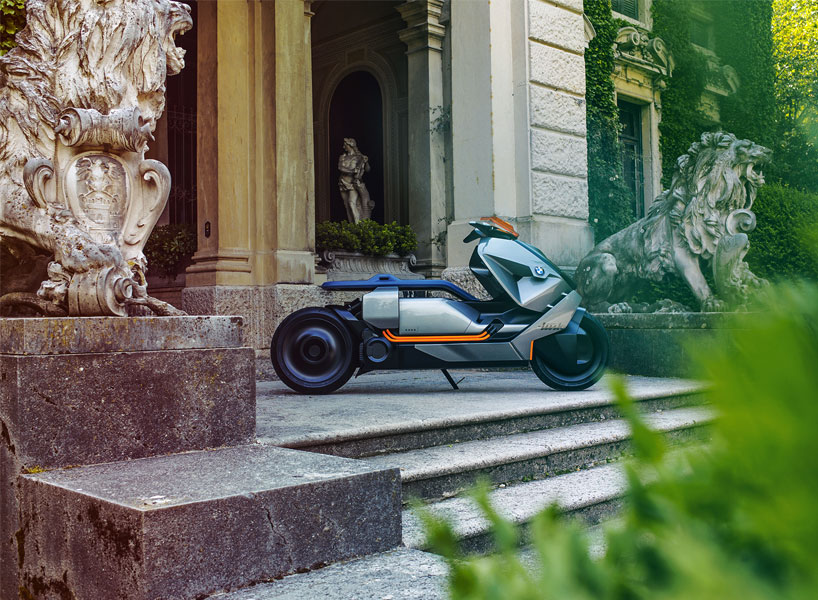 image © hermann koepf
designboom (DB): in recent years, we have seen a collection of concepts from BMW motorrad. how does the concept link differ compared to those we have seen before?
edgar heinrich (EH): every year this is a question we have to think about. we will go to the concorso d'eleganza villa d'este and we need to show something there. last year we had a more classic, neo-racer bike, which we thought was the right time to do so because, traditionally, our motorbikes have this super functional focus and people really loved that kind of contradiction from us. they loved the burning rubber, the burning fuels and all that kind of mean, forbidden things. we have presented concepts along those lines for several years now; 'concept 90', 'roadster', 'R5' and '101'. we therefore thought that we had to do something really different. obviously, we are always trying to surprise people and do something new. that was one of the reasons we did the 'VISION NEXT 100' bike in october 2016, which was really throwing the stone very far. we thought that it would be a really good thing to design a concept that goes in that same direction but not as far. furthermore, we all know that this electric mobility drive will come, we don't when or where, but we are sure it will happen and will be witnessed in urban areas first. with electric mobility, people such as typical motorcycle guys and designers, are always a little bit uninterested or unfazed by it. they think that it is not so super cool. however in reality, it is a movement that BMW had to develop and be a leader in. we felt that electric mobility is currently lacking that exciting spark to really start it off, and that is what we wanted to change.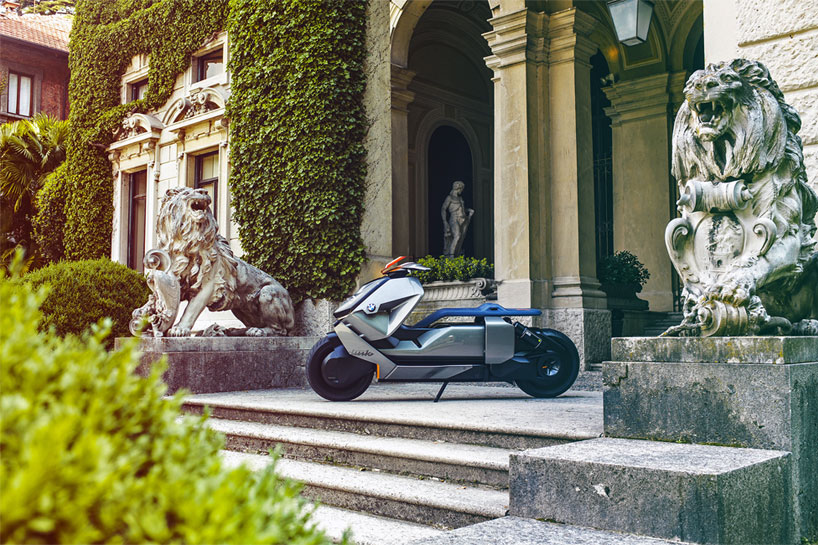 image © hermann koepf
DB: what was the starting process when designing the bike?
EH: traditionally, the first approach is to look at what technology we have available so that we know what is actually achievable. this is the typical approach and it results in a technology-focused product that maybe isn't so cool. However, with this project we formulated our target, as we knew we wanted to make an electric urban mobility product that was not only driven by technology, but also driven by emotion. we wanted to connect people to something that is cool and desirable – something we feel is lacking in the market at the moment.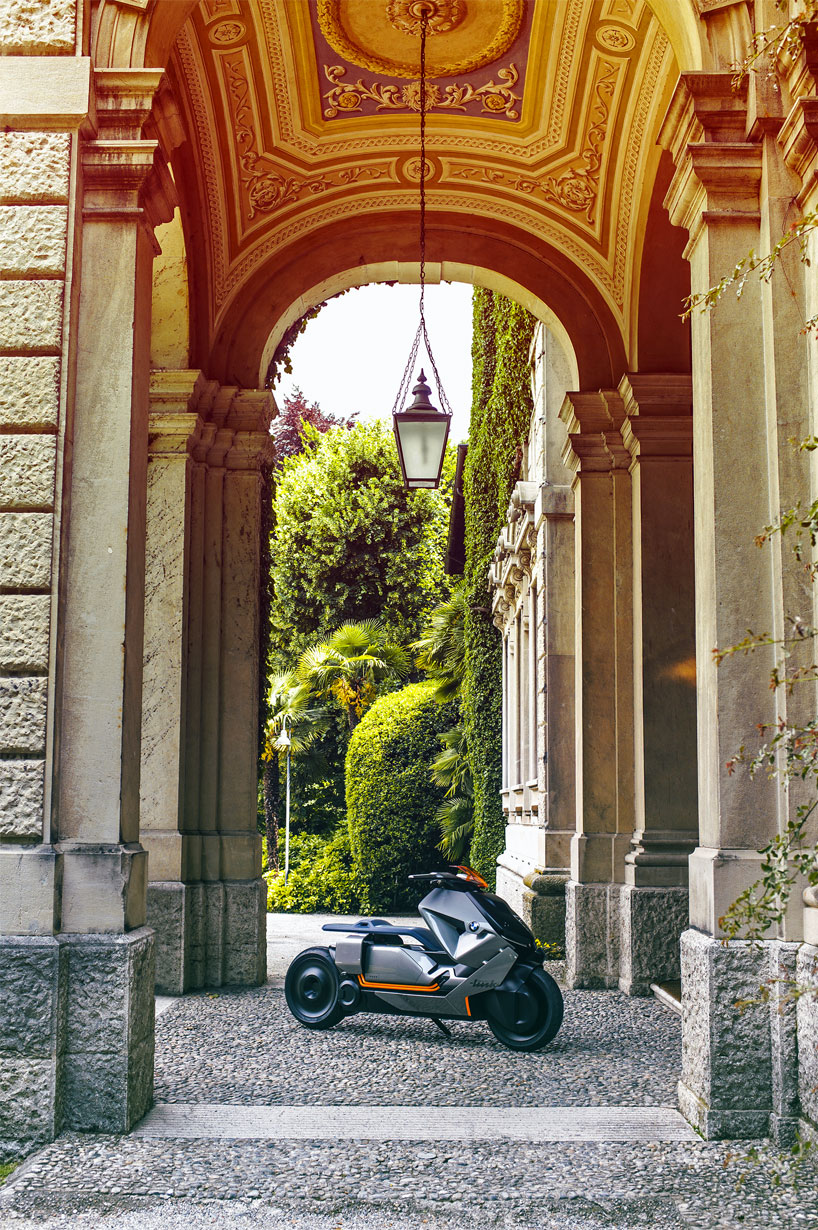 image © hermann koepf
DB: how do you think the concept link delivers that emotional connection?
EH: if you look at these electric two-wheelers nowadays, they are more or less motorbikes where their engines have been replaced by a battery, which still means its a motorbike at heart. our approach went about this differently in order to ensure that it was a completely electric and therefore emotional bike. our approach, and I hope it has worked, was to deliver on three focuses. first of all, it needed to deliver analogue mobility so by going from A to B, which is pretty obvious demand. secondly, we then wanted to combine it with what we call digital mobility. people nowadays have digital mobility in their hands. mobile phones connect them to their friends, their next coffee place, etc. but this communication is having a huge impact on BMW because our models are becoming more and more digitally linked. we will have technology, such as car-to-car communication which would enhance safety first of all, and concierge services to make travel even more convenient. nowadays, when you go on a scooter, you stop your digital life and then have to restart it when you arrive at a certain point. we wanted to combine this analogue and digital mobility, but there was also a third approach that we wanted to integrate. this was to create a new form language in order to make it appealing and to make a big statement about how different it is. the result is cool, new, fresh, pioneering and environmental-conscious. when you look at urban mobility nowadays, these things are better practically as they solve the needs for commuting, but their connotations are a little bit boring. you should be able to have this level of practicality without negative connotations. we really wanted to make the new design language cool and a big statement.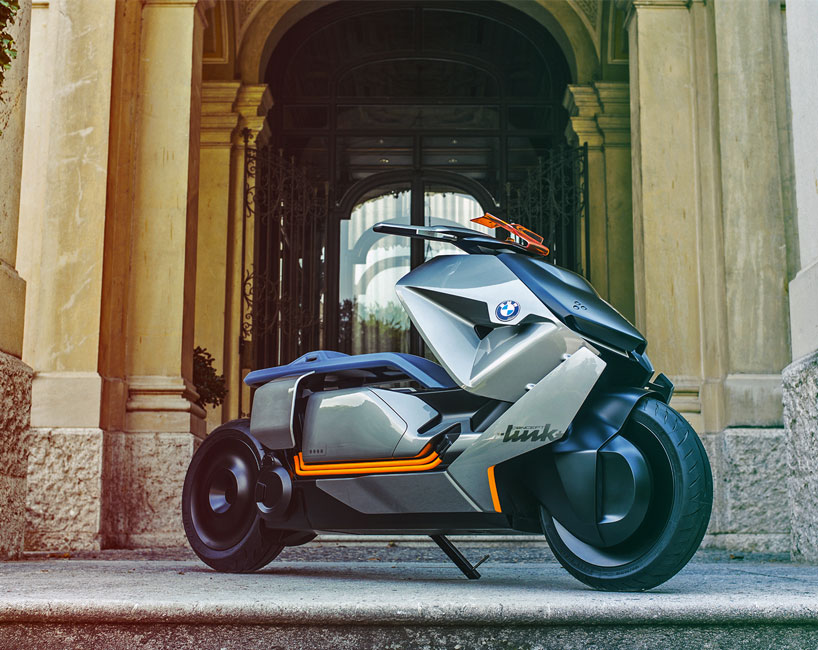 image © hermann koepf
DB: will we see this new design language in BMW motorrads soon to be released or is it just for this concept?
EH: I would say that the VISION NEXT 100 concept was a truly big statement and it was a proper vision for the more distant future. with the concept link, I would say that there is nothing there that is rocket science. everything about it is either available right now or just round the corner. it is just about combing the right things and is not too far ahead. we can do it very soon, but we would obviously need to develop it more first.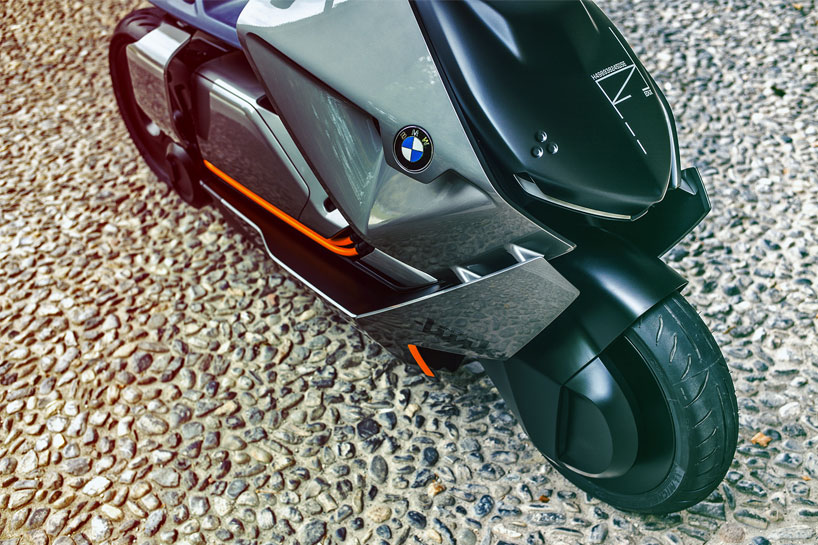 image © hermann koepf
DB: the concept introduces a new completely new segment as it is neither a motorcycle or a scooter. how would you class the link?
EH: this is a very good question because that is actually something that is in our minds right now. its neither a motorbike or a scooter. I'm very reluctant to call it a scooter because then it immediately gets associated with practicality. I want it to be in the cool corner, as well as being practical. we are actually still deciding on the right classification.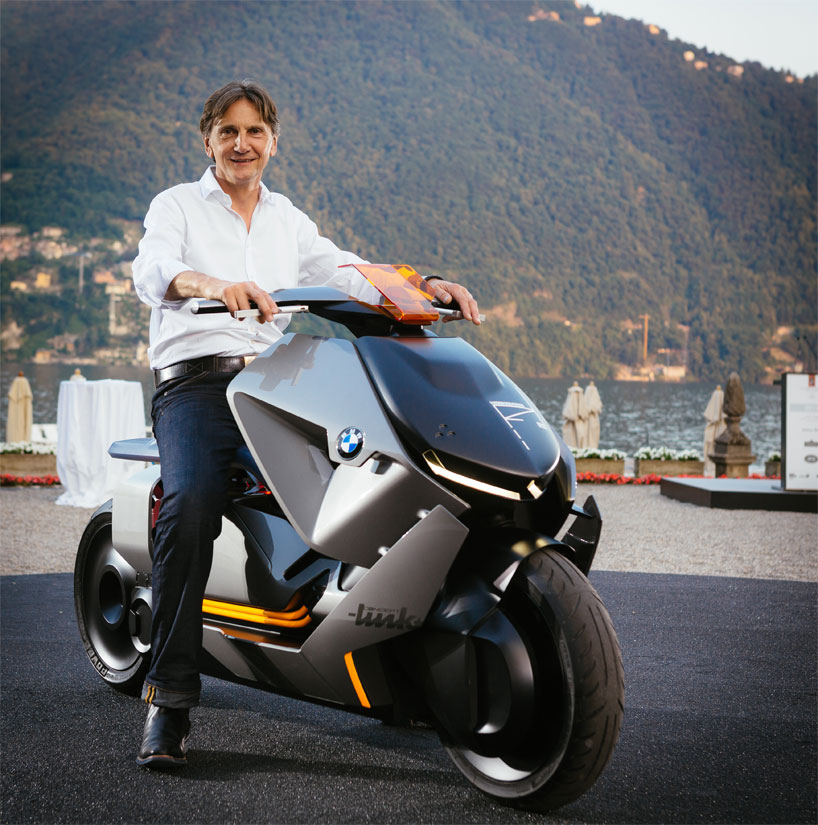 edgar heinrich on the BMW motorrad concept link
DB: following the connected rider gear shown in the VISION NEXT 100 motorrad, this design also links the rider gear with the motorbike. what does the gear do and is this something that we should expect as standard from BMW in the future?
EH: we just feel that is it something that is very logical. we do motorbikes and we do rider gear, so why can't we connect them? we have lots of sensory technology; for all the assistant systems in our bikes, you need tonnes of sensor devices and they are all linked together through bluetooth. it is so simple to combine these with sensors in the rider gear as well. this smart gear is all around us at the moment, such as in sport for example. the motioning on the jacket's arm, which opens up the luggage compartment on the bike, was a very visual demonstration and was great for the presentation.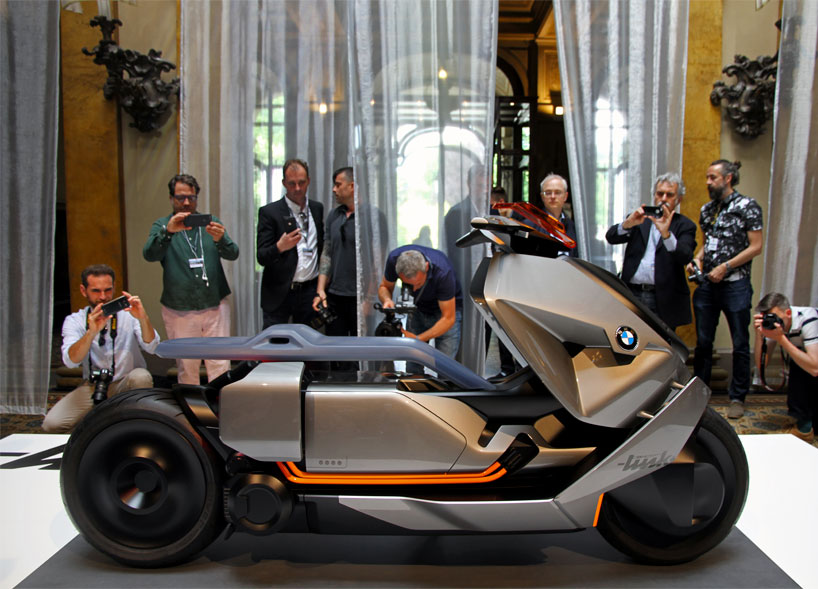 image © designboom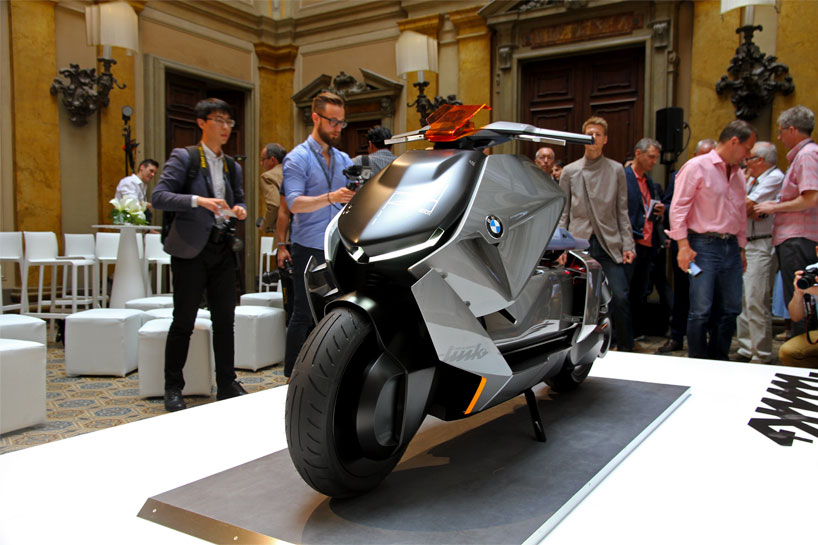 image © designboom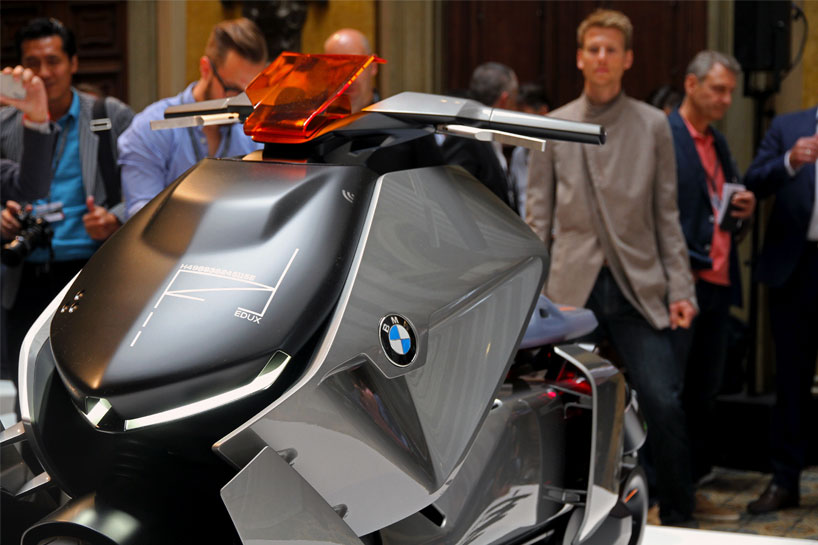 image © designboom
a diverse digital database that acts as a valuable guide in gaining insight and information about a product directly from the manufacturer, and serves as a rich reference point in developing a project or scheme.
designboom will always be there for you
milan, new york, beijing, tokyo

,
since 1999