may 28, 2013
BMW motorrad + roland sands: concept 90 motorcycle at villa d'este
BMW motorrad + roland sands: concept 90 motorcycleimage courtesy BMW group
in a 90 year celebration of BMW motorrad and 40 years of the BMW R 90 S, the german manufacturer has joined forces with american expert custom bike builder and 250GP national champion road racer roland sands to create the 'BMW concept ninety'. presented at the concorso d'eleganza villa d'este 2013 in lago como, the concept ninety revisits 1973 – a time when the R 90 S one of the fastest production bikes of its day entered production – resurrecting the spirit of the emotionally charged superbike with a harmonious unison of man and machine. working back and forth from the BMW design headquarters in munich and sands' workshop in long beach california, the collaborative venture brings to life a full-bred runner with a 900 cc air-cooled flat-twin boxer engine boasting upwards to 115 horsepower. hand crafted from aluminum, the concept ninety weighs just under 190kg, where the upper ergonomic and aerodynamic bodywork is visually separated from the black engine and chassis.
BMW concept ninety: design interview at villa d'estevideo courtesy BMW group
finished in daytona orange paintwork similar to the original R 90 S, brushed areas from the custom aluminum craftsmanship can be seen in the tinted areas of the front fairing and tank. contemporary LED elements light up the face of the bike honoring its ancestor with a round headlamp design. additional key highlights include the front cover of the engine the valve covers and exhaust system designed by sands, which are painstakingly milled using a contrast cut process; striking an alluring contrast to the black mechanical components. this technology was also applied to the rims, whose classic design recalls the racing triumphs.
'everything just fits together perfectly,' says edgar heinrich, head of BMW motorrad design. the BMW concept ninety is sheer enjoyment in every respect – from the development of the idea to the sketching stage to the construction process. but above all when you're riding it. it's an absolute riding machine – just like the R 90 S was in its time.'
BMW has joined forces with roland sands to create the 'BMW concept ninety'
the concept ninety revisits the 1973 R 90 S, resurrecting a harmonious unison between man and machine
the collaborative venture brings to life a full-bred runner with a 900 cc air-cooled flat-twin boxer engine boasting upwards to 115 horsepower
BMW concept ninety: the storyvideo courtesy BMW group
roland sands pushing the concept ninety to its limit at willow park race track in texas
contemporary LED elements light up the face of the bike honoring its ancestor with a round headlamp design
hand crafted from aluminum, the concept ninety weighs just under 190kg
'everything just fits together perfectly, the BMW concept ninety is sheer enjoyment in every respect'
highlights include the front cover of the engine the valve covers and exhaust system designed by sands
custom millwork and classic badging from roland sands
brushed areas from the custom aluminum craftsmanship can be seen in the tinted areas of the front fairing and tank
ola stenegard and roland sands at the track on the concept ninety
BMW
(116 articles)
aug 18, 2017
aug 18, 2017
aug 17, 2017
aug 17, 2017
aug 09, 2017
aug 09, 2017
may 31, 2017
may 31, 2017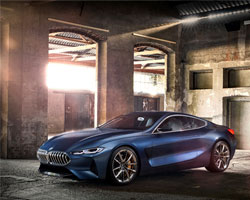 may 29, 2017
may 29, 2017
may 29, 2017
may 29, 2017
aug 15, 2017
aug 15, 2017
aug 14, 2017
aug 14, 2017
aug 10, 2017
aug 10, 2017