the BMW VISION NEXT 100 concept motorcycle completes the german automotive brand's centenary celebrations and stands as the ultimate riding experience.
designboom was invited to the launch event in LA where we experienced the 'motorrad', a vehicle that concludes the 'iconic impulses' tour. as a look into what the future may be, BMW has envisioned four vehicles: the BMW, MINI, rolls-royce, and the motorrad, which fittingly finalizes their 100-year festivities exactly how the company first started — with a motorbike.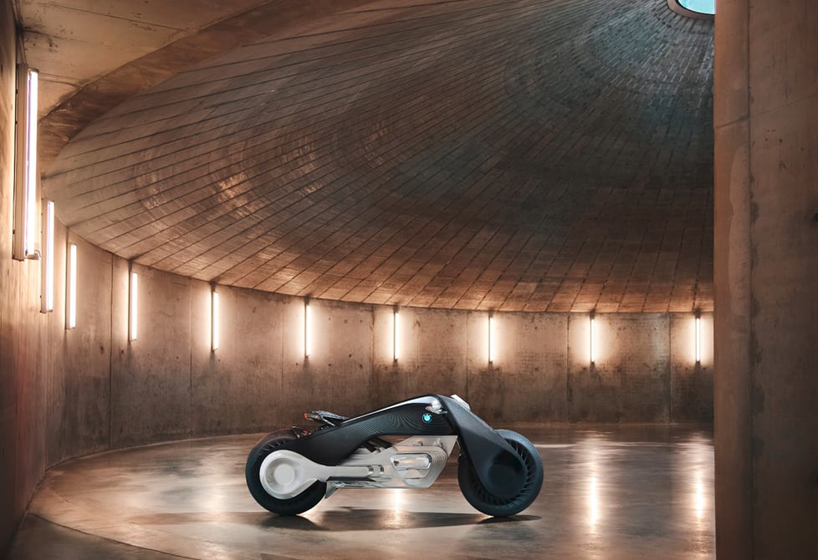 the bike itself is designed to evoke nostalgic thoughts of BMW two-wheelers of the past
all images courtesy of the BMW group
'normally, when we develop a motorcycle, we tend to think 5 to 10 years in advance. on this occasion, we looked much further ahead and found the experience especially exciting. there are some very attractive prospects. I firmly believe the BMW motorrad VISION NEXT 100 sets out a coherent future scenario for the BMW motorrad brand', edgar heinrich, head of design at BMW motorrad told designboom at the launch event in LA.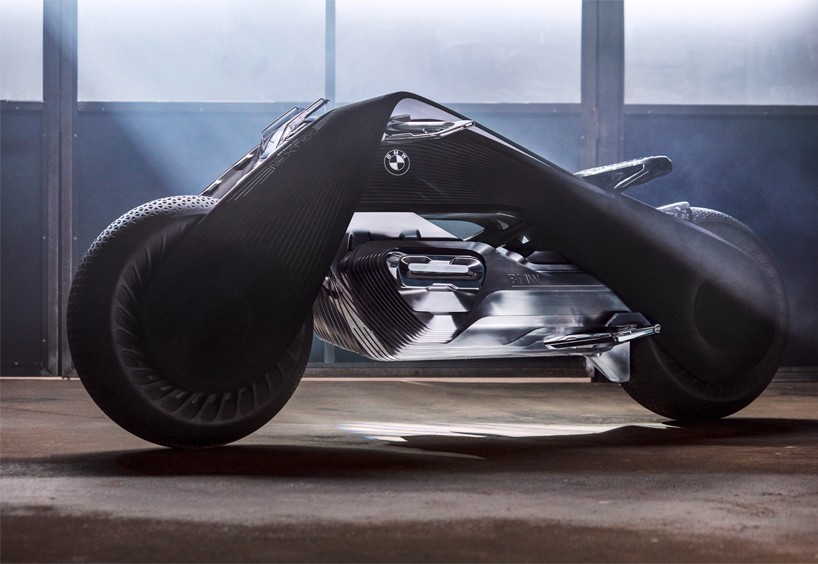 the naked-bike style has outward-facing handle joints
referencing their origins, the BMW VISION NEXT 100 concept features a black frame triangle that was influenced by their 'R32' motorcycle, which was made in 1923. its design has been reinterpreted as more of a functional sculpture that links the front and rear wheels with a dynamic sweep. this single, flowing frame is a clean surface, without any visible bearings and joints, and helps create a naked bike form from its side view. named 'flexframe', the construction aids steering by allowing light changing of direction and high rigidity when at top speeds.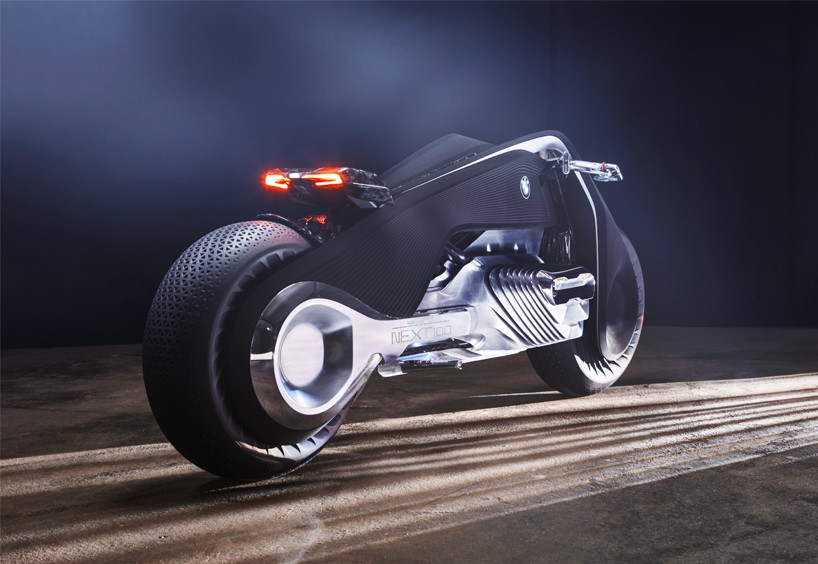 the motorbike is equipped with a zero-emissions powertrain
the concept introduces modern technologies with the analogue riding experience of motorcycles, creating a completely new result. autonomous elements are a key part of this, intelligently connecting the rider, bike and outside world in a combination that offers a unique sense of freedom matched with safety. its self-driving features, and its self-balancing system, anticipate what lies ahead and alerts the user when specific action is needed. as a result, they offer complete rider protection, removing the need for helmets and body protection.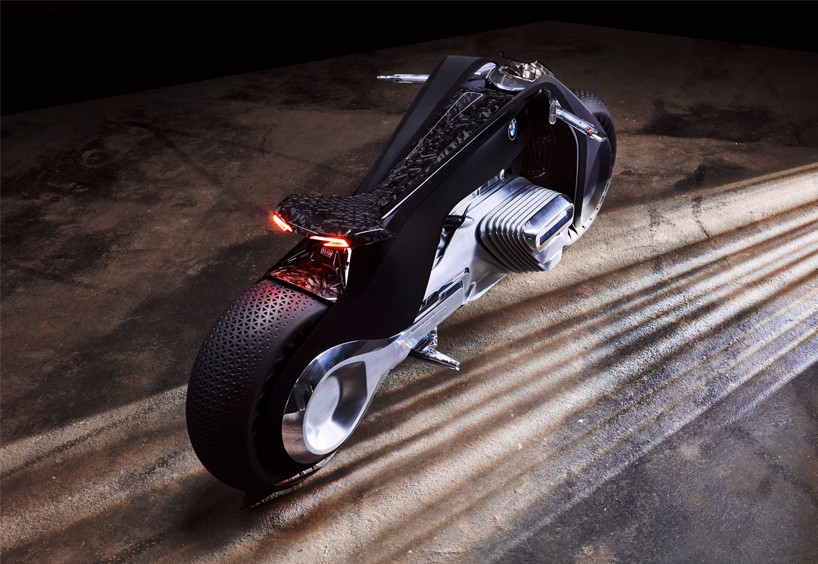 the polished aluminum finish of the engine cover is dynamic and moves outward during use
'the BMW VISION NEXT 100 embodies the BMW Group's vision of biking in a connected world – an analogue experience in a digital age. motorcycling is about escaping from the everyday: the moment you straddle your bike, you are absolutely free. your bike is the great escape,' continued edgar heinrich, speaking with designboom.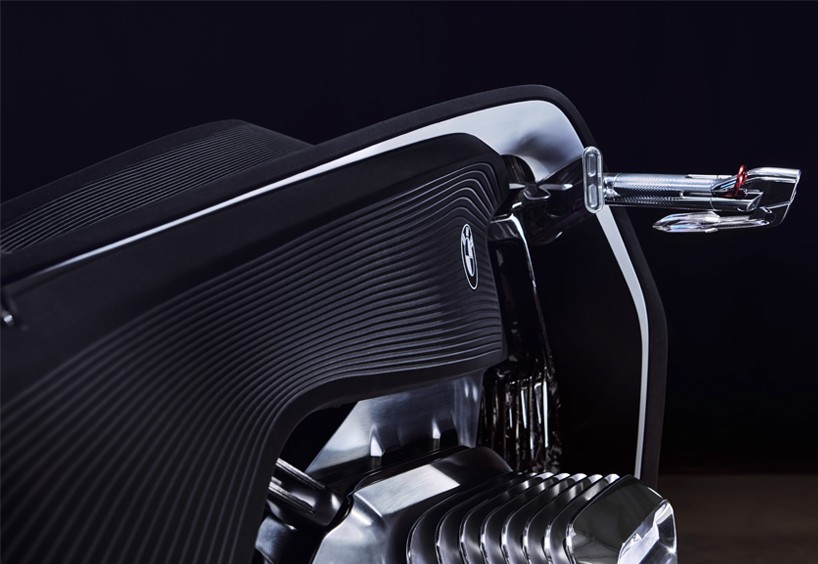 aerodynamics have been added around the rider's legs
an important part of the technology of the BMW VISION NEXT 100, is the ubiquitous and discreet digital companion. this links the driver and bike, providing active support and situational information, but only when essential. the visor headset is imperative to this as it shows relevant data on the glass – similar to that of a heads-up display (HUD). information is only projected onto the screen on request or as an alert for action. this is to ensure a freer and undistracted riding experience, and offer better safety and focus on the road.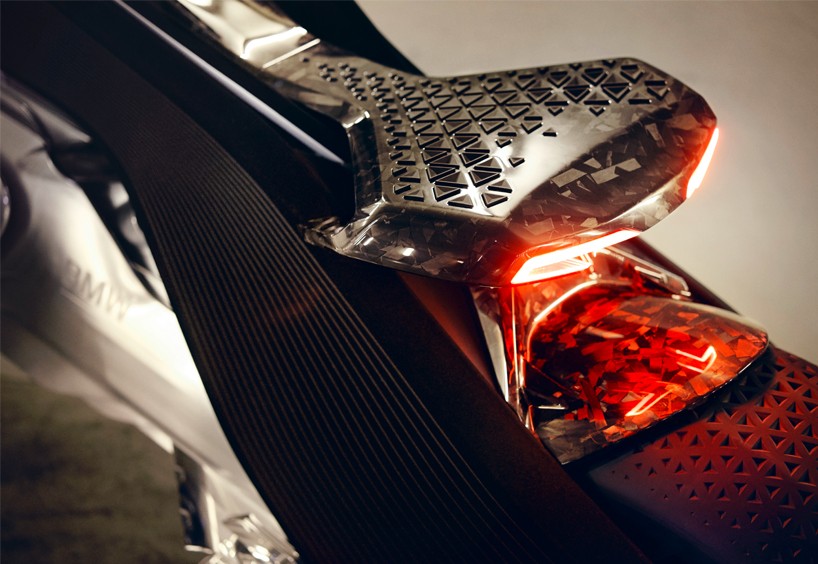 the riding lights are integrated into the futuristic frame
'the bike has the full range of connected data from its surroundings and a set of intelligent systems working in the background, so it knows exactly what lies ahead. by collating the data it has gathered, it can suggest ideal lines and banking angles, or warn riders of hazards ahead,' explained holger hampf, head of user experience at BMW group to designboom.

the BMW VISION NEXT 100 concept
video courtesy of BMW motorrad
summarized as 'the great escape', the BMW VISION NEXT 100 concept creates a pure and unbounded ride experience. this has been created through its vast and high-intelligent connectivity between rider, motorcycle and the environment. the interaction, together with its multiple assisting and autonomous driving features, ensures that user of all levels and abilities are perfectly safe.
as the final part of the 'iconic impulses' tour, the motorcycle fuses many elements from the BMW, MINI and rolls-royce concepts, but joins them in a much more raw and free sense.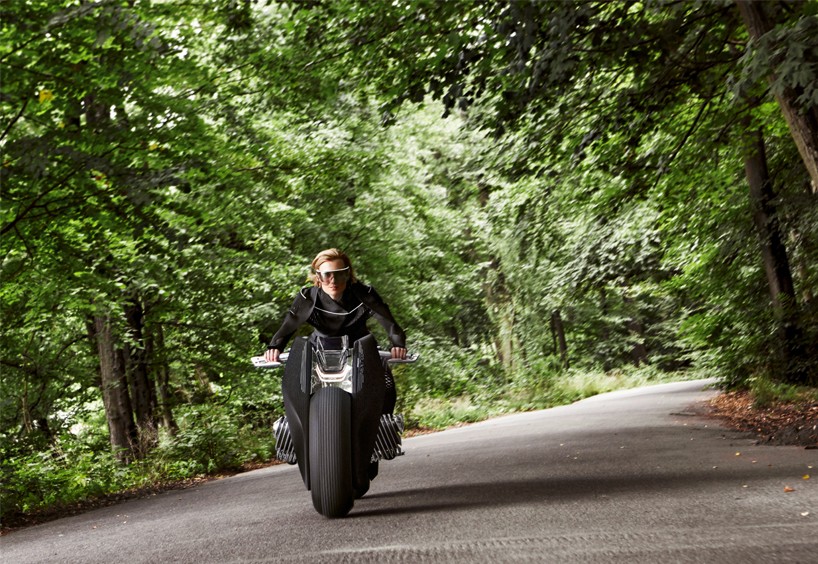 the BMW VISION NEXT 100 shows few joints and no visible bolts, screws, springs, or shocks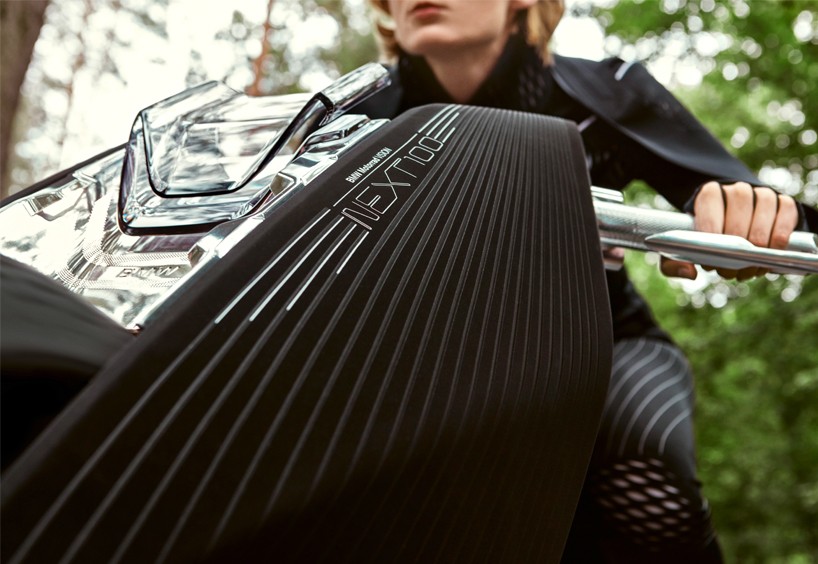 the concept motorcycle keeps the rider in control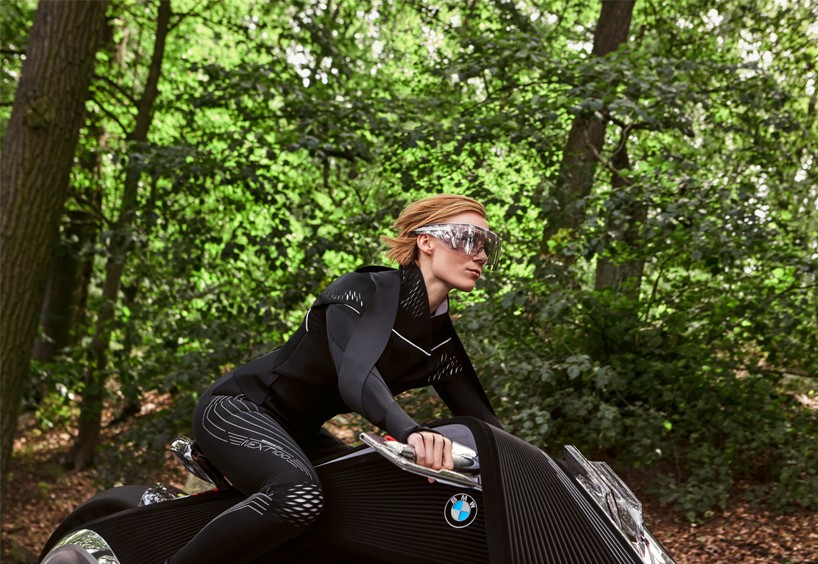 safety concerns are first and foremost in the design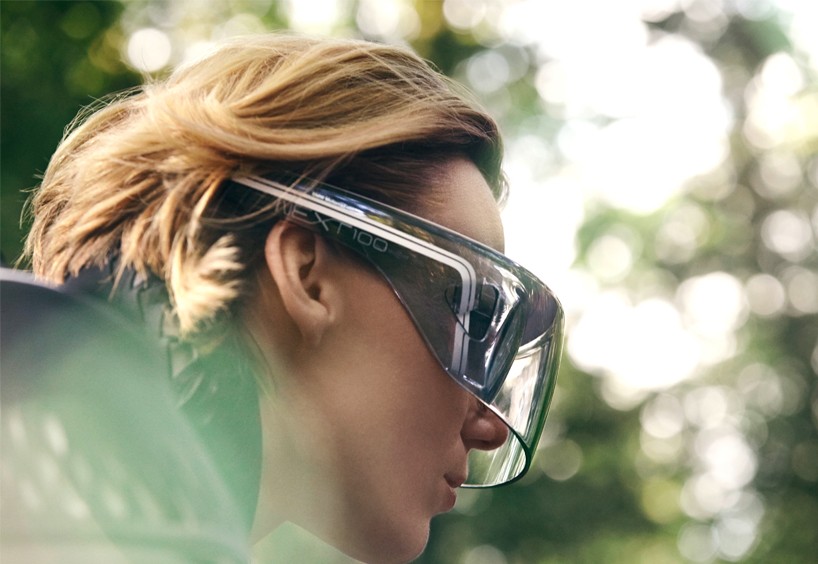 no protective clothing, not even a helmet, is required by the rider as the assistive systems will keep them safe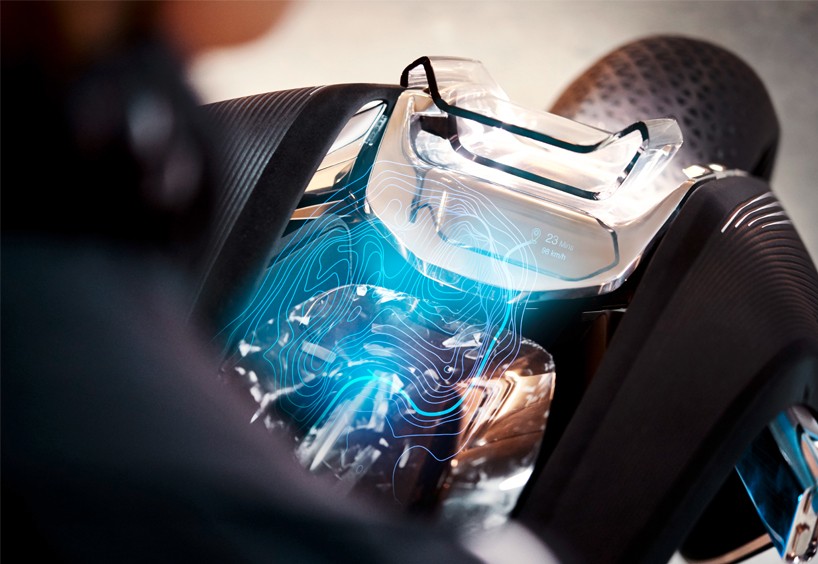 the integrated windshield protects the rider at speed and also acts as a heads-up display of information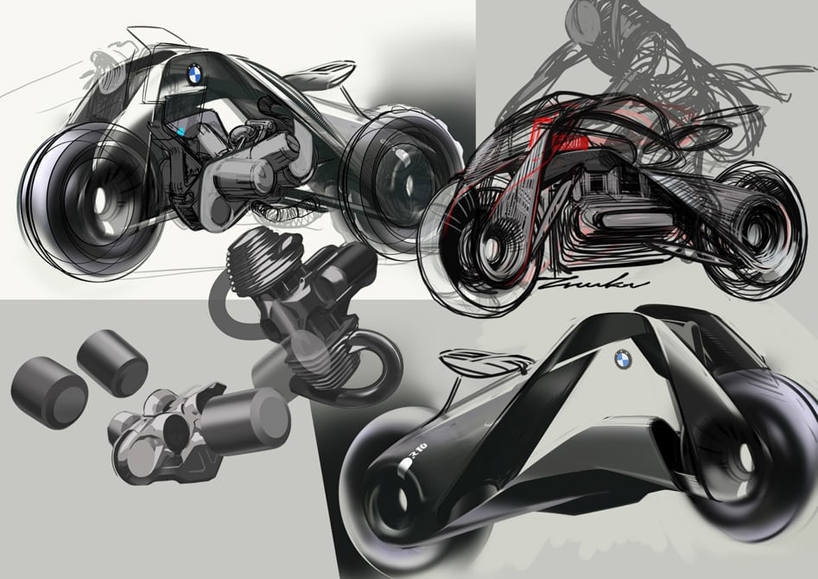 preliminary sketches
BMW
(206 articles)
aug 07, 2020
aug 07, 2020
jul 05, 2020
jul 05, 2020
jul 05, 2020
jul 05, 2020
jun 23, 2020
jun 23, 2020
jun 11, 2020
jun 11, 2020
jun 02, 2020
jun 02, 2020
aug 07, 2020
aug 07, 2020
aug 02, 2020
aug 02, 2020
jul 31, 2020
jul 31, 2020
jul 30, 2020
jul 30, 2020
jul 08, 2020
jul 08, 2020
jul 05, 2020
jul 05, 2020
a diverse digital database that acts as a valuable guide in gaining insight and information about a product directly from the manufacturer, and serves as a rich reference point in developing a project or scheme.