sep 17, 2015
ronan + erwan bouroullec reinterpret samsung's serif TV as a piece of furniture
ronan + erwan bouroullec reinterpret samsung's serif TV as a piece of furniture
all images courtesy of ronan and erwan bouroullec
french designers ronan and erwan bouroullec have rethought how the television should be treated in the home. the samsung 'serif' series promotes itself as an object that can be turned around and manipulated anywhere, as well as be able to stand by itself with the optional detachable legs. for the past two years, the brothers and yung-je kang, head of visual display design at samsung, looked to make the television more than just a display, but a solid presence that would sit naturally in various environments, just like any of their other pieces of furniture. this lead to form an 'I' shape profile, where slim body center widened at the top and bottom. the back panel is finished in a knit fabric that matches the body styles. 
video courtesy of ronan and erwan bouroullec
the brothers were keen to take an abstract approach, working in their own way without intervention. they redesigned the standard interface and the experience, including a transition between standby mode and normal viewing called 'curtain mode.' this mode provides a hushed, conceptual impression of the tv screen components, yet remote, for a TV.
the televisions will come in three different sizes
the whole process was driven forward by numerous drawings, 3D prints, and a round of mockups in wood and clay. the design means it can stand seamlessly in the home by resting on its own base. 
the 'serif' in three colors 
the samsung 'serif' will come in three sizes – 40, 32, and 21 inches and in three colors – white, dark blue and red. ronan and erwan bouroullec's endeavor into electronics will be on display at 2015 london design festival. the korean technology giant has teamed up with a popular designer before, asking yves behar to help create the curved ultra HD television in january 2015.  
the television hides all the necessary cables
the remote for the 'serif' 
the back panel is covered in woven fabric 
the mini television fits small bookcases
the 'I' profile shape
the top and bottom widen  
the fabric used for the back panel 
material selection 
the television at their studio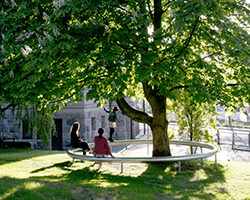 may 31, 2017
may 31, 2017
may 11, 2017
may 11, 2017
apr 17, 2017
apr 17, 2017
aug 03, 2017
aug 03, 2017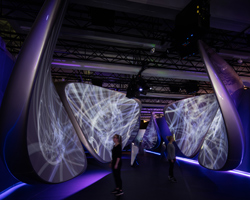 apr 05, 2017
apr 05, 2017
mar 29, 2017
mar 29, 2017